As the UK heads towards a hard Brexit, one of the industries that could be facing the maximum heat is the airline sector. The country's aviation sector has for long enjoyed the perks of UK being an EU member, as its business greatly benefits from two of the EU's four fundamentals of freedom of movement – freedom of movement of people and of cargo/goods (with the other two being freedom of movement of capital and of services). However, with UK triggering Article 50 (divorce clause) of the EU treaty, the European Commission has warned British airlines about several restrictions that are likely to be imposed on their EU routes in case the UK and EU fail to reach a new agreement. This has left the airline sector in a state of high uncertainty. While several airlines, such as EasyJet, have already started working on a contingency plan, others chose to follow a wait-and-watch approach.
Airlines industry has definitely been one of the key beneficiaries of the UK being an EU member. As per the EU's Open Skies Agreement, all EU members are allowed to fly anywhere across the EU states. This rule gave the British airlines access to fly not only from London to Paris but also from Milan to Paris, expanding the airlines' passenger base.
However, with Brexit being an absolute certainty, UK airlines fear losing access to the EU's single aviation market which they have for long promoted and championed. Since the EU-UK divorce seems to be a rough one, airlines have little hope for a continued Open Skies Agreement. The sector's worries have been further deepened by the fact that British PM, Theresa May, has clearly expressed her inclination to end the authority of the European Court of Justice (ECJ) over the UK matters. Since ECJ (which is the highest court in the EU in matters of European Union law) also presides over European Aviation Law and in turn the Open Skies Agreement, the end of its authority over the UK will automatically result in the removal of UK's aviation sector from the Open Skies Agreement.
Moreover, within days of the UK triggering Article 50 of the EU treaty (i.e. formalizing the exit process that needs to be completed over two years), the European Commission has sent out warnings to British airlines about several compliances they must adhere to, to continue flying intra-EU post Brexit. In order for these airlines to continue flying on these routes, they must comply with EU's strict ownership rules, which state that airlines operating intra-EU flights must be based in an EU state and their majority stake must be owned by EU citizens. Failing to abide by these regulations will result in the UK losing its rights to fly intra-EU flights. Alternatively, as a counter to EU's regulations on UK airlines, it is well expected that the UK will put similar stipulations on EU-based airlines that wish to fly intra-UK flights.
These two-sided restrictions will affect several airlines such as British EasyJet, Irish Ryanair, and IAG-owned airlines – Irish Aer Lingus as well as Spanish Iberia and Vueling, which derive a great deal of their business from flying within the EU countries and UK cities. While some of these airlines have preemptively started deploying a contingency plan, others are still waiting for some more clarity and are hoping for a positive outcome in the form of an agreement similar to Open Skies.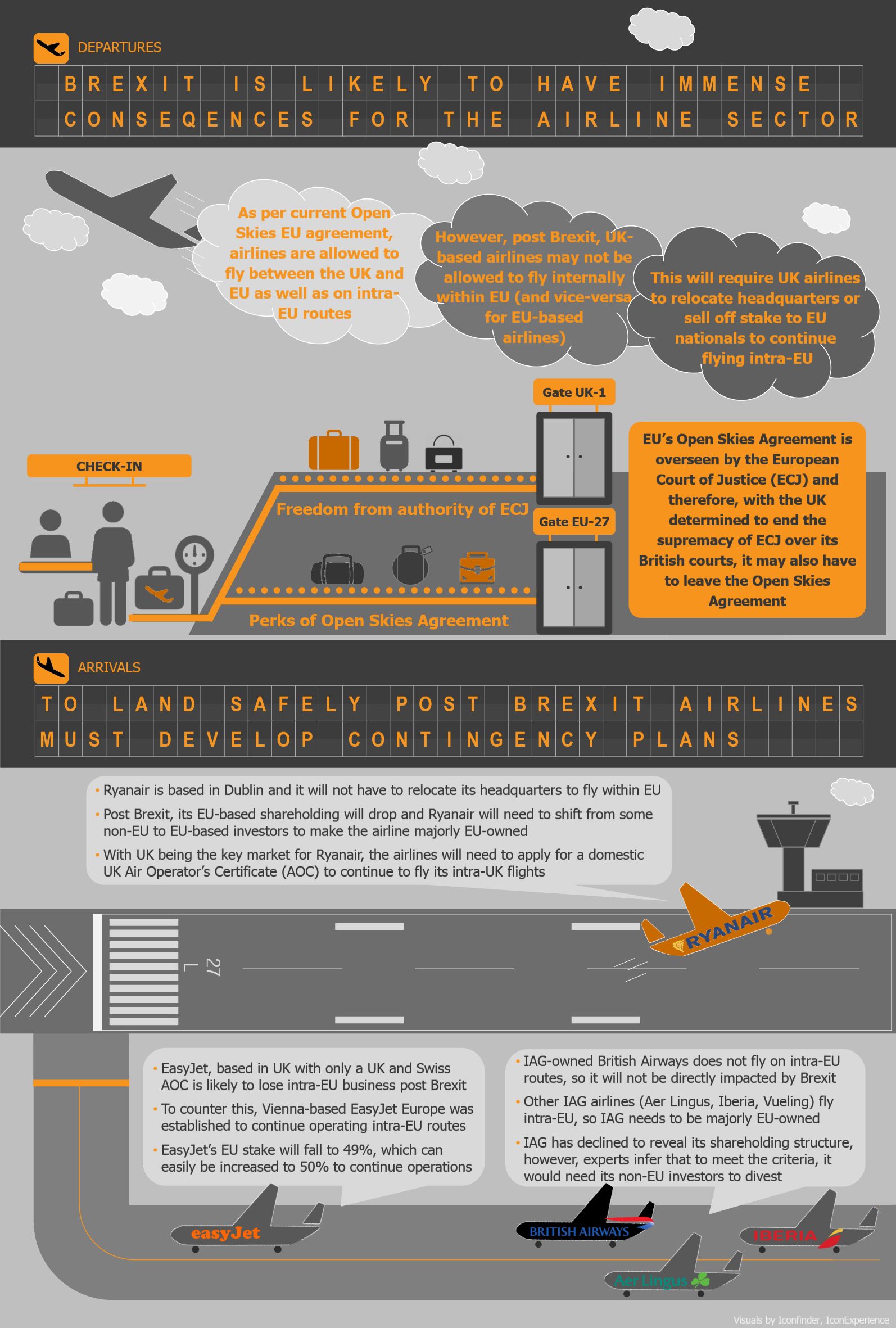 EasyJet
One of the first movers with regards to an action plan has been EasyJet. Being a UK-based company deriving a large part of its revenue from low-cost intra-EU flights, EasyJet will be one of the airlines hit the worst. Since losing its intra-EU business is not an option for the carrier, it has already set up a European sister company in Vienna, EasyJet Europe, in July 2017. About 100 planes have been assigned to the subsidiary and the total cost of the project is about US$13 million.
EasyJet does not face a major hurdle with regards to ownership requirements for EU airlines. It is currently 84% owned by EU citizens, a stake that will fall to 49% post Brexit provided that the shares of its owner, Stelios Haji-Ioannou, who is a dual UK and EU citizen, are accounted as EU citizen-owned. However, since the 49% ownership is going to be only slightly below the required mark, the airlines will not have much issue in meeting the requisite ownership requirement.
With these two aspects settled, the EasyJet is likely to be able to continue operating its international and domestic flights across the EU states.
Ryanair
Ryanair, unlike EasyJet, does not need to move its base as it is already headquartered in Dublin, Ireland. However, the airline faces ownership pressure as the shares owned by EU citizens will fall from 60% to 40% after Brexit. To ensure compliance with the ownership rule, as a first step, the airlines could possibly ask the fund managers holding their stock to switch the funds in which the shares are held from their UK-based funds to Dublin-, Milan-, Frankfurt-, Ireland-, or Luxembourg-based funds. However, if that does not work, the company does have extraordinary provisions in its articles of association to force non-EU investors to sell their stake to ensure major control and ownership by EU nationals.
However, the airline might be facing a larger threat looming on the horizon. In case the UK replicates similar flying barriers on EU-based carriers, Ryanair might be negatively affected, as the UK is an important domestic market for the airline. To ensure smooth operations in the UK, the company will need to apply for a domestic UK Air Operator Certificate (AOC) which will let it continue its operations without major changes.
IAG-owned Airlines (British Airways, Aer Lingus, Iberia, and Vueling)
IAG-owned British Airways is likely to remain among one of the least Brexit-affected airlines as is does not fly intra-EU flights. Moreover, the group's other airlines including Spanish Iberia and Vueling, as well as Irish Aer Lingus already are based in the EU and therefore can continue flying within the EU. However, the group has refused to comment on its shareholding structure which will be required to be majority EU-based for the latter three airlines to continue intra-EU operations. As per industry experts, IAG, which also has extraordinary provisions for force sale in their articles of association, may need to divest some of their non-EU-based stake and replace it by stake held by EU nationals.
EOS Perspective
While there is a significant uncertainty about the fate of the airline industry post Brexit, there is a common consensus that the sector is likely to be hit hard by the divorce. The UK and EU markets aviation sectors are largely inter-dependent, whether it is about air traffic or employment in the sector, and potential lack of regulations similar to the Open Skies Agreement will be detrimental to the industry in general as well as its consumers. This makes it vital for the Brexit negotiators to try to develop a mutually beneficial deal for the sector in general.
Having said that, it is clear that the airlines must prepare for the worst as the UK and EU seem to be heading for a hard divorce. Brexit process was formally started in March 2017 and the UK has two years to conclude all procedures and negotiations leading to the EU exit, which also puts the same timeframe for the sector to develop contingency plans. Some players, such as Ryanair hope that some form of Open Skies Agreement will be replicated, and continue to put pressure on their government for such a similar agreement to be negotiated. Other players, such as EasyJet, seem to take a more proactive approach, already investing resources in ensuring their smooth operations even if the worst case scenario materializes. Such an uncertainty about shifts in the operating environment is never favorable for any sector, UK airlines included, and as the future developments of the operating framework lie largely in the hands of negotiators, the industry players hold rather limited control over the future changes.