Given the swiftness of China's economic development in the past three decades, transitioning from an impoverished and insular country to one of the formidable economic powers of the world, it has taken some time for Europe to accept China's growing power and influence. Not only does China sit on largest currency reserves worldwide, but it has also become a significant provider of foreign investments, including in EU nations. This has recently strengthened China's influence over the EU, which has created a sense of caution amidst European policymakers.
How is Europe benefiting from China's growing investments?
Europe-bound Chinese investments were six times higher than Chinese investments in the USA – in H1 2018, Chinese investments in Europe stood at US$ 12 billion as compared to US$ 2 billion in the USA. For some of the economically struggling EU countries, Chinese investments are critical for developing and upgrading infrastructure, including energy plants, railways, motorways, and airports.
China's Belt and Road initiative, under which cross-border infrastructure will be developed, will reduce transportation costs across Europe and China, creating an opportunity to facilitate trade expansion, regional integration, and attract foreign investments.
Besides infrastructure development, the investments are likely to create job opportunities and enhance economic competitiveness across Europe.
Then why is China's growing influence alarming Europe?
Europe now sees a range of threats that China's rising dominance in the region could bring along. Recently, the European Commission labelled China as economic competitor seeking technological leadership and systemic rival encouraging alternative models of governance. Europe realizes that China pursuits to shape globalization to suit its own interests.
The EU is deeply concerned regarding China exercising divide and rule tactics to strengthen its relationship with individual member countries that are susceptible to pressure, which could eventually harm the European cohesion. Recently, Italy signed the Belt and Road initiative, a landmark move against the counsel of western European nations, such as France and Germany, thus, raising questions on cohesion of EU countries.
The other concern is China's rising influence over key governments of EU nations, thus, empowering itself with political leverage across the continent. China has already yielded political returns by wearying EU unity, particularly, when it is related to European policy on international law and human rights. In 2017, Hungary broke EU's consensus by refusing to sign letter on human right violation against China. During the same year, Greece blocked an EU statement, which condemned China's human rights record, at the UN human rights council.
Besides politics, China has also spread wings across key sectors of economy such as infrastructure, high-end manufacturing (including critical segments such as electronics, semiconductors, automotive, etc.), and consumer services, among others – growing dominance of China across these sectors is another cause of worry for the EU.
Europe also condemns China's discrimination against foreign businesses, rendering limited market access to European firms and employing a non-transparent bidding processes. European firms operating in China face several trade and investment barriers such as joint venture obligations and discriminatory technical requirements that entail forced data localization and technology transfers. On the other, European markets have been open to foreign investments leading to massive Chinese FDI. However, lack of reciprocity harms European interest and could lead to unfulfilled EU-China trade ties.
The EU also criticizes China's Belt and Road project for its lack of respect for labor, environment, and human rights standards. Other concerns include non-transparent procurement procedures with majority of contracts being awarded to Chinese companies without issuing public tenders, meagre use of domestic labor and limited contractor participation from host country, and use of construction materials from China – all of which undermine Europe's interests.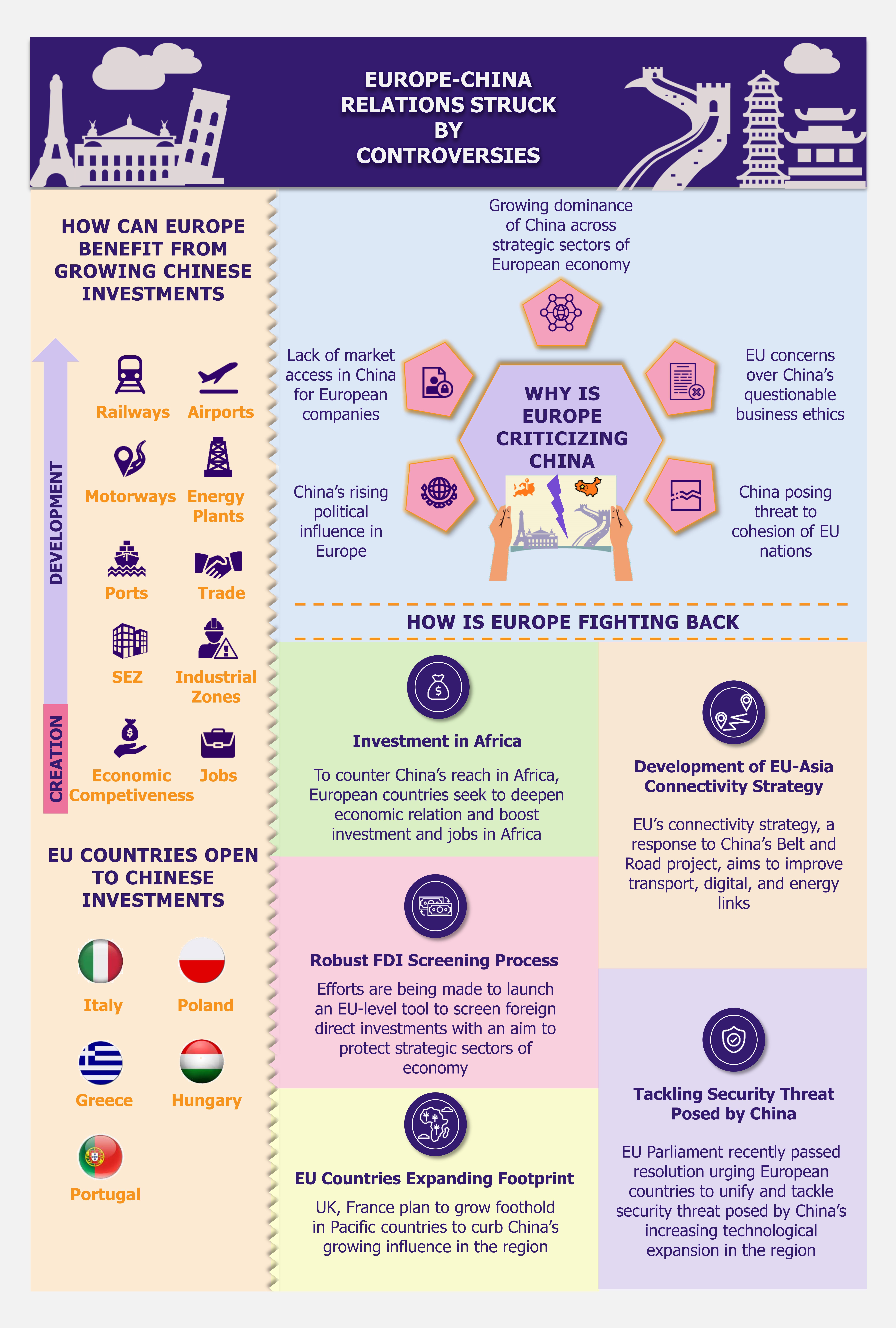 How is Europe responding to China's actions?
Europe is adopting strategies to limit China's influence and reach across Europe and beyond, in African and Pacific countries.
Development of EU-Asia Connectivity Strategy
The EU's new initiative, EU-Asia Connectivity Strategy, is an implicit response to China's Belt and Road initiative, signifying a crucial first step to promoting European priorities and interests in terms of connectivity. The initiative aims to improve connectivity between Europe and Asia through transport, digital, and energy networks, and simultaneously promote environmental and labor standards.
The EU's initiative emphasizes sustainability, respect for labor rights, and not creating political or financial dependencies for the countries.
Robust FDI screening process
European nations have been increasingly alarmed due to state-owned Chinese companies acquiring too much control of critical technologies and sensitive infrastructure in the continent, while China shields its own economy.
For the same reason, EU parliament is developing an EU-level screening tool to vet foreign investments on grounds of security to protect strategic sectors and Europe's interests. The regulation will protect key sectors such as energy, transport, communication, data, space, technology, and finance.
While the EU still remains open to FDI, the regulation will protect its essential interests. Nonetheless, stringent investment screening procedures are likely to limit foreign investments in the continent, particularly from China.
Tackling security threat posed by China
In March 2019, the EU Parliament passed resolution asking European institutions and member countries to take action on security threats arising from China's rapidly rising technological presence in the continent.
The resolution is likely to impact the ongoing debate of whether to eliminate China's Huawei Technologies from building European 5G networks. The EU is concerned that the Chinese 5G equipment could be used to access unauthorized data or sabotage critical infrastructure and communication systems in the continent.
To minimize dependence on Chinese technology firms (such as Huawei Technologies), EU countries would need to diversify procurement from different vendors or introduce multi-phase procurement processes.
EU countries expanding footprint to counter China's reach
Since 2011, China has invested US$ 1.3 billion in concessionary loans and gifts across the Pacific region, and has established its supremacy by becoming the second largest donor. China has been trying to build its influence, as the Pacific is bestowed with vast expanse of resource-rich ocean and the regional countries have voting rights at international forums such as the United Nations.
To counter China's reach and ambitions across the Pacific countries, European nations such as the UK and France plan to open new embassies, increase staffing levels, and engage with leaders in the region. The UK plans to open new high commissions in Vanuatu, Tonga, and Samoa by the end of May 2019 and France is looking to meet and engage with Pacific leaders during the year.
Investment in Africa to limit China's influence
As a strategy to curb China's growing influence, the EU plans to deepen ties with Africa by boosting investment, creating jobs, and strengthening economic relations. The plan is to create 10 million jobs in Africa over the next five years. Europe is also aiming to establish free trade agreement between the two continents.
In recent times, China has been blamed of neo-colonial approach towards Africa, which is aimed at emptying the continent of its raw mineral in exchange for inexpensive loans, extensive but inferior infrastructure, among others. Europe aims to curb such influence by attempting to do business ethically. 
EOS Perspective
Unnerved by flurry of Chinese investments in the continent, the EU is looking to regain its control over matters. Europe has adopted a defensive approach against China's initiatives, reflected through measures taken to protect critical sectors using investment screening system. The EU understands the downsides of enormous Chinese investments/loans, which may seem hugely enticing in the beginning, but could saddle vulnerable countries in debt they cannot repay – for example, a Chinese-built highway in Montenegro is likely to increase the country's debt to about 80% of its GDP.
Currently, the key issue is the fact that Europe is standing divided on the right strategy to respond to bolder and ambitious China. While countries such as Germany, France, and UK have grown skeptical of China and are revolting against it, Italy, Hungary, Portugal, Greece, among others, are generally China-friendly. Europe has certainly become stern and tougher on China, but cannot pursue its interests without standing united.
The current situation does not demand Europe opposing China outright, but rather ensuring fair business conditions and equal market access through dialogue and cooperation with China.
Nonetheless, the EU has been quite slow to wake up to the various challenges that excessively ambitious China brings to the table. However, if Europe is able to become united now, there is still a chance to build a decent Sino-European partnership that serves interests of both parties.