Over the years, NAFTA has been one of the most contentious FTAs that have ever been inked, especially for the USA. While the treaty and its merits (or mostly alleged lack of them) featured in political campaigns of a few previous US presidential candidates, NAFTA's shape and scope have never been revisited in its many years of existence – until now. Mexico, along with Canada, wishes to maintain the NAFTA as is, however US president Donald Trump has strongly condemned the treaty and, though earlier threatened to walk away from it completely, has agreed to attempt a renegotiation. Any possible changes to the shape of NAFTA might have profound impact especially on Mexico, however, the country has little choice but to renegotiate. Some of the negotiation objectives, such as tougher 'rules of origin', can be greatly damaging to Mexico's several sectors, including the automobile industry. The upcoming elections in Mexico in July 2018 may further complicate matters – if the renegotiations are not completed by then (which is a highly probable scenario), they may be brought to a standstill, especially if the government changes. This presents a great deal of uncertainty for companies that have investments in Mexico.
The North America Free Trade Agreement (NAFTA), which came into force in 1994, removed trade tariffs and duties on most goods for trade between the USA, Mexico, and Canada. While the deal has been mostly considered a positive in Mexico and Canada, its benefits have often been debated in the USA. The main reason behind this remains the high US trade deficit with Mexico (which stood at around US$64 billion in 2016) and the loss of several US manufacturing jobs to the south of the US border.
The NAFTA issue also found itself at the center of Donald Trump's 2016 presidential campaign, as he called the treaty one of the worst trade deals ever signed by the USA and talked about withdrawing from it once he came to power. Although several previous presidential campaigns also involved talks of renegotiating NAFTA (including campaigns of both Democratic candidates – Barrack Obama and Hilary Clinton, in 2008), none has been as strong-worded as Trump's campaign. Therefore, with Trump coming to power in 2016, revisiting the 23-year old treaty became largely inevitable.
Chapter 19
Initially threatening to back out from NAFTA, Trump agreed to renegotiations, which according to him would ensure bringing jobs back to the USA. However, a few aspects on the renegotiation agenda are a hard line for Mexico. Firstly, the USA wishes to eliminate Chapter 19 of the treaty, which encompasses a dispute settlement mechanism wherein dispute resolution (in cases such as anti-dumping and countervailing duty disagreements) is undertaken by independent and binational panels instead of domestic courts. This prevents NAFTA countries from putting unfair duties on products from other NAFTA countries to protect their own industries. While the USA is trying to disregard this clause, Mexico is largely opposing it, as without Chapter 19, it would become much easier for the USA to implement protectionist policies and duties that would inherently threaten free trade. However, Mexico is not alone in pushing back this change as Canada also strongly opposes any change in the dispute settlement mechanism.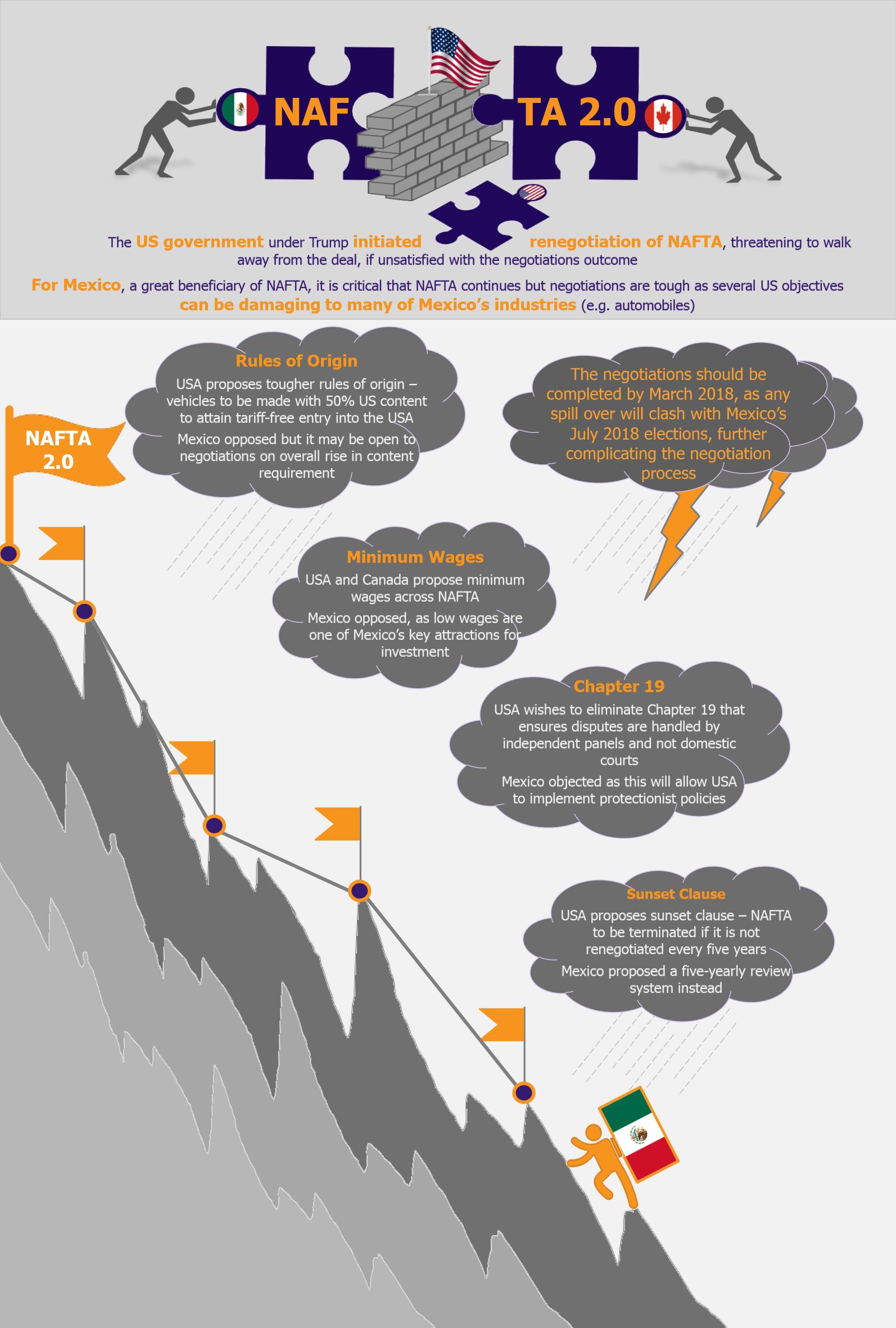 NAFTA Minimum Wage
Another negotiation objective (where Canada stands in support of the USA), is to incorporate some kind of standardization for trade-related labor issues and wages, by introducing a minimum wage across the three NAFTA participants. This will be greatly damaging for Mexico, which has for long benefited from lower wage rates that have incentivized several industries, such as automobiles, to shift base to Mexico to reduce costs and maximize profits. Stating that wage-related policies are an internal matter, Mexico has strongly opposed any such amendments and may make this a non-negotiable aspect.
Rules of Origin
However, one of the most dampening renegotiation objectives, especially for Mexico and in particular for its the automobile industry, are the restrictive changes to the rules of origin. As per the current NAFTA rules, for a car to qualify for a tariff-free entry in the NAFTA region, 62.5% of the value of the car must have originated in NAFTA countries. Thus, over the years, automobile manufactures have perfected their value chains, wherein auto components such as body-works, engines, gear panels, etc., are manufactured in various parts of NAFTA countries, and then assembled in another part of the region, to attain greatest benefits in terms of costs and quality. However, the current US administration is proposing changes to these rules, which may wash away a great deal of efficiencies and synergies attained by global automobile manufacturers under the current rules. As per the proposal, the US government aims to increase the US content in the finished vehicles to 50% for these products to attain tariff-free entry into the USA. In addition to going against the basic fabric of a free-trade agreement, this will jeopardize the competitiveness of the North American auto industry, which has greatly depended on integrated supply chains that also have deep roots in Mexico. This definitely spells bad news for Mexico, as the economy has significantly benefited from investments made by global automobile manufacturers in the country.
Moreover, apart from increasing the share of US content requirement to 50%, the US administration has also proposed raising the regional content requirement for NAFTA to 85% as against the current 62.5%. While this may seem to be a positive amendment for the region in general, analysts call it largely counter-productive as not all components can be competitively sourced from the North American region. If brought into action, automobile companies would have to spend huge sums to try to source/produce most components in the North American region at competitive prices. However, if they fail to accomplish that (which is quite likely) and as a result are unsuccessful in qualifying for tariff-free entry into NAFTA, they would shift to suppliers outside NAFTA and pay WTO tariff of 2.5% to access the North American market (which they will pass onto the consumers). Such developments might mean that by increasing regional content requirements, the region may end up pushing automobile players away from the region rather than encouraging them to continue and intensify their operations. This will be catastrophic not only for the Mexican automobile sector, but also for the US and Canadian auto market. To make matters tougher, the new proposal asks for technology-based automotive parts, electric vehicle batteries, etc., that are currently not included in the origin tracing list (as they did not exist when the NAFTA was originally negotiated). Most of these products are now sourced from Asian markets.
Due to the US president's known cold sentiment towards NAFTA, the onus of ensuring the treaty remains unterminated is on Mexico and Canada. While Mexico (along with Canada) has previously mentioned that the American demands to change the rules of origin are unworkable with and unacceptable, the Mexican government is working on a compromise proposal to toughen the rules of origin clause in hope to meet the USA somewhere half-way. As per the proposal, Mexico is willing to accept the extensive tracing list and is also willing to negotiate on the 85% North American content requirement in exchange for the USA withdrawing from the 50% US content provision. The tracing list proposal will be drawn in a manner ensuring that low-cost technology-based components that are currently sourced from Asian countries would be sourced from within North America, especially Mexico. However, the proposal, which is not finalized yet, is not expected to be presented in the current (fifth) round of talks.
Sunset Clause
Mexico and Canada's openness to negotiate can also be gauged by their willingness to work around the sunset clause proposed by the US administration during the fourth round of negotiations. As per the proposed clause, the treaty will expire every five years unless the member countries agree to keep it in place. While the remaining two parties refused to accept this clause when proposed, they have softened their stance on the matter during the current negotiations and counter-proposed a five-yearly review system. This showcases Mexico and Canada's keen desire to ensure NAFTA is preserved and their willingness to work around USA's fixed stance. While the review proposal may be a better option compared with the sunset clause, purely from a business or investment point of view, it still leaves room for a great amount of uncertainty for companies looking to invest, as five-year horizon is too short for several heavy-investment industries such as automobiles.
2018 Mexican Elections
Lastly, it is extremely critical that the negotiations are completed by the set date of March 2018 as any delay will result in their overlap with the 2018 Mexican elections and that will further complicate the matters. NAFTA has not only been instrumental in providing Mexico with economic stability, but has also played a significant political role, especially in terms of economic policy. The basic framework of the treaty has ensured protection for investments and, to an extent, economic equity as over the years it restricted the government from granting protections, incentives, and subsidies to a set of companies or industries, while discriminating against others. The termination of NAFTA would allow the future government to modify the current economic framework of the country, and this will directly impact Mexico's attractiveness as an investment destination. This becomes all the more relevant in case the leftist candidate, Lopez Obrador, comes to power in 2018.
Mexico's Contingency Plans
While Mexico is certainly hopeful and is working towards retaining the NAFTA, it is not putting all its eggs in that one basket alone. Mexican government is looking at deepening Mexico's ties globally and reducing its dependence on the USA. Mexico is currently negotiating with the EU to modernize its existing FTA which is expected to be completed by the end of 2017. Moreover, it is looking at Argentina and Brazil as alternative sources of agricultural imports to replace those from the USA. In a similar move, Mexico's foreign minister, Luis Videgaray, met with his Russian counterpart in Mexico to discuss Mexico's openness to do business with nations other than the USA. In November 2017, Mexico participated in a meeting of the nations that were formerly a part of the Trans-Pacific Partnership (TPP), which ceased to exist in its previous form in early 2017 (we talked about it in our article TPP 2.0 – Minus the USA in May 2017). This meeting resulted in an official announcement that the TPP nations will negotiate a new deal, without the USA, and that it will be called the Comprehensive and Progressive Agreement for Trans-Pacific Partnership (CPTPP). The creation of CPTPP will provide a much-needed cushion to Mexico's automobile industry in case NAFTA fails. Also, in case NAFTA toughens its rules of origin but the CPTPP relaxes them, Mexico may continue to be part of the global automobile supply chain (this time in combination with CPTPP members such as Japan, Canada, and Chile – instead of the USA).
EOS Perspective
It is safe to say that Mexico and its automobile industry have a lot riding on the NAFTA negotiations. While Mexico along with Canada are working hard to ensure NAFTA stays, US president's tough stand on several aspects and his willingness to walk out of the deal in case his demands are not met, complicate the negotiations greatly. It is uncertain how the situation is going to develop, and even if NAFTA continues, new provisions that might find their way into the revised treaty may not offer a great deal of benefits for companies to invest and for intra-regional trade to flourish.
The pressure of upcoming elections in Mexico in 2018 makes the situation even tighter. If the negotiations are not completed before the elections, all progress made up till then can easily go in vain in the event of the government change. Therefore, companies are extremely cautious about investing/expanding in Mexico at the moment, and are likely to wait at least up till mid-next year. They may find respite in the fact that the Mexican government is trying to do its best – both in terms of being flexible during negotiations as well as diversifying its export markets and import sources – but this respite might just not be enough to ease investors' minds and businesses' worries over the operating and trade environment within the North American region.