Cryptocurrencies (such as bitcoin, ethereum, and litecoin) have definitely been the talk of the town this year. With their prices rising beyond bounds, everyone is sharing their two cents on the future of this fairly new concept of digital currency. Among these, are also players of the established financial system, which up till now have largely ignored cryptocurrencies terming them as a short-lived phenomenon. However, this has changed as bitcoin prices continue to soar and banks and other financial institutions evaluate not only the merits of the new currency and the technology behind it, but also the perils of not acting swiftly enough to adapt to the changing financial market scenario.
Cryptocurrencies and blockchain – what are we talking about?
Owing to an unparalleled rise in its prices, cryptocurrencies, especially bitcoin, have garnered massive interest from the public at large, however, very few understand how they and the technology that underpins them actually work.
Cryptocurrency is a digital form of money that is secure and largely anonymous. It uses encryption techniques to regulate the creation of the currency units and verify the transactions, thereby eliminating the need of a third-party verification (that is conducted by banks in case of traditional currency). However, to better comprehend the concept of cryptocurrencies it is vital to understand the core technology that enables its existence – blockchain technology.
Blockchain is a global distributed ledger or database of transactions running on an expansive peer to peer network, where transactions are securely stored and confirmed without the need of a central certifying body. Each and every transaction ever made historically is noted transparently and any new transaction is accepted/verified on the basis of all previous transactions undertaken (i.e. to ensure that the person undertaking the transaction has the credit to carry out the transaction).
Blockchain is increasingly finding application across industries – we wrote about its entry into the healthcare sector in our publication Blockchain Technology – Next Frontier in Healthcare? in March 2017.
The next aspect is to understand how cryptocurrencies are created/transacted. A new unit of currency is created when a "cryptocurrency miner" solves a complex computational algorithm to confirm a transaction and add it to the blockchain. For their service (i.e. to confirm and conduct the transaction), the miner generates a certain amount of the cryptocurrency for himself, thereby creating additional units of the cryptocurrency. Having said that, cryptocurrencies are limited in number (for example, there can only be 21 million Bitcoins and 84 million litecoins).
Cryptocurrencies are stored in a digital wallet, using which the user can spend the currency as well as check his balance.
Leading companies increasingly accept cryptocurrencies
While the reach of cryptocurrencies still remains largely limited when compared with conventional money, their acceptability and transaction value have been steadily rising. Several leading companies now accept bitcoins (the leading cryptocurrency) as a form of payment. These include Subway, Microsoft, Reddit, Expedia.com, WordPress.com, Virgin Galactic, Tesla, etc.
McDonalds announced that it will start accepting bitcoins in 2018, while Argos (a retailer) as well as British Airways have also expressed their intent to start accepting bitcoins as a mean of payments by 2018. In addition, the daily total value of bitcoins being transacted has also seen a substantial rise from about US$200 million worth of bitcoins being transacted daily in January 2017 to US$2 billion by November 2017. However, the per-day volume of transactions has witnessed a comparatively moderate rise as they ranged around 200,000-300,000 transactions per day at the beginning of the year and increased to about 350,000-450,000 number of daily transactions by December 2017.
Central banks evaluate risks to the banking system
This momentous rise in their popularity and acceptability over the past years has made central banks across the world realize and evaluate the risk posed by this revolutionary technology.
Cryptocurrencies bite into banks' space
The traditional money used across the globe gains its credibility by being backed by a centralized authority (mainly a central bank of a country). However, cryptocurrencies remove the need of a third-party guarantor and depend on un-hackable peer-to-peer (blockchain) technology to guarantee value (i.e. when a transaction is made using cryptocurrency, the miners validate the transaction and unlock a small amount of cryptocurrency from the network as a compensation for their service.) Thus, in simple terms, they make the job of banks (who act as a third-party in terms of all money transactions) redundant.
Therefore, when using cryptocurrencies, consumers save on commissions that they have been paying to banks for processing financial transactions. These include credit and debit card transaction fee, international money transfer fee, clearing and settlement fee, among several others. This not only saves customers money but also time.
Moreover, the use of cryptocurrencies makes financing easier as it opens another avenue for financing for people who have been turned down by banks or other traditional channels. In case better terms and rates are offered in this form of peer-to-peer financing, customers eligible for bank loans may also steer towards digital money for financing.
---
Explore our other Perspectives on blockchain
---
Decentralized nature of 

cryptocurrencies protects the client identit

y
Another advantage of cryptocurrencies over conventional currency is security and privacy. Blockchain technology is known to protect client information and identity better than banks. Since it is a peer-to-peer network that is distributed across a host of computers across the world, it is less susceptible to cyberattacks when compared with bank servers that are usually located at one place (thereby making attacks comparatively simpler). Thus, the decentralized nature of blockchain and in turn cryptocurrencies makes it more secure than traditional banking. The anonymous nature of the transactions also makes it attractive to a certain type of customers who value privacy.
These factors pose a significant risk to the traditional banking system, which must act swiftly if it does not wish to cede further ground to cryptocurrencies. In order to compete with digital money, banks need to improve services, especially by offering digital services at a lower fee, and offer similar real-time services that cryptocurrencies offer. Moreover, they must realize the end of their monopoly on financial transactions and get rid of standard manipulations such as charging hidden fees on several financial services, such as credit and debit cards.
Banks start to embrace the revolution
Banks can also seize certain opportunities presented by the growing popularity of cryptocurrencies. These include providing escrow services, helping customers exchange their money for bitcoins, etc. For instance, in May 2017, Norway's largest online-only bank, Skandiabanken announced its plans to offer clients the ability to link bank accounts to their cryptocurrency holdings.
At the same time, several banks (both central and private) are also looking at creating their own digital currency and are showing keen interest in understanding and adapting blockchain technology for interbank transfers.
People's Bank of China (China's central bank) is developing its own digital currency in an effort to reduce transaction costs, expand the outreach of financial services to rural areas and increase the efficiency of its monetary policy. On similar lines, Russia's Communications Minister has announced in October 2017 the country's plans to create and launch state-controlled digital currency, which would use blockchain to decentralize control and improve trust but would be issued and tracked like conventional currency. The Dutch Central Bank has also created its own cryptocurrency for internal circulation only to get an understanding of its working. On the other hand, the Bank of Japan and the European Central Bank have launched a joint research project on the adoption of blockchain technology.
The 2017 Global Blockchain Benchmarking Study, published in September, analyzed 200 central banks and stated that about 20% of central banks plan to deploy blockchain within the next two years, while about 40% plan to apply it within the decade. Moreover, about 80% claim to be researching blockchain technology with the aim of issuing their own cryptocurrencies.
On the private side, in July 2017, the Digital Trade Chain Consortium, which consists of seven European banks, namely Deutsche Bank, HSBC, KBC, Natixis, Rabobank, Societe Generale, and Unicredit awarded a contract to IBM to build a digital trade platform that will run on IBM's cloud.
In another deal, IBM is working along with Japan's, Aeon Financial Service, to develop a blockchain-based financial platform to provide settlement and transactions for both corporate as well as retail financial services, which will include virtual currency payments between individuals and businesses, loyalty points allocation and redemption, and transaction data management.
In September 2017, six major banking corporations (Barclays, Credit Suisse, Canadian Imperial Bank of Commerce, HSBC, MUFG, and State Street) announced that they are partnering up to create a cryptocurrency of their own. The digital coin that is being called "utility settlement coin" would be used for clearing and settling transactions for these banks globally over a blockchain. Currently, the banks are in talks with central bank regulators regarding the same and are expected to launch their commercial-grade blockchain by 2018.
While banks may be wary of the credibility of the currently regulated cryptocurrencies, most of them agree on and see blockchain technology as the difference-maker and are open to adopting blockchain to upgrade their services, such as improving payment systems. As per experts, blockchain technology can save the financial industry US$20 billion per year by 2020.
Cryptocurrencies' drawbacks go beyond threats just to the banking system
However, not everything about cryptocurrencies works well, as the current set of cryptocurrencies being traded also has some shortcomings when compared with the traditional financial system.
While the anonymity of transactions may be seen as a positive to a certain group of users, it does pose a threat to the society in general. The anonymity makes cryptocurrencies a convenient choice for illegal activities, such as money laundering. Moreover, it also provides a window to terrorist financing as money can switch hands without being traced.
Cryptocurrencies, such as bitcoin, also have a drawback of being limited in number (the number of bitcoin is limited to 21 million). This limitation makes cryptocurrencies somewhat similar to the gold standard currency, wherein a country's currency has a value directly linked to gold. This monetary approach has been deserted by most economists as this money supply policy that does not factor in the fact that changes in demand generate large fluctuations in prices (as being witnessed in bitcoins presently) and these fluctuations are not practical in the day-to-day workings of the society, especially wage payments. Therefore, while demand for bitcoin may be increasing, it cannot largely replace traditional currency due to such intrinsic characteristics.
Moreover, the current increase in bitcoin demand is speculated to be a bubble by several analysts who claim that the exponential rise in prices has more to do with an ongoing investment frenzy to make quick profits and exit, rather than actual established increase in usage.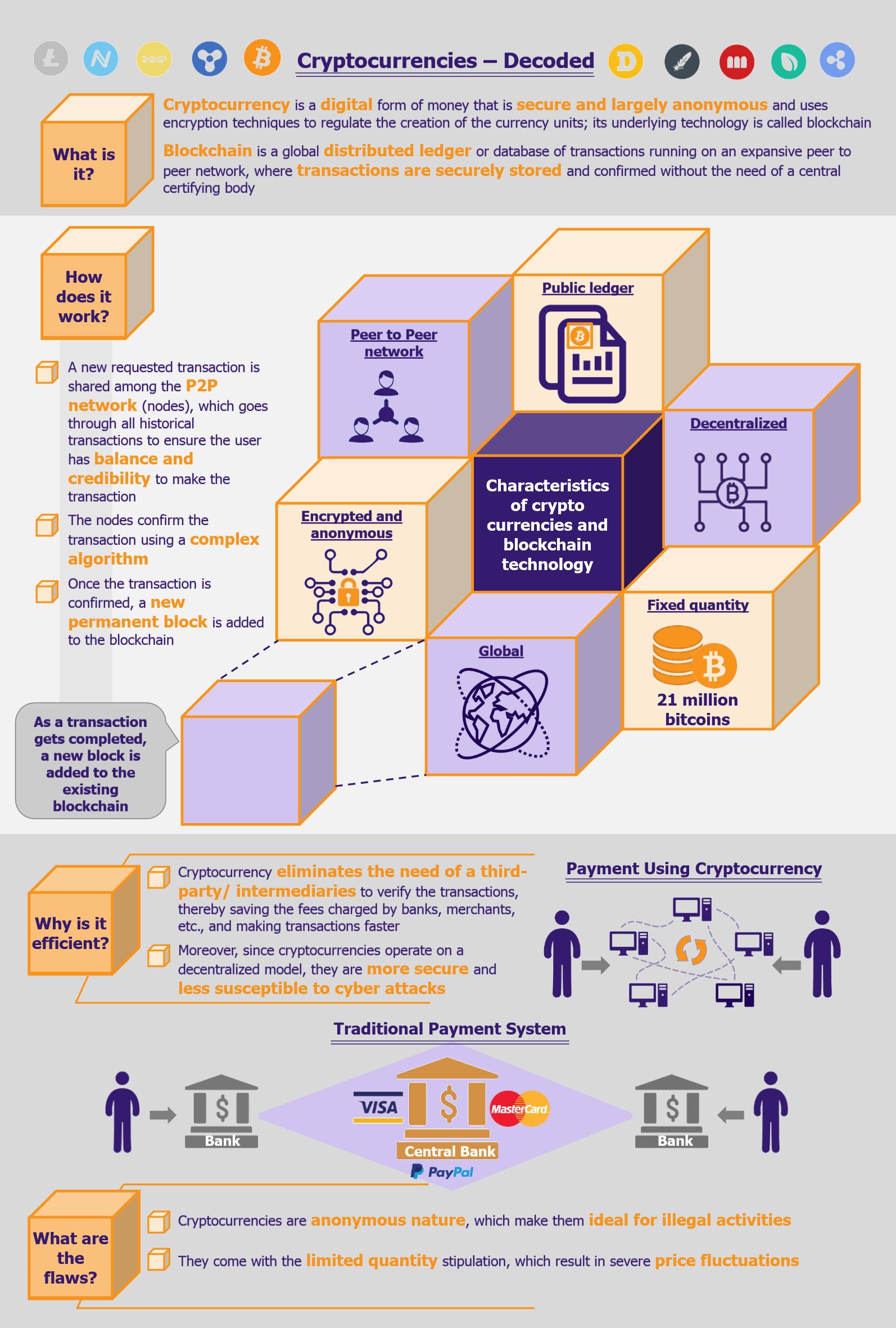 EOS Perspective
Whether it is a long-term replacement to traditional currency or not, cryptocurrencies cannot be ignored. The unimaginable rise in the prices of bitcoin (from close to US$1,000 in January 2017 to about US$17,000 in December 2017) has compelled banks to pay close attention to this upcoming competitor. While cryptocurrencies do offer several benefits (such as elimination of third-party, easier financing, and greater security) that are enticing consumers to move beyond traditional currencies and banking, they are no position to uproot the gigantic money market. However, that does not mean that banks can just ignore them.
While cryptocurrencies do offer several benefits, they are in no position to uproot the gigantic money market. However, that does not mean that banks can just ignore them
Banks must work towards innovating digital services and making them cheaper and faster. Cryptocurrencies also open doors for banks to launch few supplementary services, such as providing escrow services and syncing their bank accounts with their cryptocurrency digital wallets. While these may be short term goals, banks are most interested in testing and adopting blockchain technology especially for clearing and settling of inter-bank transactions.
While cryptocurrencies are unlikely to uproot the banking system any time soon, we believe it should be considered that blockchain has the capability to impact the financial sector the same way Internet impacted many industries back in the 1990's.