Touted as the future of real estate rental, the coworking model is rapidly taking over the traditional office space rental. In less than a decade, there has been a sudden rise in the number of operators offering space-as-a-service. Driven by more and more people looking to work flexible hours, while still having access to space and services offered in a traditional office setting, coworking space market has experienced a steady growth. Coworking space operators have come up with new ideas to explore secondary sources of revenue generation rather than just relying on offering memberships. While the ideas are successful and earn profits for the business operators, the road ahead is not all rosy.
Coworking space is growing
Globally, the number of coworking spaces are forecast to cross the 30,000 mark by 2022, more than double from a little more above 14,000 spaces in 2017. It is expected that in 2019 alone, approximately 1,700 new spaces will open worldwide with more than 40% of these sites coming up in the USA. In terms of members who use coworking spaces, between 2017 and 2022, the number is expected to increase nearly three times, from 1.74 million to 5.1 million.
A decade ago, when the concept of coworking space was still new to many, the demand for such spaces was limited, as it came mainly from freelancers. However, with the upsurge in entrepreneurial excursions, growing instances of corporate employees working from remote locations, and proliferation of other independent professionals, coworking spaces started to offer not only a place to work but also a platform for the users to grow and exchange ideas.
Enhanced work flexibility, emphasis on work-life balance, and better networking opportunities are some of the key factors that drive the coworking market growth. Easy availability of these spaces at cost-effective prices also contributes to the soaring demand.
Future of coworking spaces is promising
According to the 2018 Global Coworking Survey* conducted by coworking magazine Deskmag, 42% of all coworking spaces reported being profitable. Larger coworking spaces occupied by more than 200 tenants are reported to be nearly twice more profitable than coworking spaces used by 50 or fewer occupants.
Between 2014 and 2018, the number of coworking spaces housing more than 200 members increased 2.5 times, while spaces that rent out more than 200 desks have increased six times.
Coworking spaces operators have robust expansion plans. One out of four is planning to expand their current location by adding more desks. Every third player plans to expand operations by opening new spaces. In comparison to the existing size, operators plan to expand their area by an average of 70% in the future.
Coworking space operators are capitalizing on members' needs
Memberships and space rentals
The primary revenue stream for any coworking space is providing services at a fee. This includes, but is not limited to, renting out desks (open or flexible), renting out space (conference halls and meeting rooms), virtual offices, private cabins, etc.
Coworking space operators are currently offering fixed and tier-based (one day pass or monthly pass) memberships to tenants. Apart from these, the operators' revenue stream comes from membership packages for using particular spaces such as conference halls and meeting rooms for fixed duration charged per head and from virtual memberships granting the users access to a virtual address and mailbox.
Promotional events and pop-up set ups
Coworking space operators are using common working areas for promotional activities, marketing campaigns, or other pop-up shops over the weekend when tenants are not utilizing the space for their work.
They rent out space to exhibition organizers who set up booths for showcasing and marketing their products or utilize the space for arranging pop-up retail for small-scale entrepreneurs such as artists, jewelry suppliers, toy sellers, and others. For instance, WeWork often organizes external events where it invites non-member hosts (not having a WeWork space membership) to conduct events in their premises, for which it signs an external event agreement.
Coworking space operators charge the hosts (both member or non-member) for such events in multiple ways – fixed price a day or price per square meter of the area occupied in addition to charging a percentage of commission for the sales made by the stall or pop-up shop.
Ancillary services
Rather than just offering a place to work, coworking spaces are also offering additional amenities to members such as nursery, gym, or pet daycare facility. Cuckooz Nest, a based in London 36-desk coworking space, offers onsite childcare service for children up to two years of age at a chargeable fee while employing certified nannies. In October 2018, The Wing, a women-focused coworking space, announced that it would start offering on-site childcare across all its current and upcoming locations – the service will be staffed by certified babysitters at an extra cost.
Similarly, Work & Woof, a coworking space based in Austin, Texas, offers free pet daycare with each membership starting from US$30 a day. WeWork also has a pet friendly policy wherein members can bring their pets to work, though they are permitted only in private offices or be leashed in common areas. These add-on services act as diversified revenue streams for the space operators.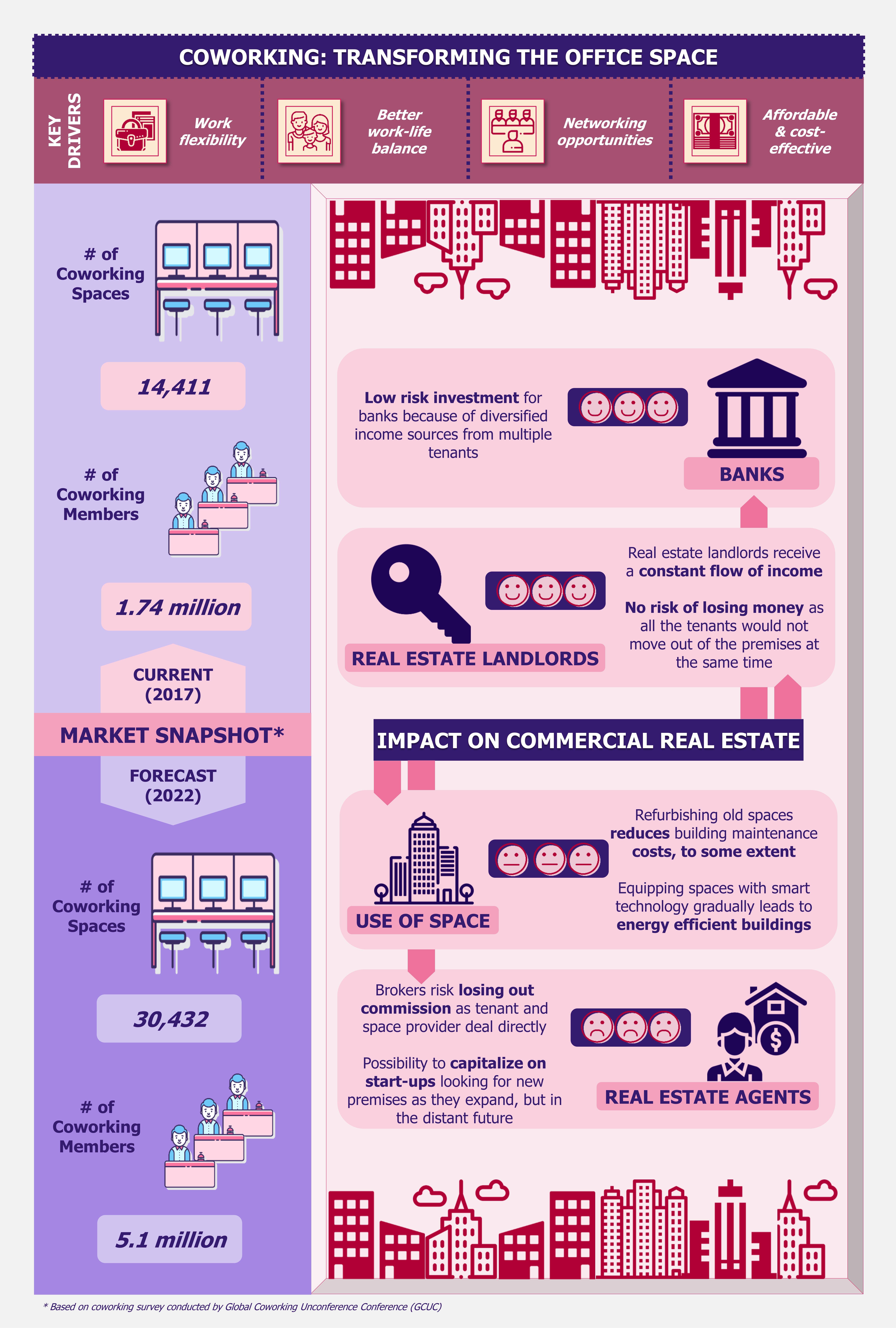 Challenging times ahead
Even though the future of coworking space looks positive, the players operating in the coworking space market do face some challenges and threats.
Pure-play coworking space operators face competition from hotels doubling as coworking spaces while offering a place to stay. For instance, Dubai-based Hotel Tryp by Wyndham offers hotel guests and walk-ins easy access to its coworking space called 'Nest' at a fee charged hourly, daily, or monthly, depending on the length of the guest's stay.
Another hotel, Hotel Schani Wien in Austria, has transformed its lobby into a small space of 12 desks for coworking purposes; while in-house guests can utilize the space for free, others can choose a coworking pass (priced at € 90 for 10 days or € 150 for 30 days) or rent a coworking desk for €190 a month.
Another mixed-use infrastructure development that could hurt the coworking space players are unused or empty shops in shopping malls. According to a survey conducted in 2018 by Jones Lang LaSalle IP, a Chicago-based commercial real estate services firm, it is estimated that coworking space in retail properties will grow at a rate of 25% annually by 2023. The need to generate revenue from vacant spaces has forced retail landlords to find new ways to fill the space with alternative tenants; offering this space for coworking purposes seems to be a feasible option.
The concepts of hotel or retail coworking are unlikely to become the next big thing in the near future. However, with individuals exploring easily accessible work spaces, it would be interesting to see how these ideas unfold and how they affect the players in the coworking space.
EOS Perspective
Since its inception over a decade ago, coworking space has grown from an idea to a full-fledged industry reshaping the entire work landscape. Coworking space has had a striking and multi-dimensional impact on the commercial real estate industry.
Coworking space has reformed the commercial real estate industry for good. Players are remodeling and utilizing old abandoned buildings, warehouses, and factories to set up new premises. In 2013, Amity Packing Co., a 40-year-old meatpacking facility (with an area of 83,000 square feet) based in Chicago, was acquired by WeWork (along with other partners) and was renovated into a mixed-use commercial building with 77% of the space being used as office space.
The impact of coworking has not been all positive for the real estate developers (who play in the traditional office space development) since they are losing out to developers inclined to the concept of coworking. Such players should modify their real estate portfolio to fit both traditional and coworking users, since the demand for traditional office space is not extinct, but only diminished.
For real estate agents, the increasing number of coworking spaces does not paint a rosy picture either. As tenant and space provider deal with each other directly, the role of middlemen will gradually cease to exist. However, not all is bad as agents can sign commission deals with coworking spaces for recommending new members. Brokers also see advantage in making connections with start-ups or businesses in their incubation stage at these places, hoping to benefit while they expand and search for new premises or coworking space.
Nonetheless, unlike developers and agents, real estate landlords seem to benefit from the coworking space. Their flow of revenue is constant – when the premises are occupied by multiple independent tenants in a coworking space, steady income is guaranteed. Coworking also eliminates issues such as losing money during phases of vacant property (in case the tenant moves or closes operations) and pulling out money from own pocket (such as agent fee to look for new tenants or operational costs of the facility while it lies vacant, which in traditional rentals can stretch over longer periods of time).
Banks and financial institutions also seem to be optimistic about the coworking concept. Banks consider coworking spaces to be a low risk investment because of multiple and diversified income coming from many tenants. Single-occupant office spaces are dependent on the success of the business – in case the business fails, the banks are stuck with limited options to recover the investment. In case of coworking spaces, the premises will never go empty all at once.
Coworking spaces are agile and are likely to prosper as they adapt to the changing needs of the users, who demand flexibility at work. Other than offering flexible office space, unrestricted work hours, and a place to connect with like-minded people, coworking spaces have transformed the way many people work. It is clear that the future belongs to coworking spaces provided the space keeps evolving and upgrading to meet the ever-changing demands of the occupants.
*All results indicated for 2018 represent year ending 31st Dec, 2017. (n=1980, including coworking spaces (operators or staff members), coworking members, planned/future coworking spaces, former coworking members, and people who have never worked in a coworking space).