The tourism sector of Tunisia has been in turmoil over the past few years. The terrorist attacks on Sousse beach and Bardo National Museum in Tunis in 2015 crippled the industry, which had been witnessing a healthy growth before these events. As the Tunisian government and tourism industry players have been implementing strategies to revive the industry, some progress has been witnessed. However, the damage to the country's image was grave and it is yet to be seen if the measures being taken will put the industry back on the growth trajectory.
Grave repercussions to the sector
Post Tunisia's political revolution in 2011, the government started promoting tourism both domestically and internationally, and by 2014, the tourism sector contributed 15.4% to the country's GDP. However, the terrorist attacks in 2015 in Sousse and Tunis killed nearly 60 foreign tourists (including 30 UK nationals) and significantly tarnished the image of Tunisia as a safe tourist destination.
The concerns over safety, reinforced by travel bans and no-travel recommendations issued by some EU countries, resulted in a drastic fall in the number of overseas tourists arriving in Tunisia. A travel ban issued by the UK authorities was particularly damaging to the local tourism sector, as UK had been the key demand-generating market for Tunisia. Between 2014 and 2017, the number of incoming travelers from the UK declined by 93% to 28,000 and many renowned UK travel companies, including Thomas Cook and TUI, discontinued their services in Tunisia.
The tourism sector had always been crucial for Tunisia's economy and was one of the country's key employment sectors, employing over 200,000 people before the attacks. The sudden decline in country's tourism industry impacted cash inflow, business operations of several tourism industry players, and further destabilized the already faltering economy of the country.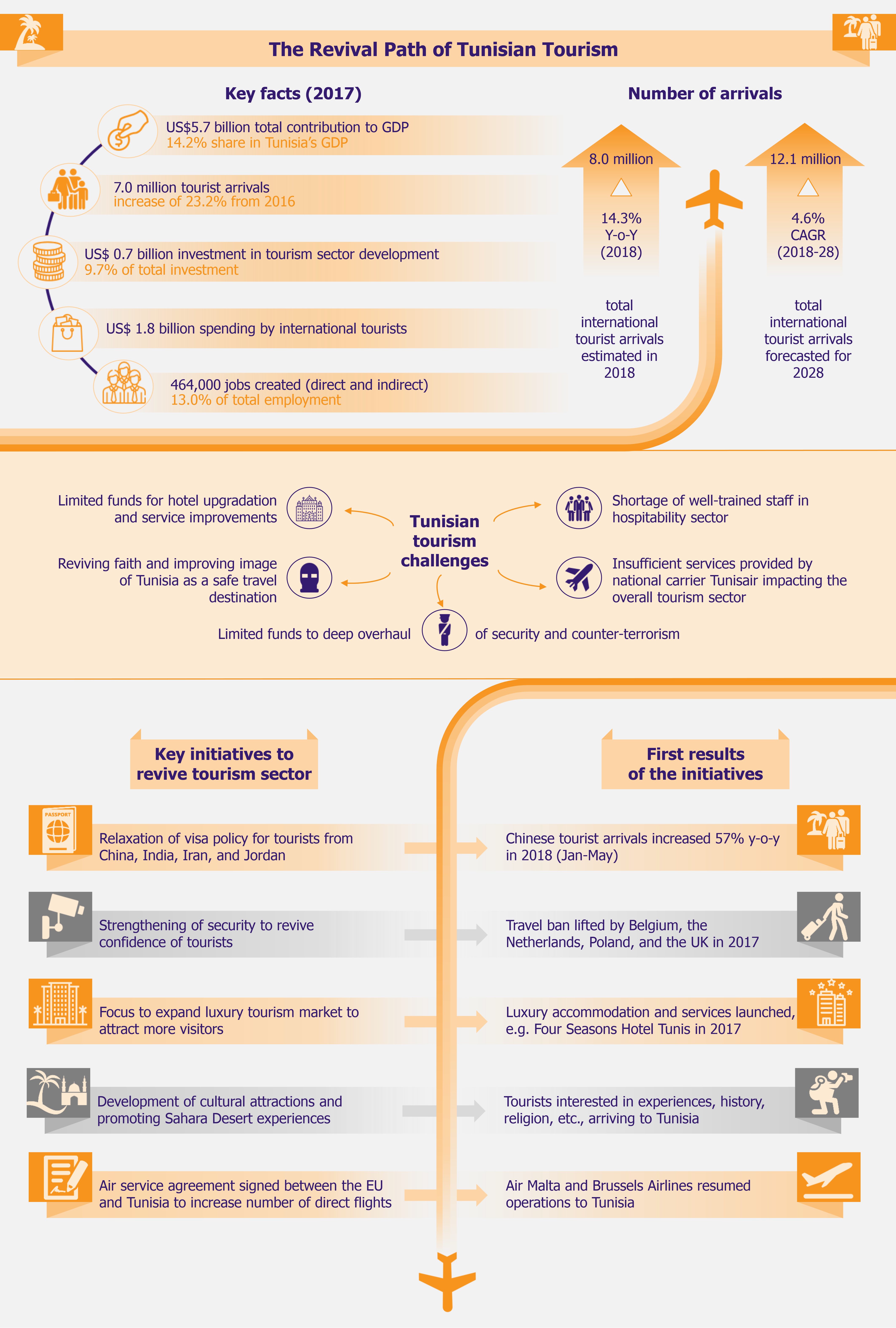 Government reaction and first results
After two years of struggle, the Tunisian tourism market started showing first modest signs of recovery in 2017, following measures undertaken by the government to boost tourist footfall in the country. The Ministry of Tourism's initial steps to help the industry survive included covering of social security contributions for tourism entities such as hotels, resorts, restaurants, etc., by the government, with the intention to help the providers maintain their employees and stay afloat. While this helped reduce the impact, the country still saw a massive loss of jobs in travel and tourism in 2015.
Simultaneously, the government tried to address the most pressing issue directly responsible for the decreased demand for Tunisian tourism services – traveler safety. To make tourists feel safe, the government tightened security around touristic sites, particularly in Sousse and Tunis. Additional surveillance equipment was placed at airports, hotels, and resorts to enhance security, while sector staff and various security forces received training on detecting suspicious behaviors and on counter-terrorism. Over the following years, Tunisia also received help from western countries in raising its security standards and procedures.
While these initiatives were needed and welcome, preventing attacks of this sort in a country located in close proximity to conflict zones, requires massive funding and complete, deep overhaul of its security and counter-terrorism system at all levels. Regardless of whether the steps already taken are sufficient or not to truly ensure safety, they certainly offered greater sense of protection to tourists, a fact promptly and extensively communicated to target customers across British and other European media.
The government of Tunisia has also taken measures to balance out the losses by trying to diversify its demand markets. To attract tourist from outside Europe, visa requirements for countries including China, India, Iran, and Jordan were eased with the introduction of visa on arrival. This strategy helped Tunisia attract Chinese tourists, whose footfall increased 56% y-o-y in January-May 2018 period.
To fuel business travel arrivals, the MoT started granting one-year multi-entry visa to businessmen and investors of these countries as well. Further, the MoT also removed entry visa requirements for countries including Angola, Burkina Faso, Botswana, Belarus, Kazakhstan, and Cyprus.
In parallel, the industry realized the need to broaden the sector's offering. One such initiative was to expand the premium and luxury tourism segment targeting (quite interestingly) particularly British affluent travelers (indicating a continuous bet placed on British customers). In 2017, Four Seasons Hotel Tunis was opened, a major step in putting the country on the luxury tourism map, followed by a few more luxury resorts openings. In several locations premium activities have been developed, including marine spas and golf courses.
Europe's cautious return to holidays in Tunisia
The measures appeared to have worked, and in 2017, the industry witnessed growth of the number tourists by 23.2% y-o-y to reach 7 million. While the government actions were to some extent successful, it was the lifting of travel ban to Tunisia by EU countries including Belgium, the Netherlands, Poland, and the UK that was the main factor leading to growth.
Recovery was further supported by the return of travel companies such as Thomas Cook and TUI, which resumed operations in Tunisia. Moreover, an air service agreement was signed in late 2017 between the EU and Tunisia to increase the number of direct flights between European countries and Tunisia, which soon led to the return of European airlines including Air Malta and Brussels Airlines on these routes.
All these developments have helped to revive tourism sector and regain European visitors to a certain extent. The number of tourists, particularly, from France and Germany, increased by 45% and 42%, respectively, y-o-y for the period of January-May 2018. This growth in tourist footfall was a great sigh of relief for local industry players, whose businesses have suffered tremendously post attacks.
UK tourist, the most valuable visitor, reluctant to come back
Despite Tunisia's attempts to diversify its demand markets, the country sees UK as the most important source of tourists for its tourism sector. According to the Tunisian Hotel Association, the market will not fully recover until the British visitors are back in numbers from before the attacks, which will also send a strong message to the world that Tunisia is safe for travel again.
Before the attacks, tourists from the UK formed the bulk of most valuable visitors to Tunisia with high spending capacity, the strongest inclination to spend on high-end accommodation and local cuisines, staying for longer duration in the country, and shopping extensively for locally-made products.
Rebuilding Tunisia's image in the eyes of British tourists is therefore seen as of great importance. While some British tourists started to return to Tunisia (following tightened safety measures and an extensive publicity thereof) many UK travelers continue to remain wary, and in spite the lift of the travel ban, British arrivals have not reached pre-2015 levels. This reluctance is difficult to break, as UK tourists still do not fully trust that their safety will be ensured, a fear further underpinned by tensions in Tunisia's neighboring Muslim countries (e.g. Libya).
Some issues remain unresolved
The inability to bring back the UK tourists at levels from before 2015 is still a major problem to the local industry. Although the government undertook several initiatives to improve tourist safety, these steps are likely to be insufficient to prevent such events in the future.
Amidst Tunisia's frail economic conditions, the availability of sufficient funds to truly and permanently ramp-up security is limited. Moreover, Tunisia must be able to ensure ongoing counter-terrorism abilities as a preventive measure, a task requiring a systematic approach and continuous financing, without dependence on western governments. Considering Tunisia is surrounded by areas prone to continuously produce this sort of danger, ensuring the right intelligence and financing is likely to be a challenge.
Tunisian tourism sector is fighting several battles at the same time, and the blow it received in an aftermath of the attacks had broad repercussions. Various structural issues, which had been present before 2015, still persist. This includes a relatively large share of poor quality accommodation and hotel services, which are not up to par with international standards and expectations of a western tourist, therefore are detrimental to market growth. The 2015 events put several hotel operators under heavy debt and in fight for survival, which pushed upgradation of hotel facilities much lower on their priority list.
There is also a shortage of well-trained hotel and other tourist services staff, which makes it difficult for the Tunisian tourism industry to compete with countries such as Turkey, especially if the substandard service level is paired with outdated and poorer hotel amenities and services. Tunisia does have training centers, however the aftermath of 2015 attacks put the entire sector along with ancillary industries in a standstill, therefore several training center have not been functioning at full capacity. Recovery will take time and it will be a while till a sufficient number of well-trained hotel staff will become available.
EOS Perspective
With tourism playing a pivotal role in Tunisia's economy, the country found itself in a very difficult position as a result of the attacks. The revival of tourist footfall since the summer of 2017 is definitely encouraging, however the industry is still not out of the woods and needs to continue to work along with the government to ensure the return of the tourists, by addressing the key issues – safety and quality of services.
This should also be a good moment for Tunisia to realize the risks of reviving the industry with the same over-dependence on limited variety of demand markets as before (i.e. UK), and intensify its efforts to diversify target markets across Europe and beyond.
Apart from introducing and maintaining fundamental changes to the safety of the traveler and to what the industry offers, the country needs to revamp the way it markets itself so that it can improve its image and boost tourism. In the past, public authorities and industry players have not paid much attention to promoting the country's tourism market on social media, relying largely on tour operators and agencies. However, promoting a positive image of the country along with advertising tourist facilities through online channels might help Tunisia reach broader customer segments across markets, e.g. by influencer endorsements (quite a successful approach for Abu Dhabi and Turkey, to name just a few, in the past).
It is also important for Tunisia to look beyond traditional mass-market, organized tourism and explore other avenues of revenue. More focus could be put on promoting cultural tourism as well as access to Sahara Desert – key attraction for people visiting south of Tunisia. Local investors have already started working to develop offers with local cuisines and immersive desert experiences, along with authentic-themed hotels and restaurants.
Tunisia has also made the right (although modest) steps to address the issue of substandard hotel amenities and unclear standard of accommodation that can be expected by tourists. Changes are being made to classification of hotels, as the current star rating system is outdated and based on size and capacity rather than quality of services. Efforts are being made to re-classify hotels in line with international standards. Such reforms are crucial for the industry to ensure higher level of customer satisfaction.
Rebuilding damaged image is always a long and difficult process and Tunisian authorities must do whatever possible to prevent similar attacks in the future. If the public authorities along with the industry players continue to make efforts to pull the country's tourism market out of the pit, the optimistic expectations about tourist arrivals reaching 12 million by 2028, with a CAGR of 4.6% over 2018-2028, are likely to become reality, bringing back much needed employment and revenue to the economy.