Just like many other carbon-emitting sectors, the shipping industry is also working to reduce its contribution to greenhouse gases and get closer to carbon neutrality. For this, the sector is pinning its hopes on hydrogen-based fuel. Being one of the most polluting industries in the world, the shipping sector is also one of the most difficult ones to introduce such a profound change. This is owing to the massive size of commercial vessels, long distances, hydrogen storage issues, and commercial costs. Although small-level adoption of hydrogen fuel has already begun, it remains unknown whether it will be functional in large commercial vessels as well.
As per the International Maritime Organization (IMO), the shipping industry was responsible for 2.9% of the total anthropogenic emissions in 2018, up by almost 10% between 2012 and 2018. It is expected that the sector's contribution towards global greenhouse emissions will significantly increase by 2050 if proper efforts are not made towards decarbonization. To counter the situation, the IMO has set a global target to cut annual shipping emissions by 50% by 2050 (based on 2008 levels). In response to this, shipping corporations and other stakeholders across the shipping industry have been exploring different ways to reduce their impact on the environment. One of the most critical aspects in this is replacing fossil fuel with a greener fuel. This is where hydrogen fuel might find its place.
As we discussed in one of our previous articles (China Accelerates on the Fuel Cell Technology Front), hydrogen fuel is considered to be the fuel of the future for the transportation sector, as it produces zero emissions. Moreover, with regards to shipping, it is one of the only conceivable options at the moment.
That being said, using hydrogen fuel alone cannot solve the issue of reducing the sector's carbon footprint, as it depends on how the hydrogen fuel is produced. Currently most of the hydrogen that is produced (and used in other industries), is produced using fossil fuels, while only a small portion of it is produced using renewable energy. Hydrogen produced through renewable energy is much more expensive, which keeps the production levels low. If ships run on hydrogen fuel produced using mainly fossil fuels, while the fuel itself would produce zero emissions, the whole process will not carbon efficient. However, with the shipping industry making real efforts to consider a change in fuel, it is expected that production of hydrogen through renewable sources will ramp up, which in turn may reduce costs (to some extent) owing to economies of scale.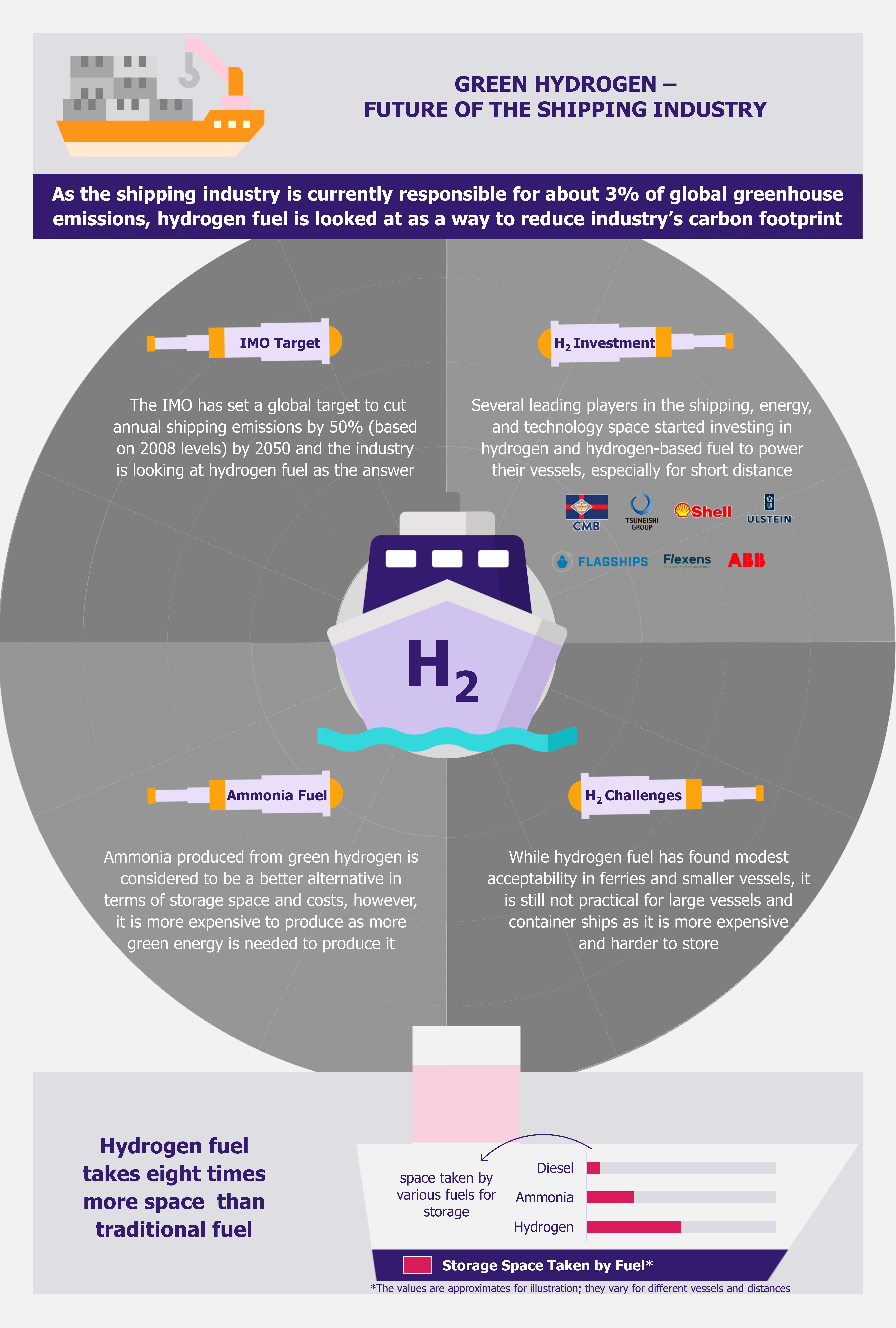 At the moment, several leading players have pledged to develop new or modify existing vessels so that they can run on hydrogen fuel, however, these are currently either prototypes or short-distance small vessels. Antwerp-based Compagnie Maritime Belge (CMB) Group, which is one of the leading maritime groups in the world, commissioned the world's first hydrogen-powered ferry in 2017, named Hydroville. It is currently operational between Kruibeke and Antwerp. It runs on a hybrid engine, with options of both hydrogen and diesel. CMB, which has been a pioneer and advocator of clean fuel for the shipping industry, also partnered with Japanese shipbuilder, Tsuneishi Group, to develop and build Japan's first hydrogen-powered ferry (in 2019) and tugboat (in 2021). Moreover, it launched a joint venture with the Japanese firm to develop hydrogen-based internal combustion engine (H2ICE) technology for Japan's industrial and marine markets. In another move to find a strong foothold with the shipping fuel of the future, CMB Group acquired UK-based Revolve Technologies Limited (RTL) in 2019, which specializes in engineering, developing, designing, and testing hydrogen combustion engines for automotive and marine engines. Moreover, CMB is building its own maritime refueling station for hydrogen automobiles and ships at the Antwerp port, which will produce its own hydrogen through electrolysis.
Similarly, in November 2019, Norwegian ship building and design company, Ulstein, developed a hydrogen-fueled vessel, called ULSTEIN SX190. The vessel is the company's first hydrogen-powered offshore vessel providing clean shipping operations to reduce the carbon footprint of offshore projects. The vessel, which uses fuel-cell technology, can operate for four days in emission-free mode at the moment. However, with constant development and investment in the hydrogen fuel space, it is expected that it will be able to run emission-free for up to two weeks, post which it will have to fall back on its diesel engine. Ulstein also launched another hydrogen-powered vessel in October 2020, called ULSTEIN J102, which can operate at zero-emission mode for 75% of the time. Since Ulstein used readily available technology in developing the J102, the additional cost of adding the hydrogen-powered mode was limited to less than 5% of its total CAPEX. This vessel design is expected to cater to the offshore wind industry.
A leading oil corporation, Shell, also announced that it is looking at hydrogen as the key fuel for its fleet of tanker ships in the coming future as the company aims to become carbon neutral by 2050. In April 2021, the company commenced trials for the use of hydrogen fuel cells for its ships in Singapore. The trial encompasses the development and installation of a fuel cell unit on an existing roll-on/roll-off vessel that transports wheeled cargo such as vehicles between Singapore and Shell's manufacturing site in Pulau Bukom. Shell has chartered the vessel, which is owned by Penguin International Ltd, however, Shell will provide the hydrogen fuel.
In addition to this, several other companies across Europe and Japan are undertaking feasibility studies to understand and assess the use of hydrogen fuel to power ferries and also the production of hydrogen fuel from renewable sources for the same purpose. For instance, in 2020, Finland-based power company, Flexens conducted a feasibility study to generate green hydrogen through wind farms in order to fuel ferries in the Aland group of islands. Similarly, Japan-based companies, Kansai Electric Power, Iwatani, Namura Shipbuilding, the Development Bank of Japan, and Tokyo University of Marine Science and Technology, are collaborating on a feasibility study to develop and operate a 100-foot long ferry with hydrogen fuel. The ferry is expected to be in operation by 2025.
Apart from small ferries, hydrogen fuel is also making a slight headway with commercial vessels. In April 2020, a global electronic manufacturer, ABB, signed an MoU with Hydrogène de France, a French hydrogen technologies specialist to manufacture megawatt-scale hydrogen fuel cells that can be used to power long-haul, ocean-going vessels. While most of the currently operational hydrogen technology is used in small-scale and short-distance vessels, this partnership, which builds on an already existing 2018 collaboration between ABB and Ballard Power Systems, is expected to bring this technology for larger vessels (which in turn are responsible for most of the carbon emissions).
In April 2021, French inland ship owner, Compagnie Fluviale de Transport (CFT), in partnership with the Flagships Project (which is a consortium of 12 European shipping players), launched the first hydrogen-powered commercial cargo vessel, which will ply the Sevine river in Paris. The vessel is scheduled for delivery in September 2021. In 2018, the Flagships project was awarded EUR 5 million of funding from the EU's Research and Innovation Program Horizon 2020.
While several companies are bullish about hydrogen fuel being the answer to the industry's carbon woes, others are skeptical to what extent hydrogen fuel can replace the current traditional fuel, especially given the challenges with regards to large commercial vessels. For instance, Maersk, global player in the shipping industry, does not feel that hydrogen fuel is suitable for container ships as the fuel takes up a lot of physical space in comparison with traditional bunker oil.
As per estimates, hydrogen fuel takes up almost eight times as much space as gas oil would take to power the same distance. The more space is occupied by the fuel, the less space is left for carrying containers, and this negatively impacts its container-carrying capacity and revenue per trip/ship. Moreover, container vessels travel extremely long distances across oceans, and carrying that much hydrogen fuel in either liquid or compressed form at this moment is not physically and commercially viable. To be stored as a liquid, hydrogen needs to be frozen using cryogenic temperatures of -253˚C, which makes it expensive to store. Currently about 80-85% of the sector's emissions come from large commercial vessels such as cargo ships, container ships, etc., and considering that hydrogen can play only a limited role in these vessels, its adaptability and effectiveness as a tool to reduce carbon emissions may be restricted.
However, that being said, the industry is open to alternative fuels and one such fuel is ammonia, which in turn is also produced from hydrogen. Thus using green hydrogen to create green ammonia is another option to explore. Ammonia can be used either as a combustion fuel or in a fuel cell. Moreover, it is much easier and cheaper to store since it does not need cryogenic temperatures and takes up about 50% less space compared with hydrogen fuel, since it is much denser. Thus ammonia seems to fit the needs of commercial vessels in a better manner, however, at present most of ammonia being produced (mainly for the fertilizer industry) uses hydrogen obtained from fossil fuels. Moreover, it further uses fossil fuels to convert hydrogen into ammonia. Thus, to create green ammonia, additional renewable energy will be required, which adds to further costs.
EOS Perspective
Given the industry's vision to reduce its carbon footprint and the ongoing efforts, investments, and feasibility studies, it is safe to say that hydrogen will definitely be the fuel of the future for the shipping industry, whether used directly or processed further into ammonia. However, how soon the industry can adapt to it is yet to be seen.
Moreover, the industry cannot bear the cost of the transition alone. To transition to a greener future, the shipping industry needs support in terms of on-ground infrastructure and investments in production of green hydrogen. Till the time production of green hydrogen reaches economies of scale, it will definitely be much more expensive compared with traditional fuel. This in turn, will make shipping expensive, which would possibly impact all industries that use this service. While the shipping industry may absorb a bit of the high costs during the transition phase, some of it will be passed down to the customers, which is likely to be met with resistance and in turn will impact the overall transition.
On the other hand, green hydrogen projects are expensive to set up and require significant investment and gestation period. Hydrogen companies do not want to rush into making this investment, unless they see global acceptability from the shipping sector. Thus while the transition to a more carbon-neutral fuel is inevitable, it may not be a short-term transition. Unless governments and regulatory bodies come up with strict regulations or a form of a carbon tax on the sector to expedite the transition, the change is likely to be slow and phased, especially when it comes to large commercial vessels.