Social media users are increasingly reliant on and influenced by what they see online, particularly, when it comes to marketing done by fashion and beauty brands. Social media provides immense marketing opportunities to the fashion and beauty industry by allowing them to closely interact with customers and influence their buying decisions like never before. To tap such opportunities, about 78% of global fashion brands incorporated social influencers in their marketing strategy in 2017, according to a survey conducted by Launchmetrics. Influencers are slowly becoming an integral part of marketing campaigns for fashion and beauty brands – for high-end brands such as Becca Cosmetics and Yves Saint Laurent, as well as affordable brands such as Maybelline, for whom influencers have been pivotal in driving sales.
Why beauty and fashion brands are adopting influencer marketing?
In the past, to launch new collections or promote products, fashion/beauty brands invested heavily in celebrities and television models gracing magazine covers, billboard and television advertisements, among others. These efforts were effective but as technology progresses, fresh marketing tactics are born. While most of the traditional forms of advertising are still being used, brands have started to realize how laborious it is to employ traditional methods in promoting products, hence, majority of brands are going digital and starting to work with influencers.
How influential is influencer marketing?
Undoubtedly, influencer marketing is one of the fastest growing digital marketing tools, providing unparalleled access to real-time word-of-mouth targeting. For marketers, today's social media influencers are yesterday's celebrities and socialites, only with a more persuasive voice and greater power to reach audiences.
Beauty and fashion industry has understood the power of influencer marketing quite well. Cosmetics brands such as Smashbox have completely abandoned the use of traditional print media for advertising while luxury cosmetics companies such as Estee Lauder have significantly reduced spending on traditional media to focus on digital.
Fashion and cosmetics brands are using various types of influencer campaigns to promote products, foster brand awareness, and boost sales. For example, Maybelline (an American cosmetics company) in China used the influence of beauty bloggers and 50 celebrity influencers to do a 20-minute livestream video for a newly launched lipstick in 2016, which led to sales of 10,000 lipsticks in two hours.
On the other hand, Olay (an American skincare company) introduced a skincare campaign, Olay 28-day Challenge, which urged influencers to document their four-week experience of using company's products while updating their followers simultaneously across various social media platforms. Influencers also gave away free samples and offered discounts to followers to encourage them to buy the products to join the skincare challenge. In 2018, the campaign was able to increase engagement rate by 20% and there was a significant increase in Google searches for the brand name.
There is no end to innovative social media campaigns that brands are launching. For example, in 2018, H&M (A Swedish clothing retail company) engaged in conversation with consumers on Instagram to come up with new designs for its brand Nyden, which is targeted at millennials. H&M worked with nine influencers, who used Instagram stories' polling feature to understand followers' preferences for certain designs, such as using zippers versus buttons, among others. Over a period of two weeks, the polls attracted more than 425,000 viewers and generated 35,000 votes.
For brands such as Fashion Nova (an American fast fashion retail company), with 14 million Instagram followers and ranked as the most Googled fashion brand of 2018, marketing through Instagram has been pivotal in its rapid ascent in the fashion industry. Fashion Nova is known for betting big on Instagram and use of celebrity influencers – as of December 2018, the company had worked with 3,000 influencers on Instagram. Using celebrity influencers, it claims to have generated sales up to US$ 50,000 per post and selling out a whole collection of clothing line within 82 minutes. With about 20 to 30 posts per day on Instagram, Fashion Nova knows how to keep its audience engaged and generate brand awareness.
What challenges are obstructing growth?
Influencer fatigue
Influencer marketing is not as impeccable as it sounds to be. With more and more businesses adopting influencer marketing, threat of influencer fatigue increases, which could result in disengaged audiences and reduced impact. According to a study conducted by Bazaarvoice in 2018, about 47% respondents claimed to be fatigued with repetitive influencer posts on Instagram.
Promotional content is already beginning to clutter consumer's news feeds. With beauty and fashion influencers recommending every other product that enters the market, audiences will eventually lose trust in them, feel disengaged and overwhelmed. Consumers, after some time, are bound to get tired of having their buying behavior manipulated. Just like people started using ad-blockers when websites became loaded with advertisements, there's a probability that they may also turn away from beauty/fashion influencers.
Absence of standard metrics/parameters to determine success of campaigns
There is uncertainty regarding what constitutes a successful influencer marketing campaign and how to calculate ROI on marketing spend. Beauty and fashion companies are unable to accurately calculate profitability of influencer campaigns. According to a study published by Celebrity Intelligence in 2018, 46% of respondents (from the beauty industry) faced challenge in evaluating ROI of an influencer collaboration.
Driving purchases is not always the key objective of influencer marketing, rather it focuses on softer goals like growing brand awareness or boosting engagement, which makes ROI far more complex to determine.
Influencer marketing does not guarantee results in terms of sales, brand reach, or number of clicks. No standard metrics have been set for the industry to measure success, instead brands end up speculating whether the campaign was successful or not. Some beauty and fashion companies monitor the comments or number of likes on the posts, while others determine views on videos or track campaign hashtags, all of which are not very effective methodologies.
Fraudulent practices
Much like other industries, beauty and fashion market has also fallen prey to influencer frauds. According a report published Points North Group in 2018, cosmetics/skincare companies suffered losses due to fraudulent engagement – 46% of Raw Sugar Living's influencer marketing budget was squandered on fake followers, Clarins lost 45% of its budget on influencer frauds, while L'occitane blew 24% of its budget, among various others. Such deceitful practices have taken a toll on marketers, who invest in influencers to drive brand awareness and sales, but their campaigns fail to reach the actual target audience.
Another inauthentic social media activity plaguing the beauty and fashion industry is staging fake promotional posts by aspiring influencers. Companies want to see promotional abilities and references of past campaigns of influencers before hiring them to do paid sponsored posts. Hence, aspiring influencers, particularly from the beauty and fashion industry, have started to publish posts with brand hashtags and captioning it in a manner such that it seems to be a promotional or sponsored content. While this leads to free publicity for brands but most of them complain that this also results in inferior quality sponsored content posted without approval, which could harm brand's reputation.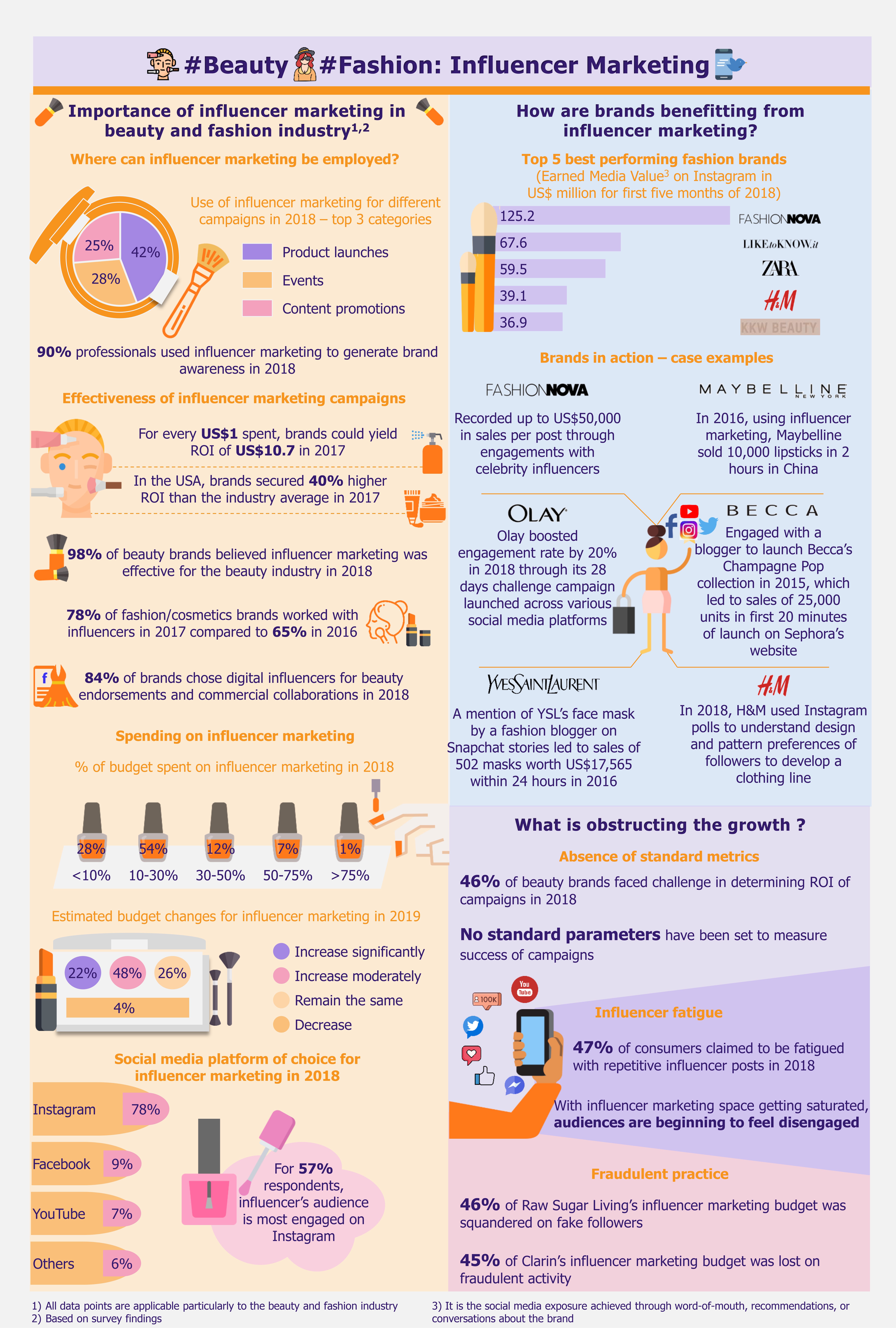 EOS Perspective
If there is any market that qualifies to be an early adopter of influencer marketing, it is the beauty and fashion industry. It is an extremely dynamic industry and to stand out from competitors, brands need to constantly evolve, be creative, and promote products extensively – all of which is easily achieved through influencer marketing.
Equipped with social media savviness, influencers have the power to eloquently persuade consumers to make purchases. There is no limit to the creativity that they bring to the table – fashion/beauty influencers design compelling marketing campaigns for the brands by reviewing products, conducting polls and contests, offering huge giveaways, sharing their experiences of using products through videos or photographs, attending events organized by brands and promoting such events, among various other tactics.
Is influencer marketing here to stay?
There is no doubt that influencer marketing is becoming the mainstay of beauty and fashion industry, far from a passing fad. The personal nature of influencer campaigns is one of the reasons why it is proving to be effective for the beauty and fashion industry. According to a survey conducted by Celebrity Intelligence in 2018, 98% of beauty companies believed that influencer marketing is effective for the industry while 68% thought beauty segment has a natural affinity with influencers. Even though difficult to calculate, surveys have determined that influencer campaigns could also provide high ROIs – for every US$1 spent on influencer marketing, brands received average ROI of US$10.7 in 2017. Fashion and beauty brands have gauged the power of social media and know that with the right influencer endorsing to the right community/audience, it can translate into clicks, conversions, and actual sales.
---
Find out more about
drivers and challenges in
influencer marketing adoption
here
---
For fashion and beauty brands, influencer marketing has become a multi-million-dollar investment, with considerable portions of their budgets dedicated to influencers. For example, Estee Lauder (a US-based cosmetics company), in 2019, revealed that 75% of its marketing budget will be spent on digital marketing, particularly on influencers, while Shiseido (Japanese multinational personal care company) increased its influencer marketing budget by 50% in 2019. On the other hand, in February 2019, Benefit Cosmetics (a US-based cosmetics company) formed an in-house dedicated influencer agency in the UK to streamline influencer marketing operations and manage influencer relationships. In the future, it plans to expand the in-house influencer agency to other locations as well.
Undoubtedly, influencer marketing has dramatically changed the fashion and beauty industry, by allowing real people to narrate a brand story, demonstrate product, and provide honest and credible product reviews. In order to make it a sustainable marketing strategy, measures are being taken to overcome some of the existing challenges. In pursuit to engage with authentic influencers, beauty brands are adopting more sophisticated, data-led approach to selection process. According to Celebrity Intelligence survey, in 2018, about 67% of beauty brands identified social media analytics (including audience insights and engagement metrics) useful to choose authentic and suitable content creators.
Another ongoing challenge is to accurately determine success of campaigns, which some companies (including lifestyle and cosmetics brands such as Daniel Wellington, L'Oréal, and Olay) are tackling by providing influencers with a unique URL or a discount code, which followers can use and brands can easily track conversions. If the campaign does not entail discounts, various metrics can be used to evaluate ROI such as traffic driven, social reach, social media impressions, engagement rate, cost per impression, and cost per engagement, among others.
Nonetheless, opportunities that influencer marketing provides for the beauty and fashion industry outweigh all downsides. While brands have achieved success with sponsored posts and brand hashtags on social media, there is still a lot more for them to explore and innovate through influencer marketing.