From smart glasses that allow a surgeon to operate having his patient's medical records at sight to an intelligent contact lens that measures glucose levels of its wearer, technological innovations are changing the world as we know it. Wearable medical device market growth has been promising and the industry is expected to reach a value of US$7.8 billion by 2020, growing at a CAGR of 19% from 2015 to 2020. Since 2015, the USA and Europe have been two key markets hosting majority of users of these new technologies. However China, India, and Brazil are expected to increase its demand for wearable devices driven mainly by rapid expansion of smartphone users and an increasingly aging population. Is these emerging economies' current set-up favorable for medical wearable to maintain a steep growth?
The use of wearable medical devices is skyrocketing due to aging populations, fast adoption of new trends, and greater incidence of chronic conditions around the world. An increase in health awareness across the globe and a simultaneous increase in worldwide wearable medical device shipments estimated to reach 97.6 million units by 2021, growing at a staggering CARG 108% between 2016 and 2021, might indicate the industry's large growth potential.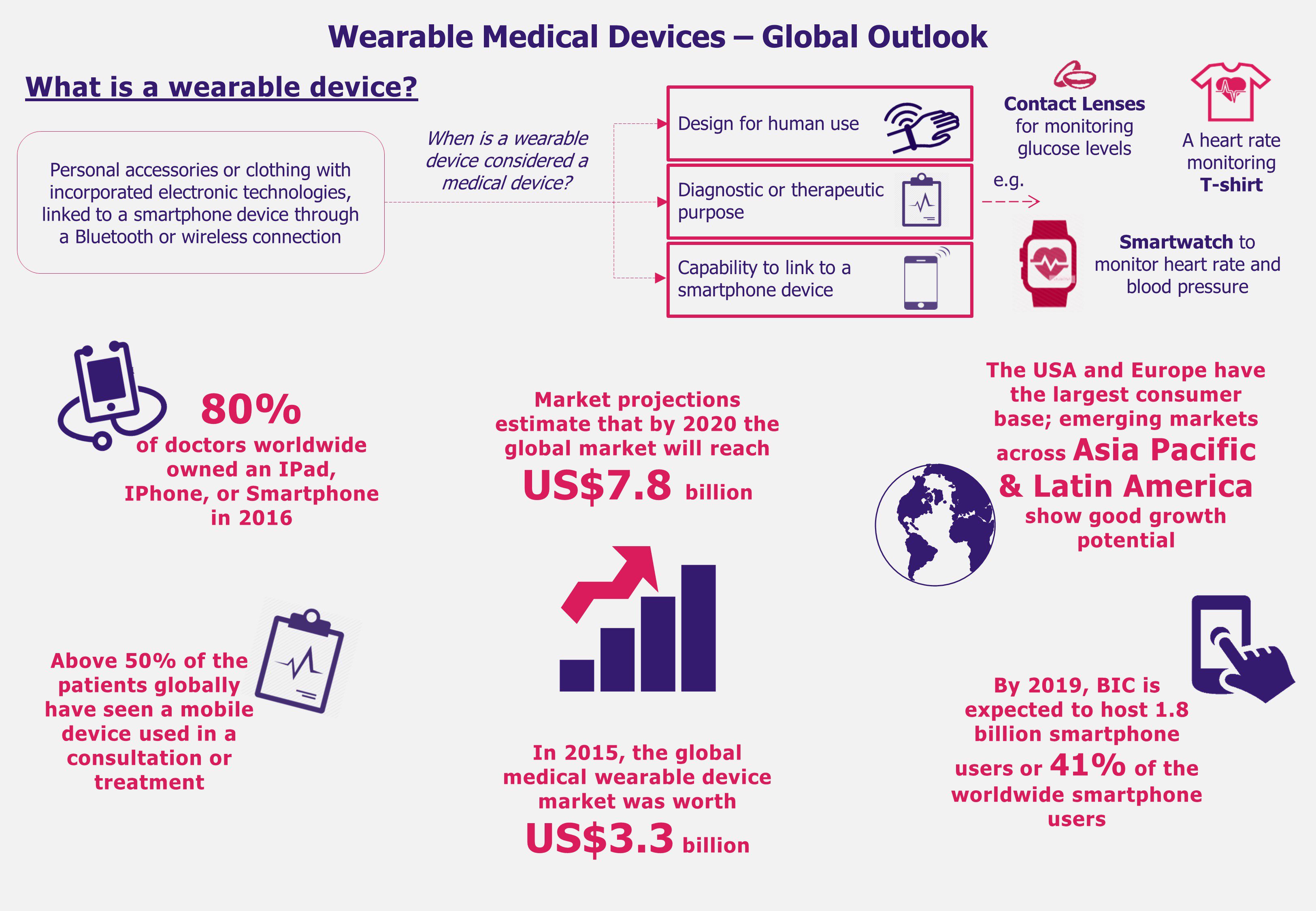 Brazil, India, and China (BIC), in particular, have been registering increasing rates of chronic diseases such as heart failure, diabetes, and obesity for the past several years. Therefore, these countries have started to be considered as the next destinations to focus on in search for high growth-potential wearable medical devices markets.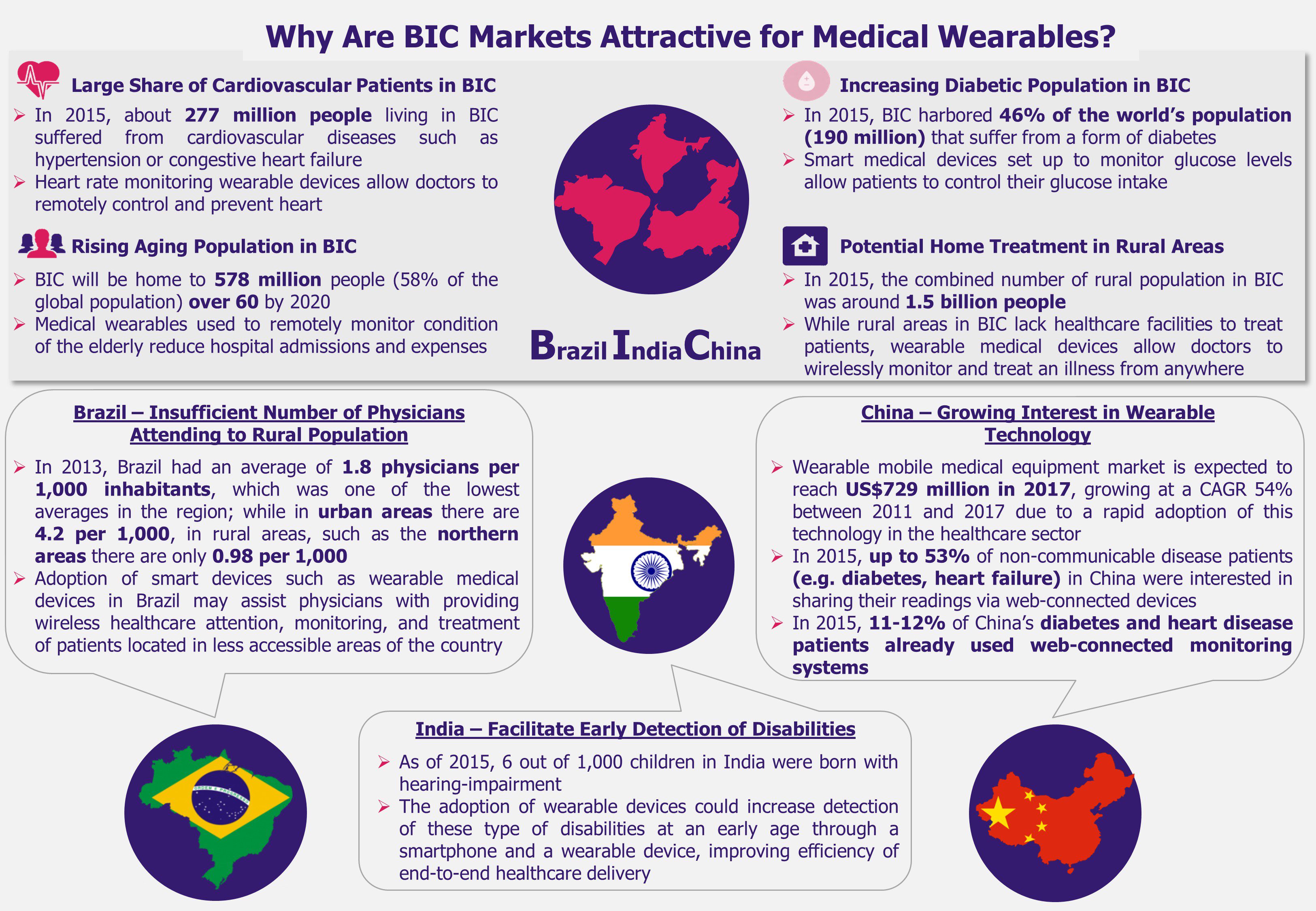 Regardless of the fact that wearable medical devices are thriving in the USA and Europe, in countries such as Brazil, India, and China, these devices are bound to face challenges that could translate into major roadblocks for the market to grow. For instance, although wearable medical devices have proved to be a significant aid when monitoring and preventing illnesses, these are not yet considered an essential product for healthcare consumers. Consequently, BIC buyers, who tend to also be highly price sensitive, may refrain from purchasing such solutions if the retail price is high in comparison to their purchasing capabilities. As a result, this behavior may lead to a stalling sales volume in these markets and, subsequently, a slowdown in the wearable medical market growth.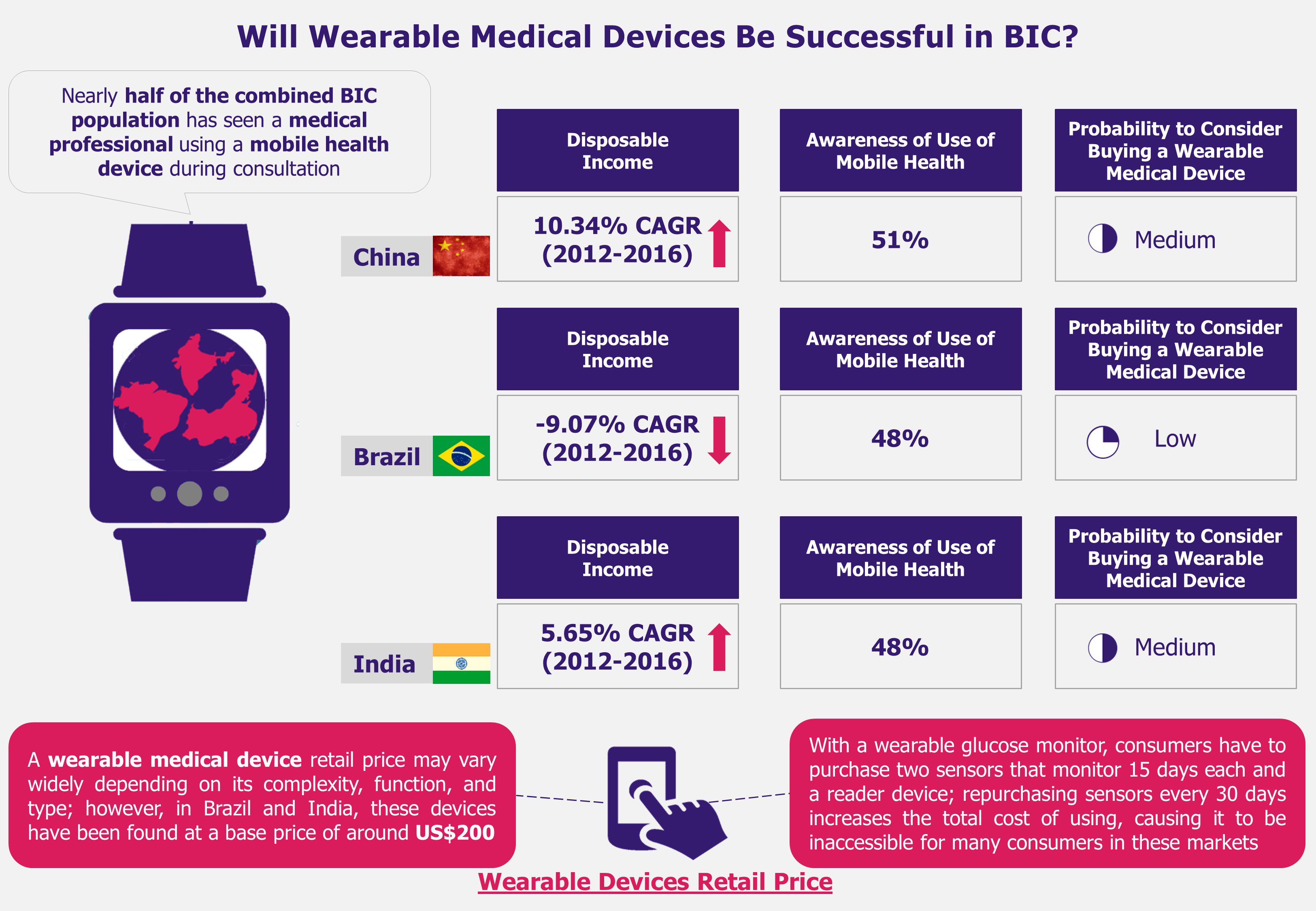 In addition, the growth of wearable medical technologies in BIC is challenged by deficient regulatory frameworks with regards to categorizing and supervising such devices for their import and commercialization in each market. Currently, regulatory frameworks are mostly outdated and do not include specific category for wearable devices with proper security measures. Moreover, as these wearables are battery-operated, improper testing due to lack of regulation can affect their safety as well as may reduce the trust consumers need to develop in order to accept and use the device. Further, this inadequate regulatory scenario may drive away potential market players (including key providers).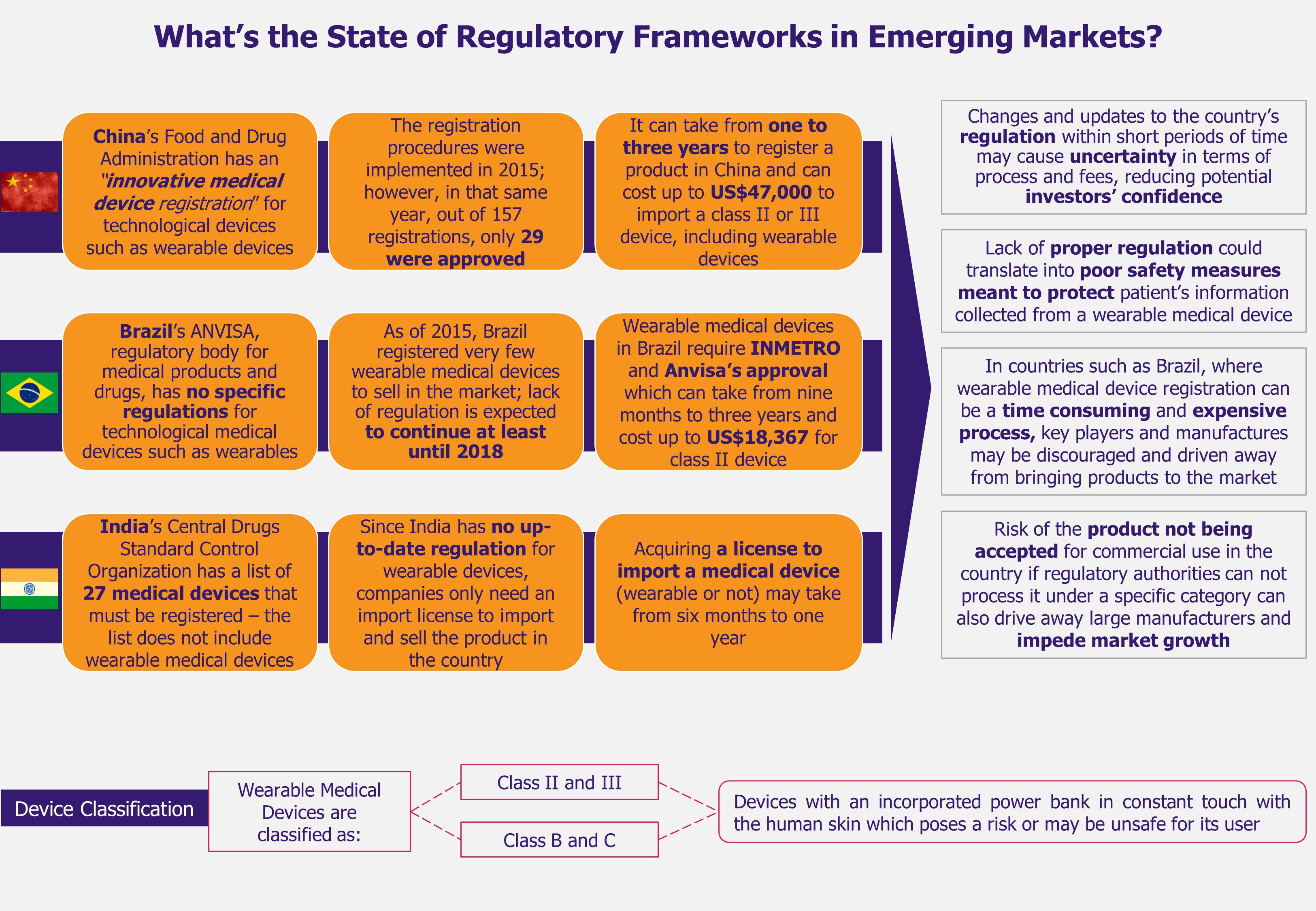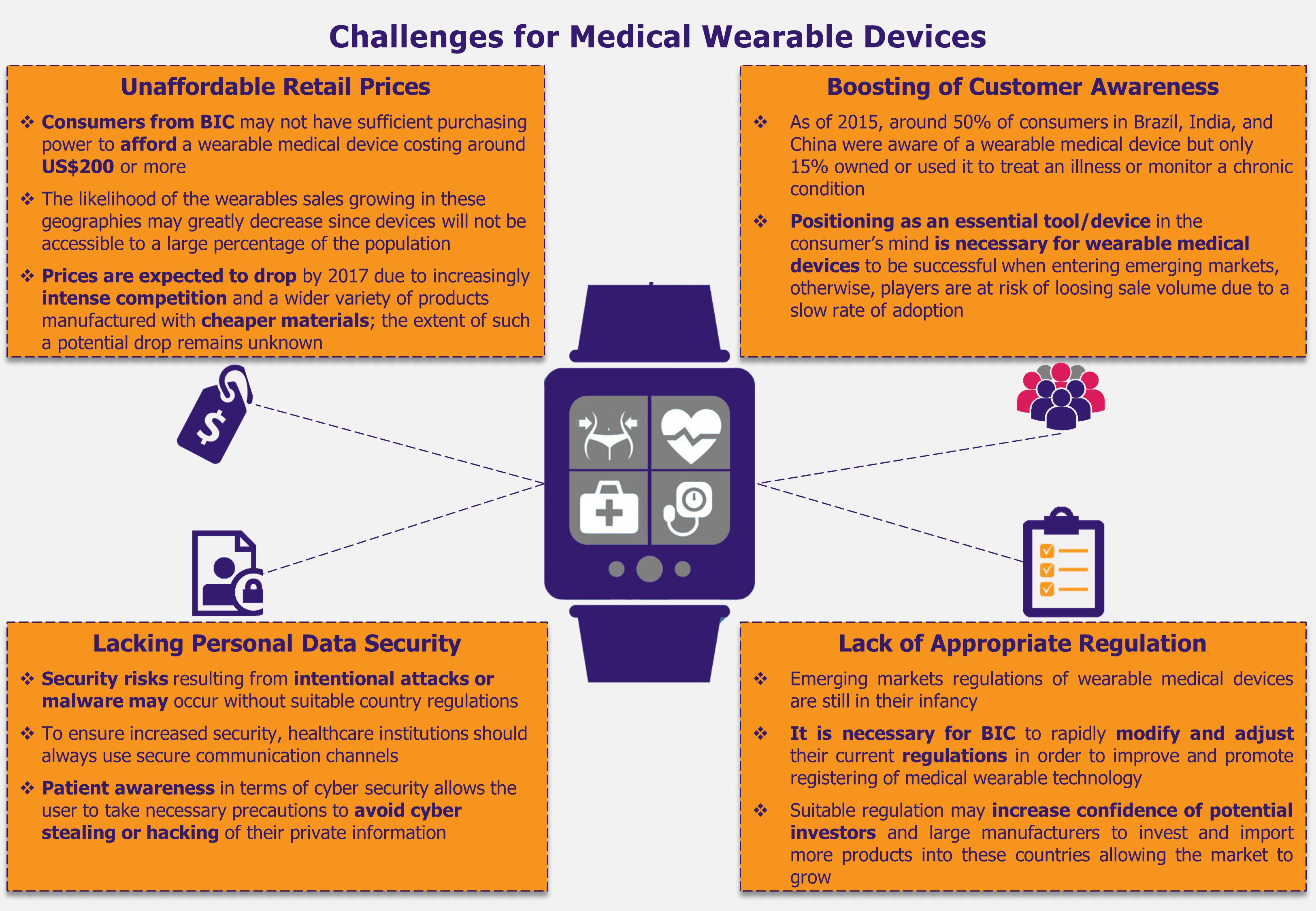 EOS Perspective
Global wearable medical device market is witnessing a steep growth driven mainly by changes in demographic profiles of many populations and a growing incidence of chronic conditions. In developed economies, wearable medical technology is experiencing high adoption rates and its role in the healthcare sectors is strengthening, mainly because physicians already use such solutions during consultations, whether to monitor, diagnose, or treat a patient. In emerging economies such as Brazil, India, and China, wearable medical technology has even more room to continue expanding, however, current scenarios in these countries may partially impede this growth.
Some of the key issues in these markets include the problem of import regulations unfitted for wearable medical devices, and this seems to be an important issue which needs to be sorted out in the short term to avoid driving potential players and manufacturers away from BIC markets. At the same time, the high retail price makes the wearable devices unaffordable for a large percentage of the population causing low rate of adoption among patients, and hindering medical wearables' market growth.
Further, the fact that healthcare providers are not planning to include such devices in public health insurance schemes and reimburse the cost of wearable devices as part of their health plans, lowers the chance of this technology reaching higher number of consumers. This limited accessibility to wearable medical devices in BIC markets may result in low consumer's awareness about their benefits, or even their existence.
Local governments should reform and adapt their import regulations to fit the wearable medical devices characteristics, allowing a better flow of these products to enter the countries without risking human health. At the same time, for wearable medical devices to healthily grow in these promising and widely populated markets, manufacturers and retailers should aim to lower a wearable device retail price. A way to achieve this could be by adding wearable devices to private health care plans (and encouraging public health insurers to do the same) – especially for chro
nic diseases patients and people over 60 years old. This will most likely allow consumers to purchase such a device at a lower retail price or rely on their healthcare reimbursement policies.