Multinational companies such as J&J, GE, and Siemens have dominated the medical devices industry thanks to product innovation and lack of competition from cheaper alternatives from generic manufacturers. Though local competition has emerged in some of the larger markets such China, most domestic companies remain small-sized, focusing on less complex Class I and Class II type medical devices, such as orthopedic accessories, catheters, wound solutions, and inhalers.
Most emerging countries rely heavily on imported devices such as stents, pace-makers, artificial joints, biologics, etc., as there are very limited alternatives available in their domestic markets. For instance, India imports about 80% of the required medical devices. This is where generic devices come into play.
Generic medical devices are copies of those branded devices that are not patent-protected. While the quality of such medical devices is at par with branded products, the price can be up to 50% lower. So far, only a few generic products, such as asthma inhaler (1995) and Pulse-Oximeter (2003), have caught market attention. The recent addition being a range of orthopedic products, including plates, rods, and screws by Emerge, a company started by former employees of Swiss-based Synthes (now acquired by J&J).
Currently, the market for generic devices is predominantly US-driven, where regulations do not differentiate between a branded device and its 'substantially equivalent' design. It is expected that more generic devices may enter the market as branded devices go off-patent. Other branded devices, which are similar in function and not manufactured through proprietary process, may also face generic competition.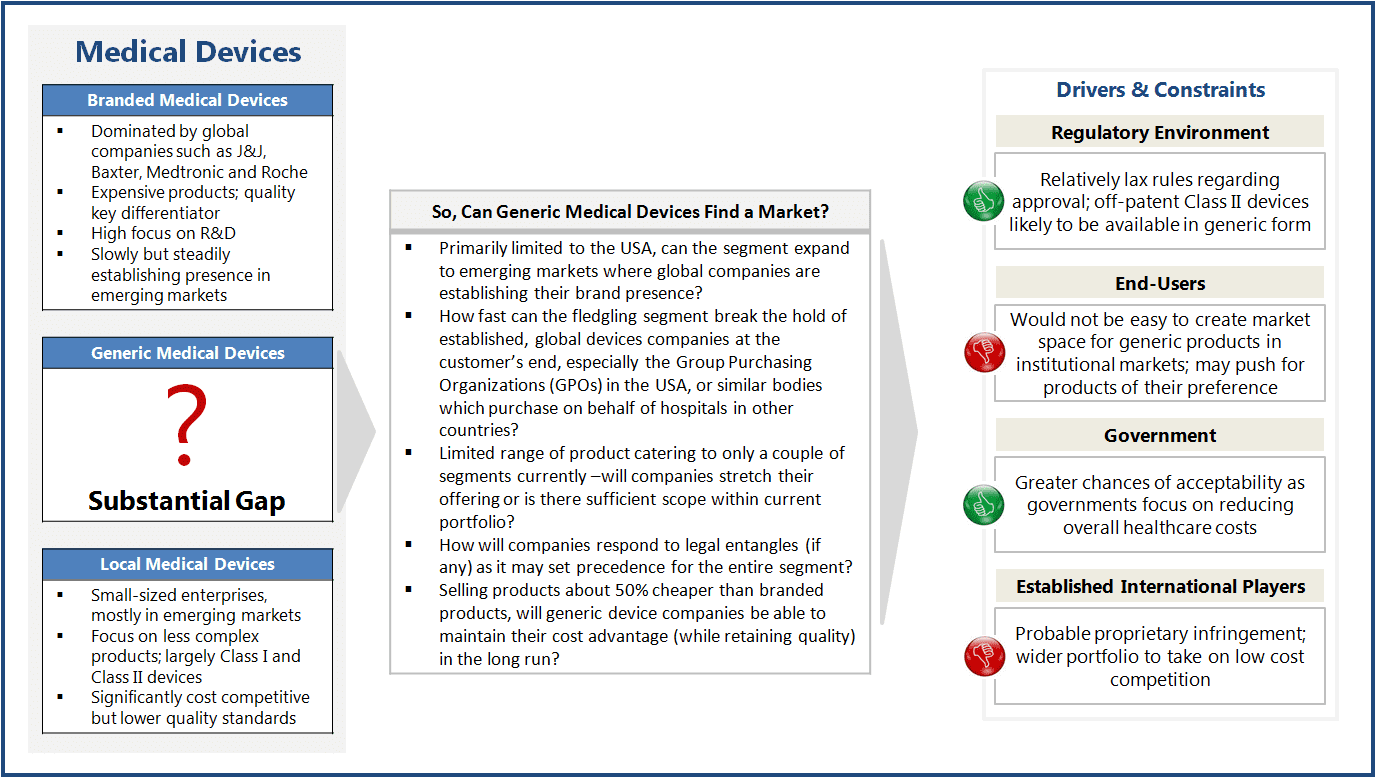 Generic devices may be the answer to various governments' aim of minimizing healthcare cost without compromising on quality. However, the market for generic devices is still fragmented and geographically constrained vis-à-vis branded ones. Much would depend upon the ability of generic manufacturers in containing costs (to remain competitive) and in breaking the hold of established players over sales and distribution channels.