Gone are the days when consumer bought a pair of jeans and wore it for years. Fast fashion culture has conditioned consumers to expect a constant stream of new clothing that feeds their desire to buy more in order to keep up with the changing trends. Owing to fast fashion, affordable clothes are being manufactured at a warp speed, worn, and quickly discarded, making clothes disposable commodities rather than keepsakes. About 100 billion clothing items are manufactured globally each year and consumption has increased by 400% in the last two decades. Fast fashion has undeniably democratized high fashion by providing affordable apparel for everyday shoppers but it comes at an enormous cost, not reflected in its bargain-basement price tags.
Fast fashion is the fashion now
Selling large quantities of inexpensive clothing has made fast fashion a dominant business model in the garment industry. Another reason for its popularity is the taste of luxury clothing that it offers to shoppers without paying the full price. Fast fashion brands, such as Zara and H&M, are able to produce low-cost mimics of high-end fashion brands. The moment a model walks down the ramp wearing clothes of luxury brands such as Louis Vuitton, fast fashion brands mass produce replicas of a similar design and sell them at astonishingly low prices.
While established luxury clothing brands take months to design and distribute a clothing item, Zara is able to design, produce, market, and distribute a new piece of clothing to its stores located across 93 countries in mere two weeks. This enormous efficiency in producing mass clothing at an economical format provides an edge to fast fashion companies that traditional clothing brands will always struggle to replicate.
Fast fashion has transformed dynamics of the whole fashion industry, changing the traditional four-season fashion calendar to 52 micro-seasons. Fast fashion companies such as Missguided launch about 1,000 new products monthly, while Fashion Nova rolls out 600 to 900 new styles every week.
The blindingly fast pace at which clothes are being manufactured and discarded has its consequences. The manufacturing process is environmentally damaging and speedy supply chains depend on underpaid and overworked factory workers.
Environmental cost of fast fashion
The environmental menace linked to manufacturing and consuming fast fashion is hidden across the lifecycle of each piece of clothing. The production process is tremendously polluting to begin with, as factories indiscriminately dump toxic chemical-laden wastewater into rivers and tonnes of greenhouse gases are emitted while manufacturing – about 1.2 billion tonnes of CO2 is emitted annually by the global textile industry, which is more than aviation and shipping industries combined.
Even the choice of fabric for manufacturing fast fashion garments is posing environmental risks. Proportion of synthetic materials, such as polyester in our clothing has increased two-fold since 2000, rising to 60% in 2019. These fibers are oil-based and a single polyester shirt has 5.5 kg of carbon footprint, as compared to 2.1 kg from a cotton shirt. Moreover, polyester generates vast amounts of greenhouse gases, sheds microfibers that cause plastic pollution in oceans, and when disposed, it does not naturally decompose, compounding the waste problem.
A major ramification of fast fashion is that clothes move from consumer's wardrobes to garbage as fast as they are manufactured. It is likely that within 7-8 uses, a jeans or shirt would be discarded for clothing that is newer and trending. The shorter lifespan of garments is not only generating enormous amount of waste but is also putting strain on production resources such as water that is extensively used in the manufacturing process.
Globally, about US$ 400 billion worth clothing is discarded prematurely and 21 billion tons of textile is sent to landfills annually. The ecological cost associated with these garments is tremendous – 3,000 liters of water is required to manufacture one cotton shirt and a pair of jeans needs about 8,000 liters of water, almost the amount of water an average person drinks over two years is utilized in production of garments that will be quickly discarded.
Social cost of fast fashion
With rise of globalization, supply chains have become international, which has led to increased outsourcing of textile production to countries that offer low-cost labor. Fast fashion's low price tags largely depend on even lower production costs. Hence, countries such as USA produce only 3% of its garments, while the rest is outsourced to developing countries, such as Bangladesh, India, Vietnam, etc.
Low-cost production means factory owners need to cut down costs, which is usually done at the expense of safety and results in providing appalling working conditions for factory workers. Fast fashion production uses 8,000 synthetic chemicals, several of those chemicals are carcinogenic affecting health of factory workers. Moreover, workers are constantly exposed to fumes of toxic chemicals, which pose serious threat to their lives.
Fast fashion frenzy has led retailers to indulge in unfair labor practices in an attempt to keep production costs low and simultaneously increase production. About 85% of textile factory workers are women, who work overtime and are highly underpaid. Lack of regulation has given way to exploitation of labor in countries such as Bangladesh, where retailers pay as little as US$ 2-3 per day to garment workers, a larger portion of them are engaged by fast fashion brands. Even in developed economies such as the USA, companies such as Fashion Nova have been found to pay employees far below the minimum wage – the brand was reported to pay US$ 2.77 an hour to its workers in Los Angeles.
Additionally, cases of child labor have been registered in countries including Bangladesh, Brazil, China, India, Indonesia, Philippines, Turkey, and Vietnam.
A move towards sustainable production
In the past decade, changing consumer attitudes associated with sustainability and corporate transparency have propelled fast fashion retailers to rethink impact of their production processes.
Notable steps have been taken by some of the largest fast fashion brands such as Zara and H&M. Zara aims to use 100% organic, sustainable or recycled material in its clothing line by 2025. Also, it has plans for its facilities not to produce any landfill waste by 2025. Currently, Zara has a sustainable clothing collection, Join Life, which uses sustainable raw materials such as organic cotton, tencel (cellulose fiber), or recycled polyester.
H&M also has a similar vision of using 100% sustainably sourced or recycled materials in its garments. It also aims to reduce water consumption and CO2 emissions in production processes. The company already has a clothing line, Conscious, which uses sustainable materials for manufacturing garments.
Both companies also claim to be striving to provide better working conditions for workers and pay fair wages.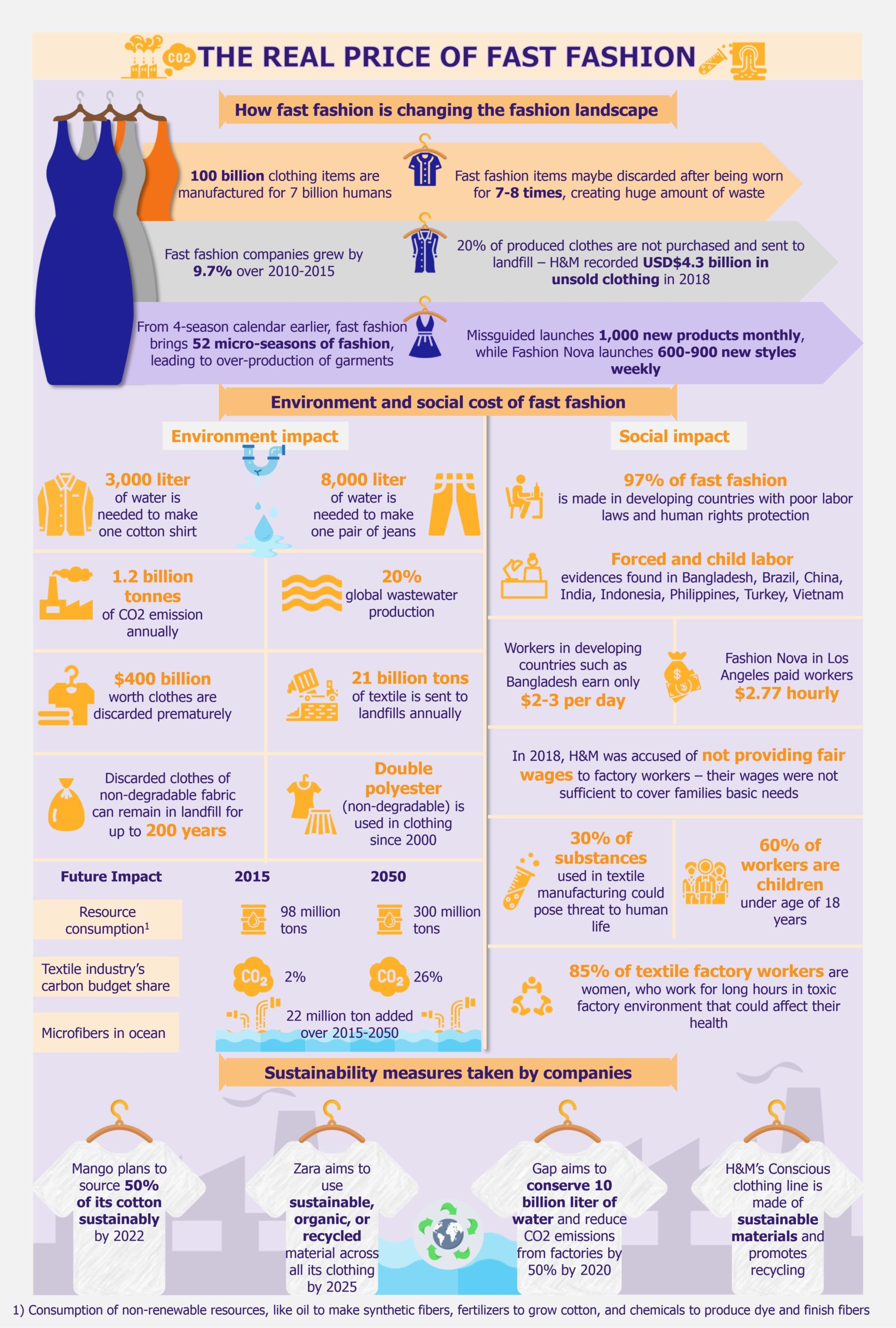 EOS Perspective
Thanks to fast fashion, for many consumers, what used to be a thoughtful and occasional purchase, has turned into a series of impulse buys at shorter intervals. The rate at which garments are being produced is not environmentally sustainable and putting profits ahead of workers' welfare has led to abuse and exploitation of laborers globally.
Fortunately, the number of eco-conscious consumers is on the rise, a fact that has pushed fast fashion retailers to reevaluate strategies and focus on sustainable production. However, a question still remains how much of those sustainability pledges and greener production goals actually hold true.
Can fast fashion really be sustainable?
The fundamental problem lies in the business model of fast fashion that is based on selling more products. The industry's profitability hinges on luring consumers to fresh stream of new clothes and designs that are launched almost weekly. A business model that is based on over-production is far from being sustainable.
Fast fashion companies are often criticized for greenwashing and distracting consumers from their harmful practices. For instance, H&M's recycle program encourages shoppers to donate their old clothes, which H&M claims to recycle to create new textile. However, only 0.1% of all collected clothing is believed to be actually recycled, while the rest is most likely dumped in landfills. H&M's clever marketing tactics make shoppers believe that it is a green company, but in reality, H&M offers discount vouchers to shoppers in exchange of their donated clothes, which pushes consumers to buy even more clothes.
Claims made by fast fashion companies on using 100% sustainable fabric have been questioned by various experts and critics, as all fabrics utilize enormous amount of natural resources and energy in the production process. Fast fashion companies might be shifting to fabrics with lower environmental profile but it cannot be completely sustainable, as claimed.
Moreover, H&M and Zara's sustainable clothing lines, Conscious and Join Life, have been called out for misleading consumers with vague sustainability claims. It is unclear to consumers why these companies are labelling their clothing lines as sustainable. The companies have never defined terms such as 'sustainably sourced' or 'sustainable materials', used to describe their clothing lines. Hence, it is ambiguous how they source the materials, what is meant by sustainable materials, and what portion of garments they actually constitute.
While making an effort to use environmentally-friendly materials is definitely a step towards better production practices, it is not enough to compensate for the overall damage that fast fashion companies impose on the environment, hence, consumers also need to do their part.
Time to slow the fast fashion
Fast fashion thrives because companies create demand for clothing. To curb this demand, consumers need to make changes in shopping behavior to reduce their own environmental footprint.
A conscious choice needs to be made to purchase less clothes and to use the existing ones for longer time period. Solely wearing a garment for nine months longer can reduce carbon footprint of that garment by 30%.
Buying used clothes is another way to reduce environmental impact. Wearing used garments is a sustainable way to recycle clothes which would otherwise be discarded in landfills. If every shopper purchased one used item in a year, it could save CO2 emission equivalent to pulling out half a million cars from roads for a year.
Nonetheless, if consumers make mindful choices and fast fashion brands commit to doing business differently, we would be able to produce and consume less.