Traffic congestion is a major problem in most metropolitan areas globally. Ever-rising number of vehicles exceed the road infrastructure capacities, prompting the need to look for possibilities of transportation beyond roads. Electric Vertical Take-Off and Landing (eVTOL) vehicles – more commonly known as air taxis, unmanned aerial vehicles (UAVs), or autonomous air vehicles (AAVs) – are considered as a genuine solution to the problem. While they are still in nascent stage of development, we look at the opportunities that may arise in the Urban Air Mobility (UAM) market.
Electric Vertical Take-Off and Landing, or eVTOLs, for a layman, can simply be defined as electric-powered vehicles that have vertical take-off or landing capabilities similar to a helicopter, minimizing the space required to become air-borne.
While the concept dates back to the early 2010s, development in the eVTOL space has gathered pace since 2016, when Uber released its Uber Elevate white paper envisaging its plans to present a working test prototype by 2020, and commercially launch an air taxi service in 2023.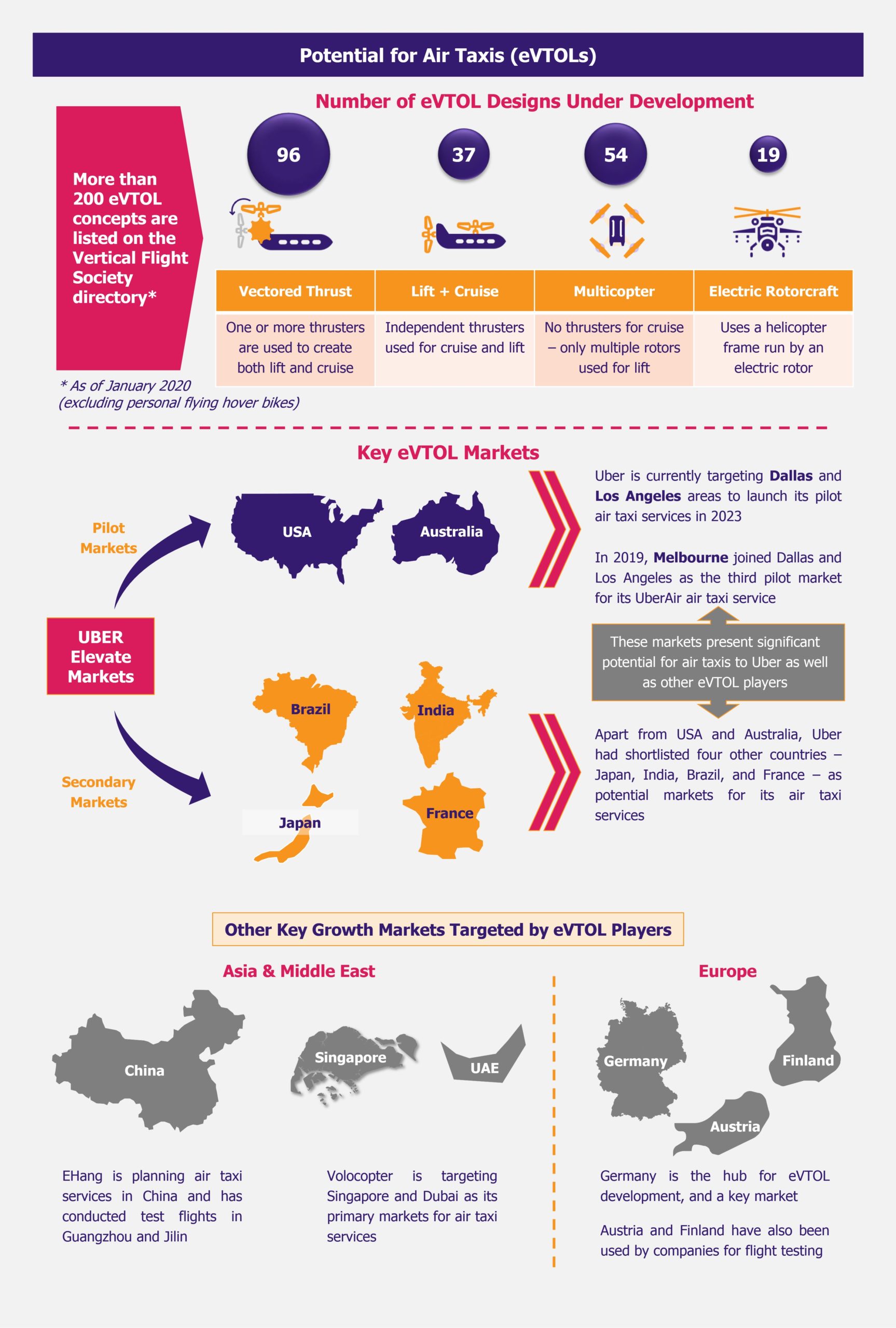 State of eVTOL development
Uber's announcement acted as a stimulus for eVTOL manufacturers to fast-track the development and testing of their aerial commuter vehicles. Several leading eVTOL manufacturers have conducted unmanned and manned testing of their prototypes in controlled air spaces across major cities across the world, with a view to ensure the operability and safety of these air taxis for commercial deployment.
In 2016, Germany-based Volocopter became the first manufacturer to get a permit to fly its eVTOL prototype in Germany. In 2017, the company conducted a successful public demonstration of its air taxi – making an unmanned flight near Jumeirah Beach Park in Dubai, with an aim to launch a commercial pilot air taxi program in Dubai in early 2020s. Since then, the company has completed similar tests in the USA in 2018 and Singapore in 2019.
Chinese company EHang has stolen a march on its competitors, becoming the first company to successfully commercialize passenger-grade autonomous aerial vehicles. As of December 2019, the company had delivered 38 two-seater passenger-grade air taxi (EHang 216) to private customers globally.
Uber has also entered in partnerships with several eVTOL manufacturers (mostly companies owned or backed by aircraft manufactures), engineering firms, real estate companies, and research organizations, over the past four years, including Joby Aviation, Aurora Flight Sciences (a Boeing subsidiary), Embraer, Bell, Pipistrel, Karem Aircraft, Jaunt Air Mobility, and Hyundai.
Other key manufacturers such as Lilium, Opener, Kitty Hawk, and Airbus have also conducted multiple flight tests globally since 2017.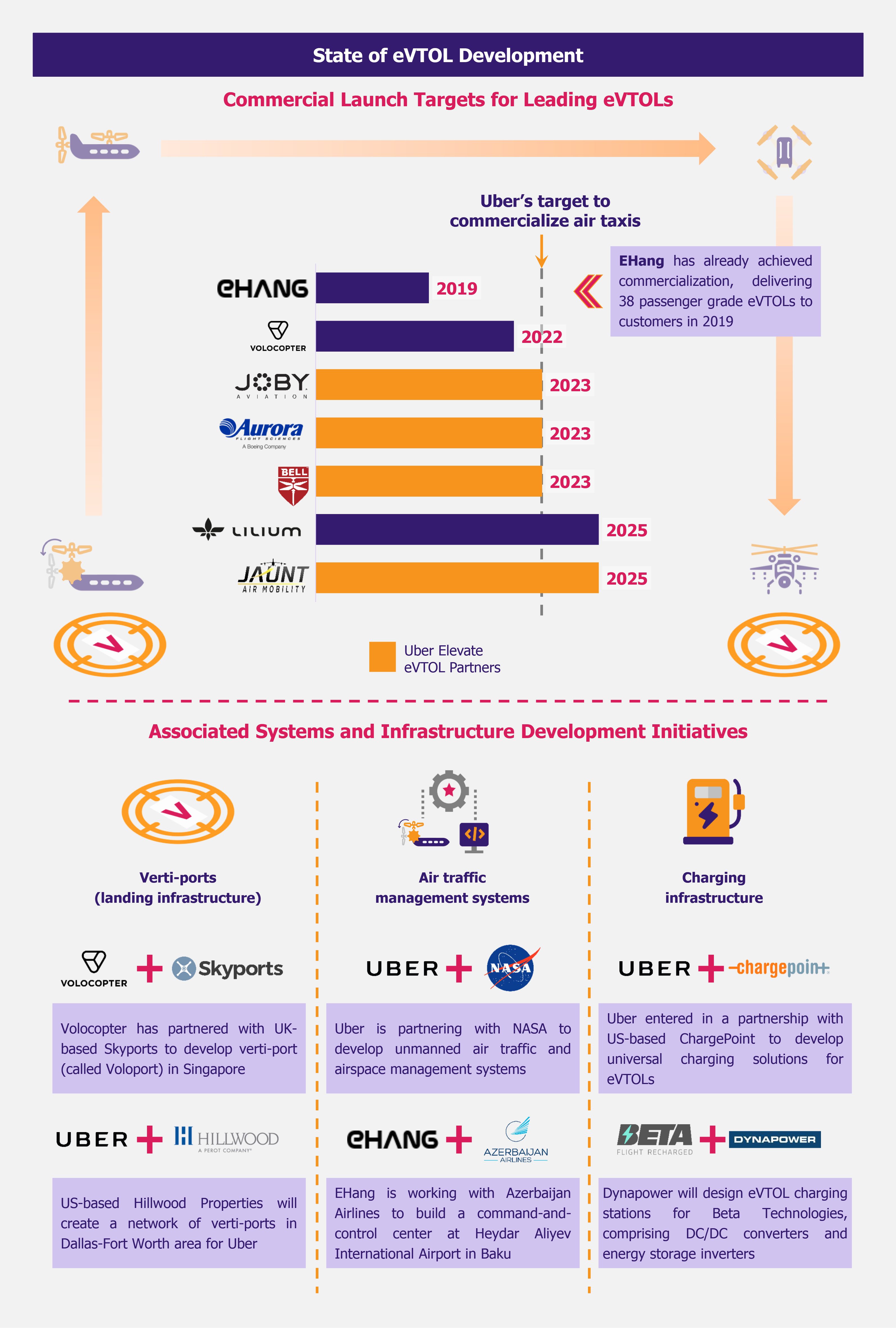 Companies have also taken initiatives to develop other critical components of the air taxi business. Uber entered into a partnership with NASA in 2017 to develop unmanned air traffic and airspace management systems, which could help Uber smoothly drive its air taxi operations.
Companies are also partnering with real estate companies to develop dedicated infrastructure which could act as nodes for any air taxi network, as well as with power solutions providers to deploy vehicle charging solutions at these nodes.
Capital investments
Various analyst firms believe that eVTOLs present a high growth opportunity. Deloitte, for example, forecasts the eVTOL market to be valued at US$3.4 billion in 2025, and grow to US$17.7 billion by 2040 – a CAGR of 11.6%. German consulting firm Horvath & Partners estimates the number of air taxis could exceed 23,000 by year 2035.
Investors are banking on this growth potential, which is evident from the amount of investments flowing into eVTOL development companies.
In January 2020, US-based Joby Aviation raised US$590 million in Series C funding led by Toyota (which invested US$394 million), making it the most funded eVTOL start-up globally. Volocopter also raised U$55 million in September 2019 in series of funding led by China-based Geely group. Lilium, which is backed by Tencent, is also looking to raise more than U$400 million for its eVTOL business through venture capital.
EOS Perspective
…on opportunities in UAM Space
Uber's air taxi vision has created opportunities for multiple stakeholders across the air taxi value chain. Several aircraft and automotive companies are participating to develop commercially practical and viable eVTOL vehicles, while real estate companies are delving into design infrastructure solutions for vehicle landing and take-off.
Innovators are teaming up to develop new-age solutions which would be able to manage air space and aerial traffic, while also ensuring the safety of the commuters (both in the air and on the land).
There will be opportunities for analytics companies – whether it is related to determining the service prices (pricing analytics) or creating innovating customer solutions (such as loyalty programs). Once eVTOLs are commercially deployed, after-market ancillary and repair solutions are also expected to gain demand.
Additionally, the social impact of these air taxis – which will help generate employment opportunities for both technical and non-technical personnel – cannot be underestimated.
…on Uber's plans to commercialize air taxis
Uber's plans to commercially launch an air taxi service by 2023 might perhaps be a bit too optimistic. However, given the state of the development of eVTOLs and the level of support it is generating from governments in its key target markets (including the USA, Australia, and Japan), the goal may be achievable – more likely by 2025.
However, the initial deployment, which is expected to comprise only 40-50 eVTOLs, is likely to be limited to the affluent section of the potential customers, due to limited access and high costs of such service.
Such services may be able to reach mass consumers only once the eVTOLs have a widespread deployment, which is unlikely to happen before 2030.
An extensive deployment and increased mileage (either in the form of distance covered or number of flights) is likely to help achieve operational efficiencies, eventually leading to lower pricing of air taxi services, making them more affordable for mass consumers. Uber plans to bring the pricing of its air taxi services at levels similar to that of its UberX service in the long run.
Whether Uber is able to achieve its target or not, the urban air mobility market shows significant potential and attracts considerable interest. Given the current level of development in eVTOL space and partnerships to build related infrastructure, there is a definite sense of optimism – the future of urban mobility is definitely "up, in the air".