Though several bike-sharing start-ups in China flourished in past two years, mainly due to backing from venture capital funding, many are finding it difficult to keep up the momentum as the investment dries up in absence of sustainable business profitability model. Small players in particular are struggling to comply with recently introduced regulatory standards for the industry. In our article titled 'Bikes Are Back: China Gaining Pedal Power', published in April 2017, we discussed the outlook for the bike-sharing app-based businesses in China, and now we are taking a look again into the current market dynamics in view of new regulatory framework that can reshape the competitive landscape.
The bike-sharing industry in China has noted a steep growth in a short span of time. As per estimate of Ministry of Transport, there were about 70 bike-sharing companies operating in China by July 2017 (as compared to 17 in January 2017). However, the market is skewed towards the duopoly of MoBike and Ofo. According to Sootoo (an online service platform providing analysis for internet and e-commerce industry in China), as of March 2017, MoBike and Ofo accounted for 56% and 30% market share, respectively. Other companies face cut-throat competition to carve up the remaining 14% of the market.
The summer of 2017 was particularly harsh on several small players unable to bear the heat of increasing competition and financial crunch. Chongqing-based Wukong, which shut down its operations in June 2017, is believed to be the first bike-sharing company to collapse. Subsequently, several other small companies, including 3vBike, Xiao Ming Bike, Cool Qi Bike Ding Ding Bike, Kala Bike, and Kuqi Bike, also wound up their businesses citing issues such as lack of investment, cash flow crisis, mismanagement, competition, losses due to theft and vandalism, etc.
Intense competition, especially among the second-tier companies, is driving the market towards consolidation. In October, Youon, a Shanghai-listed company operating in 220 cities and owing 800,000 bikes, acquired 100% stake in Hellobike (a Shanghai-based company with presence in 90 cities across China). In November 2017, Bluegogo, owning fleet of 700,000 bikes and 20 million registered users, announced that the company was facing financial troubles and hence the business was sold to another Chinese start-up, Green Bike-Transit. This acquisition trend is likely to continue, as the capital intensive and cash-burning bike-sharing businesses has come under the purview of strict regulatory framework.
In August 2017, Ministry of Transport and nine other ministries jointly issued the first set of guidelines with the aim to better regulate and standardize the emerging bike-sharing market in China. State governments developed their own standards and regulations based on the guidelines.
Some of these regulations are in favor of bike-sharing companies. For instance, central government directed state authorities to step up their efforts in providing protection to bike-sharing companies against vandalism, theft, and illegal parking issues. The users are required to register with the bike-sharing operators using their real name. This will allow the security forces to easily identify and penalize the offenders. This may bring some respite to small players such as 3Vbike, a Beijing-based company with a fleet of over 1,000 bikes, which shut down its operations in July 2017 after most of its bikes were stolen. Moreover, local authorities need to work with bike-sharing operators to develop dedicated parking spaces near high-demand locations such as shopping areas, office blocks, public transportation stations, etc. This is likely to ease up chaos and nuisance caused by illegal parking.
On the other hand, some of the regulations call for bike-sharing companies to bear additional expenses. As per the new regulations, all bike-sharing operators are required to provide accident insurance to their users, a practice which was earlier followed only by the market leader, MoBike. The companies are also required to set-up support mechanisms to manage customer complaints. In the guidelines, central government also advised state governments to develop local standards for regular maintenance of bikes. Accordingly, the government of Shanghai and Tianjin instructed bike-sharing operators to appoint one maintenance personnel per 200 bikes and the bikes need to be discarded after three years in operation. Such standards are certainly necessary to enhance user experience and safety, but it will put additional strain on already financially-stressed companies.
As per the new guidelines, companies are encouraged not to charge security deposits at all. If security deposit is collected, the company must clearly distinguish security deposit fund from other funds and ensure timely refund of the deposits. The bike-sharing companies typically charge CNY 99 – CNY 299 (~US$15 – US$45) as one-time refundable security deposit and then a rental fee of CNY 0.5 – CNY 1 (US$0.08 – US$0.15) is charged for every half-hour to one-hour ride. Since the firms need to refrain from using the deposits, and given that the rental fees are likely to remain significantly low due to intense competition, the companies might struggle to manage day-to-day operations. Investor money will dry out eventually, hence the companies are in dire need of developing new revenue streams. Besides in-app advertising, companies are also exploring the use of their bikes as an advertising space. For instance, Ofo customized number of bikes with Minions characters to generate revenue from advertising the release of 'Despicable Me 3' movie in China.
The new guidelines also allow the local authorities to limit the number of bikes to check over-supply and traffic congestion. Following the announcement of this new guideline, Beijing, Shanghai, Guangzhou, Wuhan, Shenzhen, and eight other cities reportedly banned deployment of additional bikes. As a result, the prime markets are now off-limits for new entrants.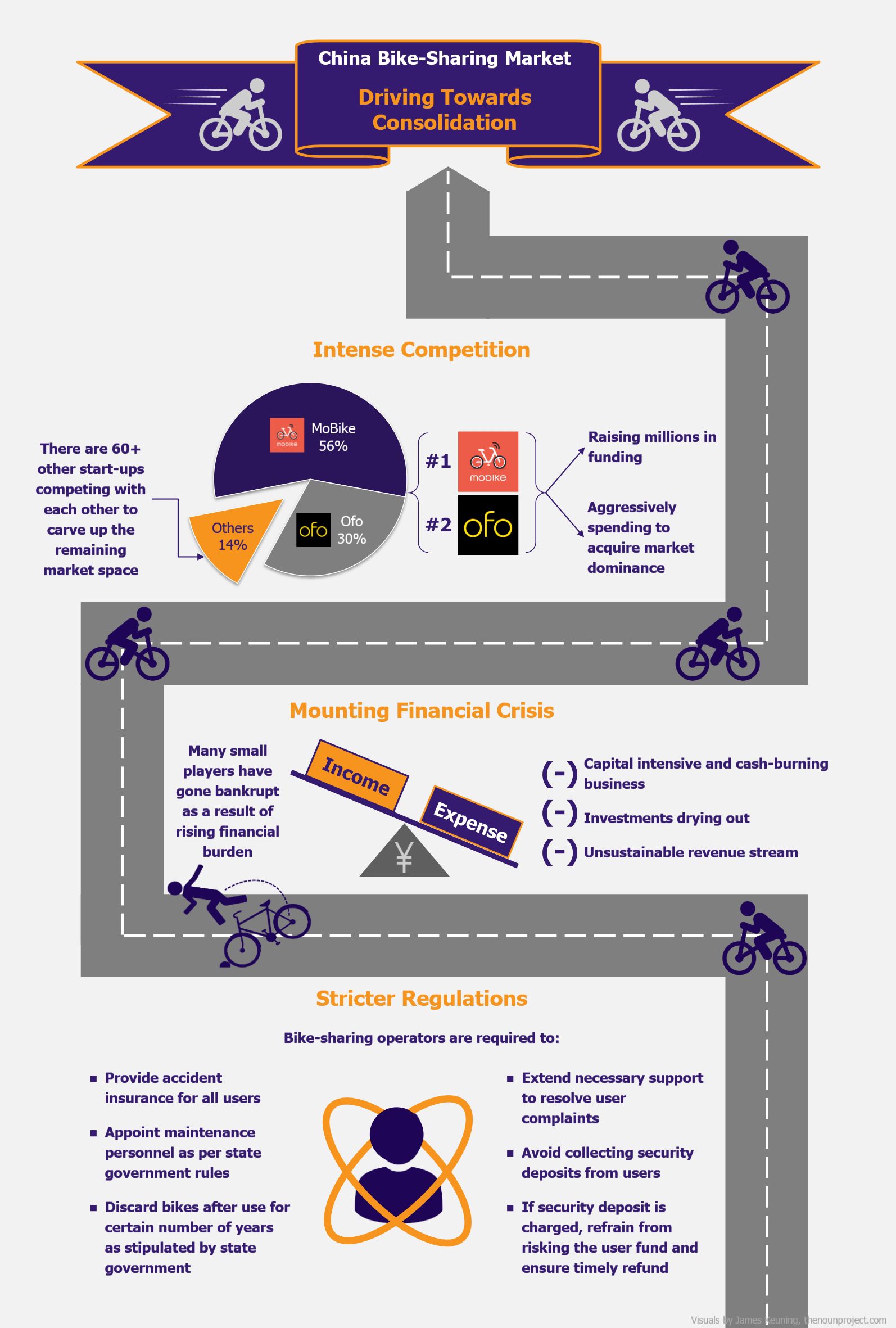 EOS Perspective
App-based bike-sharing start-ups have revived the biking culture in China. By July 2017, the bike-sharing companies, claiming 130 million registered users in total, flooded the streets of China with 16 million bikes. The bike-sharing boom is certainly more than a fad, however, a shift in market composition is expected in the near future.
The new regulations have paved the way for development of higher industry standards aimed at better user experience and safety. However, compliance with these regulations is likely to put an additional financial burden on small players. Moreover, small players are finding it difficult to challenge the duopoly of MoBike and Ofo (together accounting for 86% of the market share as of March 2017). The consolidation among second-tier companies might ease the competition, however, this might not be enough to level with the market leaders. To survive the competition, small companies will need to either innovate or capitalize on niche markets and opportunities. Most of the companies operating in the market today have similar service model. Technological innovation or distinguished service model can enable the company to stand out from their competition. Furthermore, with rising level of competition and market saturation in major cities, small companies need to shift focus on underserved third and fourth-tier cities. For instance, in May 2017, Shanghai-based Mingbike announced its plan to gradually move out of Shanghai and Beijing in a strategy shift towards smaller cities. In these smaller cities, the companies can also explore niche business opportunities such as gaining exclusive contract for operating around local attractions.
Speculation about the merger of two dominant players MoBike and Ofo surfaced in October 2017. The two bike-sharing giants are under investor pressure to consolidate and put an end to the competitive pricing war. For now, both the companies have clearly stated that they are not interested in merger at this point. However, industry experts are hopeful of a merger in the future given the history of the investors – Tencent (backing MoBike) and Alibaba (backing Ofo), who separately invested in taxi-haling rival companies that eventually merged to become a single dominant player in China. Didi Chuxing, a taxi-hailing service company, was formed with merger of Tencent backed Didi Dache and Alibaba backed Kuaidi Dache in 2015. In 2016, Uber merged its China operations with Didi Chuxing, while retaining a minority stake. Travis Kalanick, co-founder of Uber, acknowledged that both the companies were making huge investments in China but unable to retrieve profits and the merger was aimed to build a sustainable and profitable business in China. Bike-sharing industry in China is also at a similar juncture. Since both MoBike and Ofo have not achieved profitability yet and they largely depend on investments, they might give in to the interest of the investors. Hence, one can expect that the bike-sharing industry in China might eventually move towards monopoly.