COVID-19 has emphasized the importance of strong healthcare and pharmaceutical ecosystem for India. Constant demand for drugs and the expectation to deliver them in time put a lot of pressure on pharma supply chains, highlighting several challenges and shortcomings. At the same time, the Indian pharma sector seems to have benefited from the situation as well, as the pandemic unlocked new avenues of growth. To seize new opportunities, the Indian pharma sector should now focus on increasing manufacturing capacity, invest in R&D capabilities, develop world-class infrastructure, and strengthen its supply chain network.
Challenging times for the Indian pharma sector
With coronavirus wreaking havoc, the Indian pharmaceutical sector was shaken and the pandemic inflicted several challenges on the industry.
The key challenge faced by pharmaceutical companies has been the shortage of key raw materials for manufacturing drugs. India imports 60% of APIs (Active Pharmaceutical Ingredients) and DIs (Drug Intermediates) and nearly 70% of this demand is met by Chinese companies (as of July 2020). This reliance to import cheaper raw materials from countries such as China is a result of lack of tax incentives, high cost of utilities, and low import duties in India.
India's dependence on China has affected the supply of essential APIs. The recent pandemic has magnified this problem, and in order to meet the increasing demand, Indian pharma manufacturers need to strengthen their supply chain strategies by working with multiple API suppliers, both domestic as well as international.
Another concern has been the increased raw materials and logistics cost. Between January and June 2020, the production costs at the Chinese suppliers increased due to the implementation of safety and hygiene measures thus increasing the overall cost of APIs and other materials imported by India by an average of 25%. Logistics prices also went up during the same period, with the cost of shipping a container from China to India increasing to an average of US$ 1,250 up from US$ 750. Additionally, air freight charges also went up from US$ 2/kg to US$ 5-6/kg.
Furthermore, restrictions on movement of products and other goods also posed a problem for pharma supply chain. Even though the sector was exempted from these restrictions, delays in the delivery of drugs were registered. These delays have been largely contributed to by the complexity of various processes and their elements (from raw material procurement to procuring casing and other packaging material – all of which come from different locations to the final assembly point, and their delivery can be exposed to delays at each stage). While logistics companies tried to make product deliveries on time, they were restrained by limited workforce and movement restrictions (that required clearance at every step).
Moreover, due to panic buying, scarcity of OTC and generic drugs was also observed.
Government's push to make India self-reliant
The government has undertaken steps to strengthen the pharma sector and announced several schemes and policies to boost domestic pharma manufacturing.
To reduce import dependence in APIs and boost domestic manufacturing, the government approved a US$ 971.6 million (INR 69.4 billion) Production Linked Incentive (PLI) Scheme in March 2020 to promote domestic manufacturing of APIs and KSMs (Key Starting Materials)/DIs. Under the scheme, financial incentives ranging from 5% to 20% of incremental sales will be given to selected manufacturers of 41 critical bulk drugs (of the identified 53 APIs for which the country is heavily dependent on imports). This includes aid for fermentation-based products from FY2023–2024 to FY2028–2029 and for chemical-synthesis-based products from FY2022–2023 to FY2027–2028. It is expected that the scheme will result in incremental sales of US$ 649.6 million (INR 464 billion) and generate a large number of employment opportunities.
Moreover, in November 2020, a new PLI Scheme (referred to as PLI 2.0) for the promotion of domestic manufacturing of pharmaceutical products was announced, wherein US$ 210 million (INR 150 billion) were allotted for pharma goods manufacturers based on their Global Manufacturing Revenue (GMR). Financial incentives ranging from 3% to 10% of incremental sales will be given to manufacturers (classified under Group A – having GMR of pharmaceutical goods of at least US$ 700 million (INR 50 billion), Group B – having GMR between US$ 70 million (INR 5 billion) and US$ 700 million (INR 50 billion), and Group C – having GMR less than US$ 70 million (INR 5 billion). The objective of the scheme is to promote production of high-value products, increase the value addition in exports, and improve the availability of a wider range of affordable medicines for local consumers. The initiative is likely to create 100,000 (20,000 direct and 80,000 indirect) jobs while generating total incremental sales of US$ 41,160 million (INR 2,940 billion) and total incremental exports of US$ 27,440 million (INR 1,960 billion) during six years from FY2022-2023 to FY2027-2028.
Another scheme named Promotion of Bulk Drug Parks was announced by the government in March 2020 to attain self-reliance. Under the plan, funds worth US$ 420 million (INR 30 billion) were allotted for setting up three bulk drug parks between 2020 and 2025. This initiative aims at reducing the manufacturing cost as well as the dependency on importing bulk drugs from other countries. Financial assistance will be given to selected bulk drug parks to the extent of 70% of the project cost of common infrastructure facilities (for north-eastern regions and states in the mountainous areas, the assistance will be 90%). The aid per bulk Drug Park will be limited to US$ 140 million (INR 10 billion).
Furthermore, to end reliance on China, Indian pharma companies are also taking steps to strengthen their operations and manufacturing capabilities with regard to pharmaceutical ingredients. For instance, Cipla Ltd. (Mumbai-based pharmaceutical company) launched the "API re-imagination" program in 2020 to expand its manufacturing capacity by using the government incentive schemes.
The announcement of the above schemes is a show of intent by the government towards building a self-sufficient pharma sector in India. It will be interesting to see how much pharma players stand to gain from these potentially game-changing initiatives. However, only time will tell if these policies are good enough for the industry stakeholders or will these schemes not be plentiful enough to truly help the manufacturers.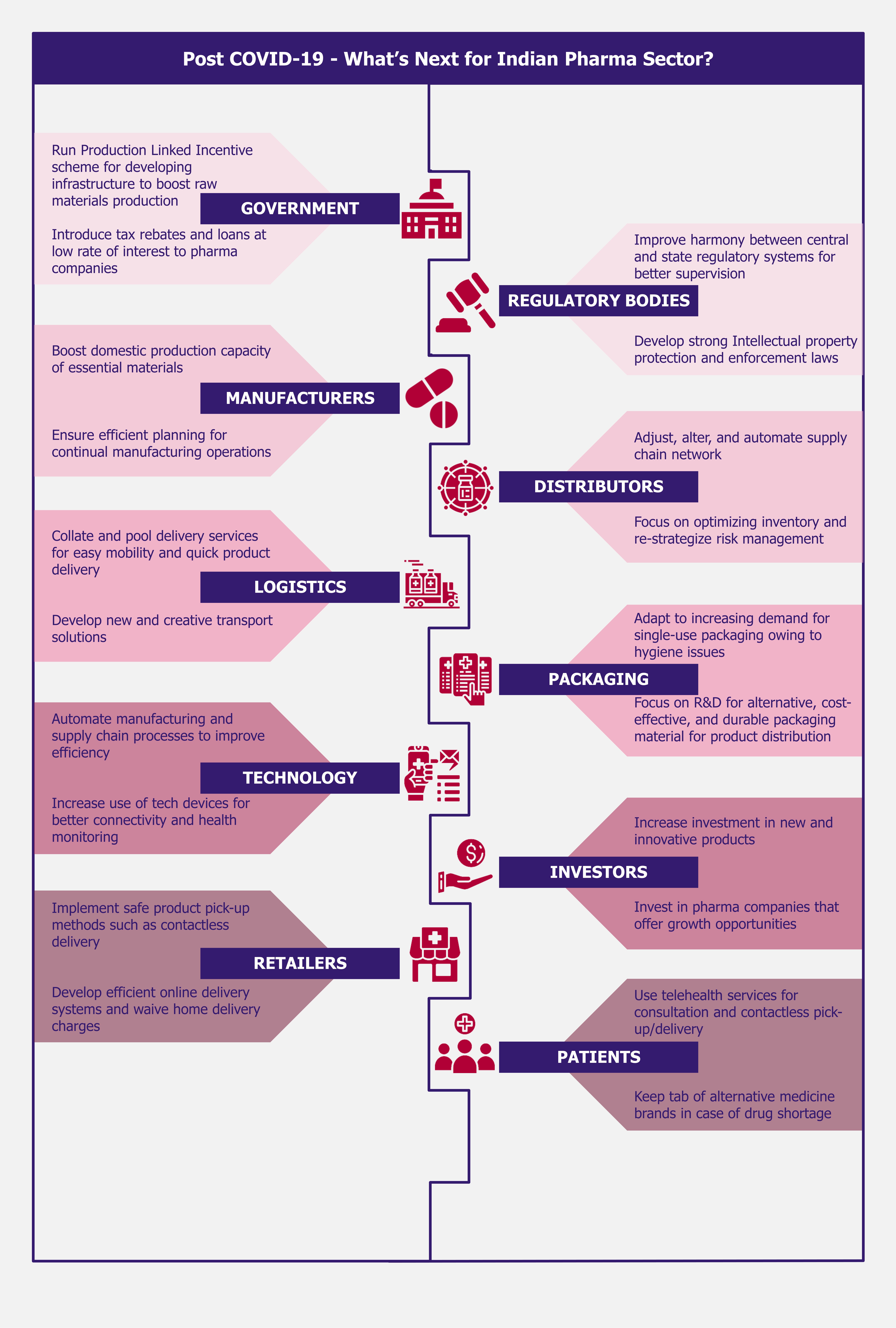 Investment in API and intermediaries' sub-sectors on the rise
Since the outbreak of COVID-19, Indian pharmaceutical companies (that deal particularly with manufacturing of APIs, vaccine-related products, and bulk pharma chemicals) have been attracting huge investment from private equity firms. This is happening mainly because of two reasons. Firstly, the occurrence of the second wave of COVID-19 in India has increased the demand for medicines (including demand for self-care, nutritional, and preventive pharma products to boost immunity), and secondly, pharma companies across North America and Europe are shifting their manufacturing sites from China to India (to reduce dependency on a single source). Indian companies received an investment worth US$ 1.5 billion from private equity firms during the FY2020-2021 (since the coronavirus outbreak) and the investment is expected to reach US$ 3-4 billion in the FY2021-2022.
Some of the major deals that happened in this space included Carlyle Group (US-based private equity firm) buying 20% stake in Piramal Pharma (Mumbai-based pharma company) for US$ 490 million in June 2020 and 74% stake in SeQuent Scientific (India-based pharmaceutical company) for US$ 210 million in May 2020. Further, KKR & Co. (US-based global investment company) purchased a 54% controlling stake in J.B. Chemicals & Pharmaceuticals Ltd. (Mumbai-based pharmaceutical company) for nearly US$ 410 million in July 2020. Another example is Advent International (US-based private equity firm) acquiring stakes in RA Chem Pharma (Hyderabad-based pharmaceutical company) for US$ 128 million in July 2020.
From a capital perspective, COVID-19 acted as an investment accelerant that will keep the market open for opportunistic deals for many years to come. In the current scenario, investment firms are re-evaluating the pharma landscape and looking to invest in innovative ideas and products that help them grow. It is highly likely that in the coming months, if the right opportunity strikes, the investment firms will not deter from going ahead with novel deal structures. This could include arrangements such as both parties sharing equal risk and rewards, a for-profit partnership wherein the investor specifically focuses on enhancing the digital-marketing capabilities of the pharma company (rather than sticking to just acquiring a certain share or merge with an existing company) and being open to taking more risk, if needed.
Partnerships expected to increase
The pandemic has led pharma companies to rethink their operational and business strategies. For long-term sustainability, players are analyzing their market position and partnering with other industry stakeholders for better market penetration and value creation for their customers.
In November 2020, Indian Immunologicals Ltd. (Hyderabad-based vaccine company) announced that the company would invest US$ 10.5 million (INR 0.75 billion) in a new viral antigen manufacturing plant based in Telangana that would cater to the need for vaccines for diseases such as dengue, zika, varicella, and COVID-19 (in April 2021, the company announced a research collaboration agreement with the Griffith University, Australia to develop a vaccine for the coronavirus).
Furthermore, Jubilant Life Sciences Ltd. (Noida-based pharma company) entered into a non-exclusive licensing agreement with Gilead Sciences (US-based biopharmaceutical company) granting it the right to register, manufacture, and sell Remdesivir (Gilead Sciences' drug currently used as a potential therapy for Covid-19) in India (along with other 126 countries).
In February 2021, to scale up the biopharma ecosystem, the state government of Telangana partnered with Cytiva (earlier GE Healthcare Life Sciences) to open a new Fast Trak lab in Hyderabad. This facility will enable the biopharma companies in the region to improve and increase production efficiency, reduce operational costs, and make products available in the market quicker.
Future ripe for new opportunities
The pandemic has opened a stream of opportunities for India's pharma sector which are expected to drive the growth of the sector in the long term.
China's supply disruption and increased raw material costs have forced global pharma companies to reduce dependence on China. As an alternative, the companies either set up new API manufacturing plants (which is time-consuming) or turn to existing European or US drug manufacturers to help them meet their requirements. However, both options are capitally draining and there is a need for finding a cost-efficient solution. This presents a huge opportunity for the Indian API sector which is also a key earnings growth driver for pharma manufacturers.
India is among the leading global producers of cost-effective generic medicines. Now there is a need to diversify the product offerings by focusing on complex generics and biosimilars. With the guidance of the United States Food & Drug Administration (USFDA) in identifying the most appropriate methodology for developing complex generic drugs, Indian pharma companies such as Dr. Reddy's, Zydus, Glenmark, Aurobindo, Torrent, Lupin, Cipla, Sun, and Cadila are working on their product pipeline of complex generics. Currently, the space has limited competition and offers higher margins (in comparison to generic drugs) thus presenting a lucrative opportunity for Indian players to explore and grow.
Similarly, biosimilars (referred to as similar biologics in India) is another area where Indian companies have not been faring too well in international markets mainly due to the non-alignment of Indian regulatory guidelines with the guidelines in other markets (mainly in Europe and USA). The government had already revised the guidelines of similar biologics (done in 2016, which provided an efficient regulatory pathway for manufacturing processes assuring safety and efficacy with quality as per cGMP (Current Good Manufacturing Practice regulations enforced by the FDA)) and introduced industry-institute initiatives (such as 'National Bio-Pharma Mission', launched in 2017 to accelerate biopharmaceutical development, including biosimilars, among others) to improve the situation. But now with the intensified need for improved healthcare system and more effective medicines, COVID has presented Indian companies with an opportunity to shape their biosimilar landscape.
India holds a strong position as a key destination for outsourcing research activities. While it has been a preferred location for global pharma companies to set R&D plants for a number of years now, becoming an outsourcing hub for pharma research is another growth area that is yet to be explored to its full potential.
EOS Perspective
Currently, the Indian pharma industry is at an interesting crossroad wherein the industry responded to the unprecedented situation with agility and persistence. The pandemic presented several opportunities and challenges for the industry and unsurprisingly, had a positive impact on the sector. The pandemic acted as a catalyst for change and investment for the pharma sector, which also responded to the challenges by adjusting to the new normal that furthered new opportunities.
In the past few months, COVID-19 has led the government to reassess the country's pharmaceutical manufacturing capabilities and led them to take steps to make India self-sufficient. As an immediate measure, the country has been reviewing its business policies (for the ease of doing business and to attract more investment) and pharma companies recalibrating their business models, and some success has been achieved. The government should also be mindful that, in the long run, success will only be achieved when industry stakeholders are presented with a business environment (in the form of incentives, tax-subsidies, low rate of interest on bank loans, utilities such as electricity and water at discounted rates, and transparent business policies, etc.) that is conducive for growth.
Moving forward, the Indian pharma companies need to be adaptive and flexible. While the sector has been resilient to the effects of the coronavirus pandemic, companies need to focus on risk management as well. Moreover, with continuous capital flowing into the sector, there is an opportunity for firms to not just broaden their scope of innovation but also to invest in critical therapeutic areas.
To emerge as a winner post pandemic, the Indian pharma industry needs to focus on its strengths and propel full steam in the direction of opportunities presented by COVID-19.
*All currency conversions as on 20th May, 2021, 1 INR = 0.014 US$