The EU, which has always been ahead of the curve in tackling climate change and ensuring emission control, has rolled out a new EU Green Deal in December 2019. The Green Deal is the most ambitious environmental policy devised by the EU and encompasses several targets and policy measures that will require a complete overhaul in how business across sectors is currently done in the region.
In the beginning of December 2019, European Commission President, Ursula von der Leyen, unveiled a suite of policies known as the EU New Green Deal and called it Europe's 'man on the moon moment'. EU's Green Deal is aimed at decarbonizing the economy and encompasses a host of policy measures including a plan to ensure EU reaches net-zero emissions by 2050.
To this effect, it has also increased its carbon emission reduction targets from 40% to 55% for 2030. This is the ubiquitous goal for the Commission and all its measures and policies are to be aligned to achieve this objective. Thus, the EU Commission is expected to review and align laws and regulations, such as the Renewable Energy Directive, Energy Efficiency Directive, and Emissions Trading Directive among many others, over the next couple of years to ensure that they are tuned to support the ambitious climate goals. Moreover, taxation will also be aligned with climate objectives to ensure effectiveness.
Policy measures
In order to achieve this objective of carbon neutrality, the EU Commission is focusing on energy efficiency since the production and use of energy across the EU states accounts for 75% of EU's greenhouse gas emissions. The EU member states are revising their energy and climate plans to ensure higher dependence on renewable sources (especially offshore wind energy production) and phasing out coal and gas-based energy. Moreover, the Commission has also guided member states to review and update their energy infrastructure to ensure the use of innovative and energy-efficient technologies such as smart grids and hydrogen networks.
The Commission is also working towards adopting a new EU industrial strategy along with a new circular economy action plan. The plan will focus on decarbonizing and modernizing several energy-intensive industries, such as steel, chemicals, and cement. It will also include a 'sustainable product policy' that will prioritize reducing and reusing materials before recycling them. Moreover, while the circular economy action plan will be applied across all sectors, it will be most relevant for resource-intensive sectors such as textiles, construction, electronics, and plastics.
The plan will focus on fostering new business models that drive sustainable use of resources, set regulations and minimum standards to prevent environmentally harmful products from being sold in EU markets, as well as set a regulatory framework to ensure that all packaging in the EU is reusable or recyclable in an economically viable manner by 2030. In addition to this, the Commission aims at achieving 'clean steelmaking' by 2030 by using hydrogen for the process and introduce new legislation by 2020 to ensure that all batteries are reusable and recyclable.
Understanding that construction, use, and renovation of buildings account for a significant part (about 40%) of energy consumed in the EU, the Commission aims at improving energy efficiency in this sector by focusing on more frequent renovations. A quicker renovation rate helps improve the energy performance of buildings and is effective in lowering energy bills and reducing energy poverty. Currently, the annual renovation rate of buildings in the EU states ranges between 0.4% and 1.2%. However, the Commission is looking to at least double the renovation rate to reach its energy efficiency and climate objectives.
In addition to this, the Commission is also working towards curbing carbon emissions from transportation, which accounts for about 25% of EU's total greenhouse gas emissions. In order to achieve carbon neutrality by 2050, the current transport emission levels would be needed to be cut down by about 90%. To attain this, the Commission has planned for significant investment in boosting electric vehicles and plans to deploy 1 million public recharging stations across the EU states by 2025. Moreover, in July 2021, the Commission plans to revise the legislation on CO2 emission performance standards for cars and vans to achieve its target of zero-emission mobility by 2025.
With regards to commercial transport, the EU Commission aims at pushing automated and digitized multimodal transport. It aims at shifting 75% of inland freight currently carried by road to rail and inland waterways. Moreover, it aims at deploying smart traffic management systems and sustainable mobility services that will facilitate a reduction in congestion and pollution.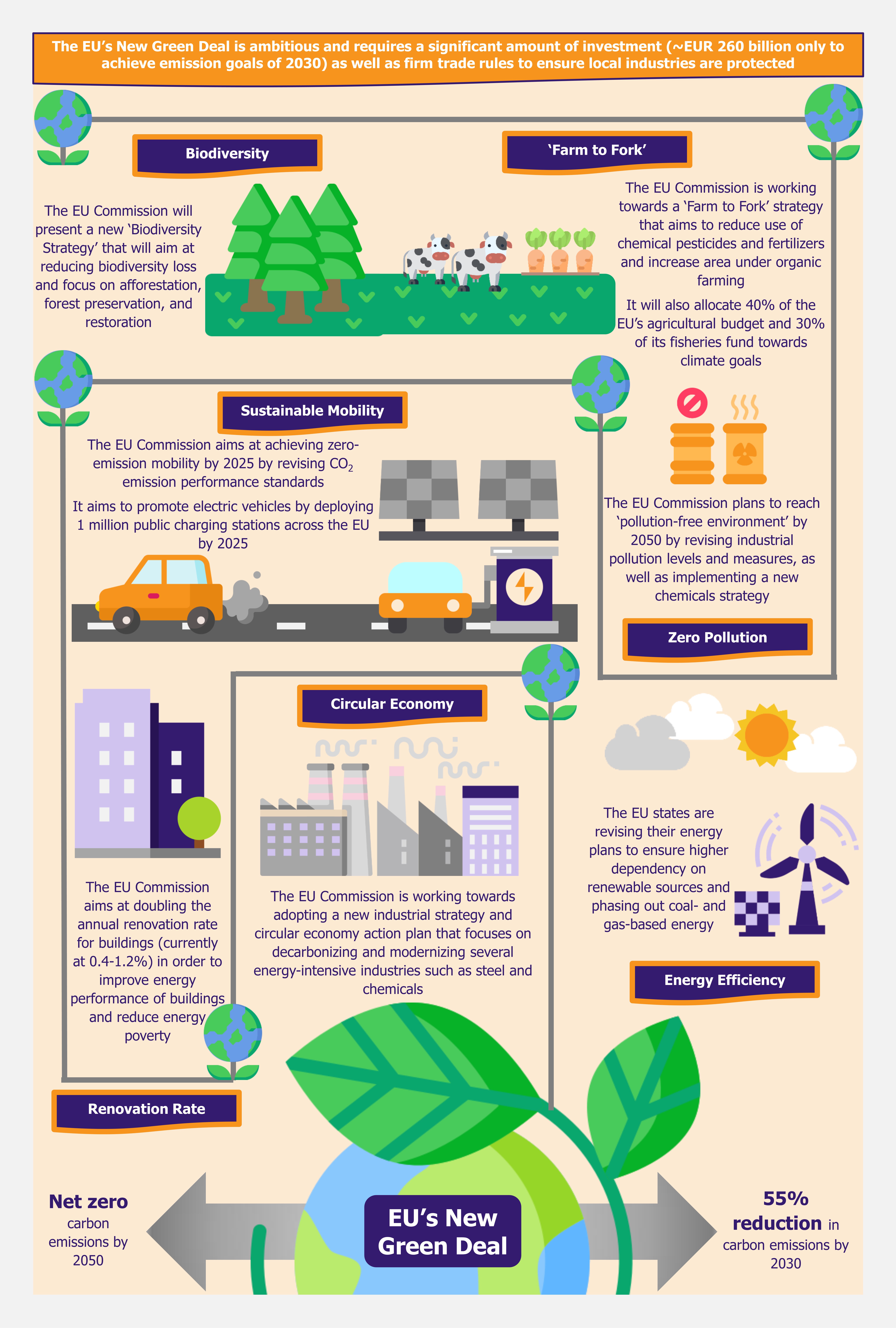 The Commission also plans to align agriculture and food production with its climate goals. To this effect, the Commission is expected to present a 'Farm to Fork' strategy in spring 2020, which aims to introduce and strengthen policies in the agriculture and fisheries space so that they are well equipped to tackle climate change and preserve biodiversity. As per the Commission's new proposal, 40% of the agricultural policy's budget and 30% of the maritime fisheries fund within the EU 2021-2027 budget will contribute to climate action and objectives. In addition to this, the 'Farm to Fork' strategy aims at significantly reducing the use of chemical pesticides, fertilizers, and antibiotics and in turn increase the area under organic farming.
In addition to agriculture, the EU Commission also aims at preserving and restoring biodiversity. To this effect, the Commission will present a new 'Biodiversity Strategy' by March 2020, which will be shared at the UN Biodiversity Summit to be held in China in October 2020. The biodiversity strategy is expected to be brought to action in 2021 and will cover measures aimed to address the key drivers of biodiversity loss such as soil and water pollution. The policy will also encompass a new EU forest strategy that will focus on afforestation, forest preservation, and restoration, which in turn will increase CO2 absorption and aid EU's ambitious climate goals.
Lastly, the EU Commission plans to reach a 'pollution-free environment' by 2050. For this purpose, it plans to review and revise measures that monitor pollution from large industrial installations. Moreover, to ensure a toxic-free environment, the Commission will present a sustainable chemicals strategy that will protect the environment (and citizens) against hazardous chemicals and encourage innovation for the development of safe and sustainable alternatives.
Global trade
The EU's Green Deal is ambitious, with measures in place to achieve this goal. However, the economic bloc cannot realize this goal in isolation. To get other countries to act on climate change and also prevent the influx of cheaper imports from countries that do not have similar strict policies on carbon emissions, the EU plans to propose a border adjustment carbon tax. This carbon tax is expected to be introduced by 2021 with an initial focus on industries such as steel, cement, and aluminum. The tax may hamper imports from the USA and China as well as smaller countries that cannot afford such climate-based policy measures. However, there is still some ambiguity regarding the tax as it may breach WTO rules, which require equal treatment for similar products, whether domestic or international.
Investment
To achieve this arduous goal, the EU will require a significant amount of additional investment. For starters, the Commission will require additional investment of about EUR260 billion (~US$288 billion) per annum only to achieve the 2030 goal (of reducing carbon emissions by 55%). This is about 1.5% of the EU's 2018 GDP. Thus it is safe to assume that the investment required for achieving zero emissions by 2050 will be much higher.
The magnitude of the investment requirement will call for participation from both the public and private sector. To achieve this, the commission will present a Sustainable Europe Investment Plan, which will help meet the additional funding needs. The Plan will provide dedicated financing to support sustainable projects in addition to building a proposal for an improved regulatory framework. The commission has also proposed to dedicate at least 25% of the EU's long-term budget towards achieving climate-based objectives. Moreover, the European Investment Bank (EIB), which has about EUR550 billion funds in its balance sheet, has also pledged to increase its lending towards green projects, thereby becoming a climate bank of sorts. While EIB is already in the process to phase out financing fossil fuel dependent projects by 2021, the bank aims for 50% of its financing to go towards green projects by 2025 (up from 28% in 2019).
In order to ensure an easy and fair transition to climate neutrality, the Commission plans to mobilize a EUR100 billion fund to help regions most dependent on fossil fuels or carbon-intensive sectors. The fund, also called the 'Just Transition Mechanism' fund will be funded from the EU's regional policy budget as well as the EIB. The fund will be used primarily to support and protect citizens most vulnerable to the transition by providing access to re-skilling programs, technical assistance, jobs in new sectors, or energy-efficient housing.
Moreover, the Horizon Europe research and innovation program will also contribute to the Green Deal. As per a new agreement between the EU members in May 2019, 35% of the EUR 100 billion (US$110 billion) research budget for 2021-2027 will be used for funding clean tech and climate-related projects.
With regards to the private sector participating in this green transition, the commission will present a Green Financing Strategy in Q3 2020, which is expected to incentivize the private sector to invest in sustainable and green projects.
To this effect the Commission has created a classification system that for the first time defines what is considered as 'green projects' or 'sustainable economic activities'. This classification is also termed as the 'green list' or 'taxonomy'. This will help redirect private and public capital to projects that are actually sustainable and in turn help the transition to climate neutrality and prohibit 'greenwashing', i.e. the practice of marketing financial products as 'green' or 'sustainable' when actually they do not meet basic environmental standards.
Moreover, it will be made mandatory for companies and financial institutions to provide full disclosure on their climate and environmental impact to clearly lay out how their portfolio stands with regards to the set taxonomy criteria. This is expected to not only increase the transparency of the financial markets but also steer more private investments towards financing an economy that is aligned towards a green transition.
The Taxonomy Criteria
The EU Commission set out a basic framework to define what can be termed as a sustainable economic activity. It sets out six environmental objectives and four requirements that need to be complied with in order to make it to the green list.
Six objectives are as follows:
1.       Climate change mitigation
2.       Climate change adaptation
3.       Sustainable use and protection of water and marine resources
4.       Transition to a circular economy
5.       Pollution prevention and control
6.       Protection and restoration of biodiversity and ecosystems
Four requirements that need to be met to qualify are as follows:
1.       Must provide a substantial contribution to at least one of the six environmental objectives
2.       Must not provide 'any significant harm' to any of the other environmental objectives
3.       Must have compliance with robust and science-based technical screening criteria
4.       Must have compliance with minimum social and governance safeguards
While this provides a general framework, detailed rules and thresholds along with a list of sustainable economic activities will be assessed and developed based on recommendations from a 'Technical Expert Group on Sustainable Finance', which is advising the European Commission on this matter.
 EOS Perspective
The Green Deal makes EU the world's largest economic bloc to adopt such ambitious measures that aim to cease or offset all emissions created by them by mid-century. As per climate scientists, this is necessary to ensure that global temperatures do not rise by more than 1.5-2˚C above the 1990 levels.
While these goals sound promising, they are rarely achieved because they are usually not binding. However, in this case the commission announced that the net-zero emission target would be made legally binding. While that does make achieving the Green Deal objectives more promising, many experts still remain skeptical about the bloc's capability to achieve it. This is given the fact that the EU has failed to meet 29 (out of 35) environmental and climate targets for 2020. These include energy savings, air, water, and soil pollution, etc.
Moreover, the plan can only be achieved if the EU Council, Commission, and the Parliament, come together and work in tandem and in a timely manner and also work individually with member states to ensure guidelines are converted into actions. For instance, currently CO2 are taxed at different levels across member states (EUR 112 (US$123) per ton in Sweden, EUR 45 (US$50) per ton in France and tax-exempt in Germany). To get all member states to agree at a common point and have a pan-EU strategy is a difficult task. Thus, while the EU has devised an all-encompassing strategy and dedicated significant funds to the same, results will only materialize if there is inclusive and credible implementation of the plans.
In addition to this, there is also some criticism of the policy at a global level, with some nations indicating that it has more to do with protectionism rather than climate goals, owing to its policy on border adjustment carbon tax. Since the EU has more measures and flexibility to cut emissions in its own region, it creates an unfair disadvantage for its trade partners (some of who are still in the developing stage and cannot afford such measures). Moreover, given the technical and political complexities of the carbon tax (with regards to WTO and other trade treaties), it is unlikely that it will be implemented before 2024, which is when the current President Ursula von der Leyen's term gets over. This will further make its implementation dicey.
However, all being said, the EU Green Deal is a policy in the right direction. With the blueprints being laid down, now it all depends on the implementation. While few measures may be difficult to achieve, there is a lot of unanimous backing for green finance. An increasing number of investors is moving away from 'brown' assets towards climate-friendly investments. Irrespective of the outcome or success of the Green Deal, green investments are definitely the future. Thus companies, both within the EU as well as globally, must look at innovating their processes as well as products/services to align them with climate goals to lure both public and private funding in the long run.