Cambodia is a low income country (GNI per capita US$880 as of 2012) with a population of about 15 million (67th most populous country as of 2012). Though the country has witnessed concentrated efforts towards better healthcare infrastructure and services since gaining independence in 1953, the major push came only in 1993 after the establishment of a dedicated Ministry of Health (MOH). The MOH has been consistently working to overcome major healthcare-related challenges, such as widespread malnutrition, high mortalities from communicable diseases, and low access to healthcare. MOH's Health Sector Plan (HSP) (2008-2015) focuses on developing healthcare infrastructure and ensuring that healthcare services reach the entire population.
---
This article is part of a series focusing on universal healthcare plans across selected Southeast Asian countries. The series also includes a look into the plans in 

The Philippines, Cambodia, Vietnam, Indonesia, and Thailand.
---
Social Health Insurance (SHI) is still in early stages of implementation, and will take some years before it is firmly established. The SHI Master Plan was launched in 2003 with an aim to develop a stable financing system, and to promote equity in healthcare access. Currently, people from poorer sections of the society and informal sector are covered through Health Equity Funds (HEF) and Community-based Health Insurance (CBHI) Plans. The government plans to introduce a single health financing system by 2015.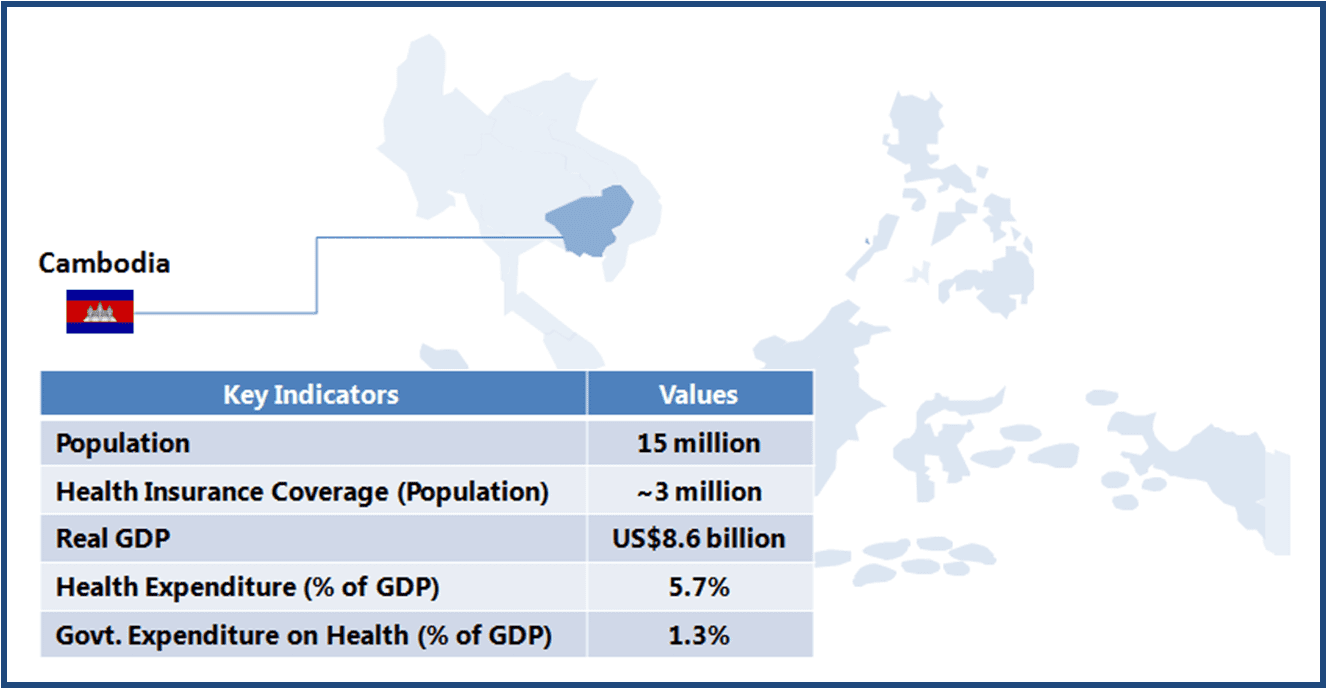 About 2.5 million poor and more than 500,000 individuals from the informal sector are covered by HEF and CBHI plans, respectively.
When implemented fully, SHI is expected to provide healthcare protection to urban and rural poor (among others). The success of SHI would depend on the government's ability in establishing healthcare infrastructure in places where it is currently unavailable, devising a suitable taxation/financing mechanism to support it, and in ensuring an optimum coverage of health conditions. The current design and support infrastructure would determine the long term success of SHI.
INFRASTRUCTURE
Key Stakeholders
The Ministry of Health (MOH) is responsible for health policy and planning, coordinating among various sectors within the healthcare sector, and for securing external aid

The Provincial Health Department (PHD) connects the MOH to operational districts (OD) through the implementation of policies in the HSP via the annual operations plan (AOP)

OD is the primary entry point of the population into the health system; Each OD, comprising a network of health centers and a referral hospital, covers a population between 100,000 to 200,000; health centers are geographically located so as to serve a catchment area of between 8,000 and 12,000 people
Healthcare Service Delivery
Public healthcare service delivery is designed to offer services at two levels — a) minimum package of activity, available at health centres; b) complementary package of activity (CPA), available at referral hospitals

Minimum package includes (among others) initial consultations, primary diagnosis, emergency first aid, chronic disease care, and maternal and child care

Based on the CPA offered, referral hospitals are categorised into:

CPA1: Basic obstetric services, provided mostly by district hospitals

CPA2: Basic obstetric services, large scale surgery, ICU facility, and other specialized services, such as ENT, dental, etc.; services are primarily provided by district hospitals and a few provincial hospitals

CPA3: More advanced than CPA2 with a wider range of specialty services; all national hospitals and most provincial hospitals come under this category

Current hospital infrastructure:

Health Centres: ~1,100

CPA1: ~33

CPA2: ~ 31

CPA3: ~ 26

Private Clinics: ~ 1,500
KEY CHALLENGES
Lower Adoption of Public Healthcare Services
Despite an established referral system with primary care facilities, private clinics are the first point of contact for Cambodians. Poor access and inadequate service delivery have been major issues affecting the adoption of the public healthcare system

Level of expertise is still low among public sector healthcare workforce; this is one of the key focus areas for the government if it intends to improve adoption of public facilities

Cambodia has successfully experimented with the outsourcing of healthcare services; this can be continued to achieve efficiency at primary and secondary level, while investing public resources on tertiary level services
Less Efficient Procurement System
SHI may not serve the purpose if medicines covered under it are not available and patients continue to rely on private pharmacies; the procurement system needs to be overhauled with better demand estimation and/or more autonomy for purchase at the OD level

Bringing in technology into the procurement system should help in developing an efficient system
DESIGN
Beneficiary Classification
At the launch of SHI Master Plan, following four groups were envisaged:

Wealthy (5% of the population)

Urban Formal Sector (10% of the population)

Urban and Rural Near Poor (50% of the population)

Rural and Urban Poor (35% of the population)
Healthcare Insurance Financing
The expenditure on public healthcare services is provided through taxation revenues and external aid; MOH also funds (partially) the HEFs and CBHI schemes
Payment System
Cambodia follows a user-fee model for the payment of healthcare services; all public healthcare facilities charge user-fee for the provision of services

In case of HEFs, user-fee has been standardized across all ODs where the scheme has been implemented

CBHI pays to health centers/hospitals on either case per basis or on the basis of capitation system, depending on the arrangement with local OD
Benefits
Current health insurance schemes cover minimum and complementary packages offered by the public healthcare system
Co-payment (Reimbursement) System
The government subsidizes minimum and complementary packages (for equipment, facilities, and staff salaries) and medicines (covering essential medicines); service users have to pay for the consultation and treatment fee, and out of stock medicines

HEF covers partial or full costs of access to services for poor, including user-fees and cost of transportation

CBHI covers full cost of access to services for the informal sector population under coverage, including user-fees, cost of transportation, and the cost of referral and admission in provincial hospitals
Reimbursement System for Drugs
Drugs specified under the reimbursement list managed by the MOH are reimbursed; MOH is responsible for the procurement and distribution of drugs to the referral hospitals and health centers at operational districts

Drugs mostly covered are for in-patient services; for OPD patients, there is no such provision, except for the prescription of a cost-effective generic formulation
KEY CHALLENGES
Lack of Funding Mechanism to Ensure Long-term Viability of SHI
Success of the SHI would largely depend on its funding mechanism, which at present depends on taxation revenue and external aid; the government will have to look for increased funding for SHI, which may be in the form of a) increased healthcare budget allocation (from current 1% of the GDP), b) SHI-specific tax/surcharge, c) introduction of premium for top 15% (income-wise) of SHI beneficiaries

Participation of informal sector (with no fixed income) is crucial for the success of SHI – a review is required to assess what additional incentives that can be added to the current CBHI scheme (for informal sector) to encourage participation; this may be helpful once a unified financing system is implemented in 2015 (as planned)
Opportunities for Healthcare Companies
Healthcare Service Providers
Outsourcing healthcare services has proven to be an effective way to improve the performance of the healthcare system in Cambodia. Therefore, the outsourcing of services may continue in the future as well, providing opportunities to healthcare service providers

Experienced service contractors help in fulfilling the goals set-out in HSP (2008-2015, especially the Millennium Development Goals) where the country appears to be lagging
Medical Device Manufacturers
There is severe lack of medical devices, such as MRI, tomography scanners, mammography, etc. in public hospitals. SHI aims at providing such facilities, even if outsourced to private players

Increased in-patient coverage is likely to result in demand for devices such as patient monitoring equipment
Pharmaceuticals Companies
SHI implementation may not bring any additional benefits to pharmaceutical companies, as OPD drugs are not included as part of the benefits

Demand for in-patient drugs is likely to increase; the focus of pharmaceutical companies would remain on the inclusion of their drugs in the reimbursement list
A Final Word
The SHI system is still in early stages of development in Cambodia and the government needs to work on both infrastructure and design to ensure success of the scheme. SHI will be effective only if the people under coverage avail healthcare services through it, for which government healthcare services need to be at par with the private system. Provision of OPD services under SHI coverage will also help in greater adoption of the scheme.
Participation of the informal sector population is key to the success of the scheme from a financial perspective (ensuring adequate funds and lower reliance on foreign aid), and for meeting the key objective of 'healthcare to all'.
From the perspective of healthcare industry participants, Cambodian healthcare service providers are likely to gain the most if the government expands services to a larger set of population (based on positive outcome from previous experiments). On one hand, lack of adequate equipment provides a strong opportunity for medical devices companies, while on the other hand, the expansion of in-patient services (as more people are covered by SHI) should provide an impetus to pharmaceuticals companies. For pharmaceuticals companies, the growth potential may not be fully realized unless OPD services are also covered under SHI.
———-
Notes:
Health Equity Fund (HEF) are schemes to support vulnerable groups, supported by the Health Sector Support Program and funds from various development partners and the national budget
Community-based Health Insurance is a voluntary, community-based and not-for-profit health insurance
About 35% of the total population lives below the poverty line, earning US$0.45-0.60 per day