Under its National Health Strategic Plan (NHSP), Indonesia is continuously focusing on improving the quality and accessibility of its public healthcare system. NHSP (2010-2014) aims to enhance health status through involvement of private sector and civil society. It also focuses on the prevention and cure of health problems faced by the community through availability of comprehensive and equitable health services and health resources, supported by good governance.
---
This article is part of a series focusing on universal healthcare plans across selected Southeast Asian countries. The series also includes a look into the plans in 

The Philippines, Cambodia, Vietnam, Indonesia, and Thailand.
---
The Indonesian government is planning to cover every Indonesian under Universal Health Insurance (UHI) by 2019 under a new scheme called Jaminan Kesehatan Nasional (JKN). As of January 2014, about 120 million Indonesians (government servants, police and army personnel, and poor) were automatically included under this scheme. The government has already allocated about 20 trillion rupiah (US$1.6 billion) to cover health insurance premiums for the poor in 2014.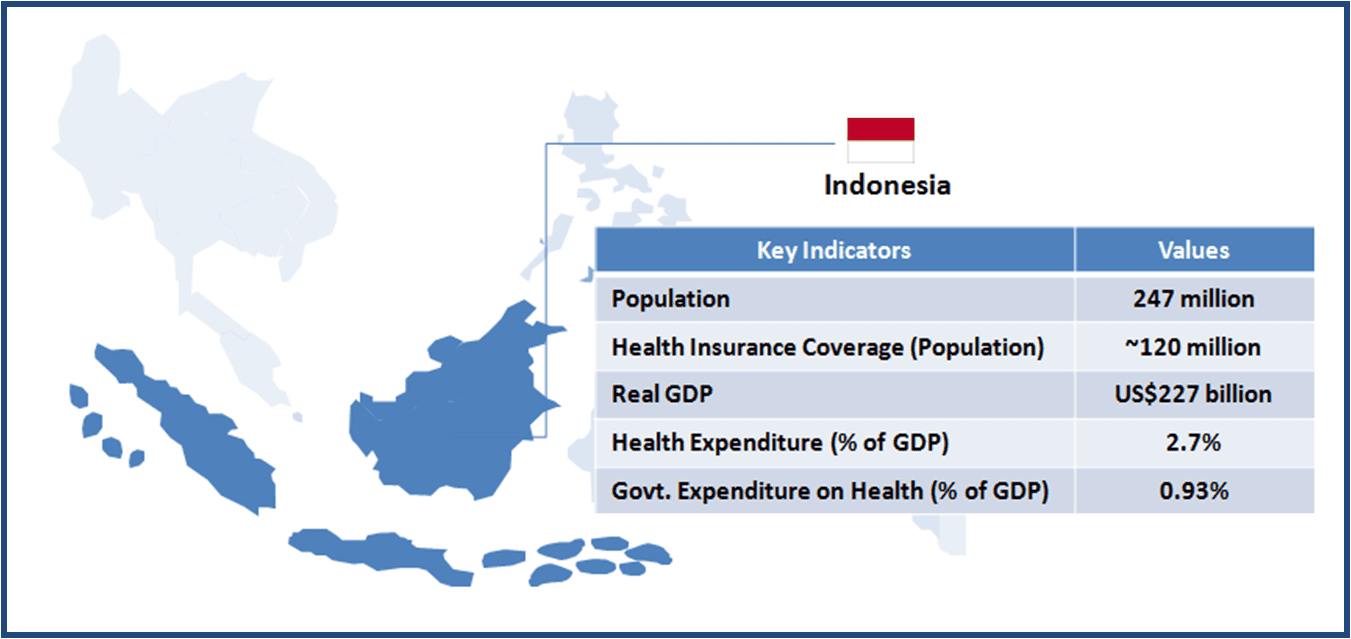 One of the features of the Indonesian UHI is the participation of the private sector wherein a number of hospitals and clinics have signed-up under the JKN.
When implemented fully, UHI is expected to create significant demand for companies operating in the industry, as the scope of the services is bound to increase. However, uncertainties exist regarding the smooth transition of the social health insurance mechanism from the current (prior to 2014) multiple-scheme-based system to a single system. The foundation design and the support infrastructure would determine the long term success of UHI.
INFRASTRUCTURE
Key Stakeholders
Indonesia has a decentralized administrative system since early 2000s wherein each of the 33 provinces is divided into districts and each district is further divided into sub-districts. District Governments are the direct authority in prioritizing the sectors (including health) for development
Healthcare Service Delivery
Public healthcare service delivery is based on a hierarchical referral system, which includes primary health clinics (PHC), district and provincial hospitals (secondary care) and specialty hospitals (tertiary care). Secondary health care is further classified as (Kabupaten (rural) and Kotamadya (urban)

Depending on the range and quality of healthcare services, hospitals are classified in to four categories

Level D – District-level hospital headed by a General Practitioner (GP) and provides some basic inpatient care. These are just one step above the primary health center
Level C – District-level hospital, which provides four basic specialties (surgery, internal medicine, pediatrics, and OBGYN services) and three supporting specialties (anesthesia, radiology, and pathology)
Level B – Provincial level hospital providing more specialist services as compared with level C hospitals. Specialist medical clinics, including pulmonary clinics and eye clinics, and medical supporting care are also included
Level A – These are described as 'Centers of Excellence' with sophisticated equipment with state-of-the-art facilities. This level includes specialist hospitals, such as Maternal and Child Hospital, Cancer Hospital, Coronary Hospital
KEY CHALLENGES
Capacity Constraints
Indonesia faces capacity constraint in terms of the number of hospitals as well as resources (qualified doctors, nurses and other staff). Public healthcare system is characterized with high occupancy rate at hospitals, and the situation is likely to worsen as more people come under the coverage of the government-sponsored health insurance scheme
Though a three-tier referral system exists, there is a lack of integration resulting in the by-passing of the lower-tier facilities and overcrowding at the secondary and tertiary level
Uneven Concentration of Healthcare Personnel
Indonesia has 25 health workers per 10,000 people (against WHOs minimum benchmark of 23); however, most of them are concentrated in urban centers, leaving rest of the country (especially the rural area) without sufficient number of health personnel
Healthcare professionals need to be compensated adequately to create a pool of resources large enough to meet the demand of a healthcare system catering to about 250 million people
DESIGN
Beneficiary Classification
Prior to the implementation of UHI in January 2014, certain sections of the population were already covered under different schemes, such as:
Askes (for civil servants and pensioners)
Jamkesmas (poor and near poor)
Jamsostek (private formal sector workers)
Jamkesda (district-level schemes for near-poor)
Healthcare Insurance Financing
Expenditure on public healthcare services under UHI is provided through taxation revenues and member contribution

Formal sector employees (both public and private) will pay 5% of the salary as premium wherein the employer will makes 4% contribution. Informal workers, the self-employed and investors, will pay monthly premiums of between Rp 25,500 (US$2.15) and Rp 59,500 (US$5.1) each

The government would be paying for the premiums of the rest of the groups (mentioned in 'Beneficiary Classification')
Payment System
For primary health care, the payment system is to be based on monthly capitation (based on registered users), and the Diagnosis-related group (DRG) system (to classify hospital cases into groups to determine cost) would be applicable for hospitals

Amount under DRG system will be fixed on the basis of negotiations with the hospital associations in various regions
Benefits
The UHI covers comprehensive benefits, including the treatment of commonly occurring illness, such as influenza as well as expensive medical treatment, such as heart surgery, dialysis, and cancer therapies
Co-payment (Reimbursement) System
At present no co-payment regime has been planned at the point of care. Healthcare services are to be fully reimbursed to the healthcare facilities on behalf of the patients
Reimbursement System for Drugs
Drugs specified under the formulary list are covered under the social sector health insurance plan. As mentioned above, the drugs used for the treatment are covered by the zero-co-payment system
KEY CHALLENGES
C

oncern about Quality
There are apprehensions that the quality of health services may suffer under the current provisions of the universal healthcare schemes

According to the Indonesian Medical Association, the government is paying substantially low amount for the poor, which may not be able to cover expensive treatment, such as cancer therapies. Hospital may struggle to cover costs due to lower reimbursement rates, which may discourage private hospitals from participating in the UHI. This would lead to overburdened state-run hospitals (and hence erosion of quality)
Ensuring Comprehensive Coverage
A large population comprising informal sector is yet to be covered under UHI. It would be a challenge for the government to motivate this section of population to be a part of the scheme. Contribution from the informal sector in the form of premium is crucial, as the Indonesian UHI would primarily draw its finances its expenses through it (along with the contribution from the formal sector employees)
Addressing the Grey Areas
There is lack of clarity about the role of private insurance after the implementation of UHI, as several private employers who have obtained private insurance for their employees may end-up paying double premium
Opportunities for Healthcare Companies
Healthcare Service Providers
The current set-up does not provide enough incentives for the private sector healthcare providers; however, the UHI policy envisages a space for private players. Also, the government has indicated about increasing the premium paid for the poor gradually, therefore private clinics and hospitals have significant opportunities to increase their business as well as to fill the resource gap in the Indonesian healthcare system
Medical Device Manufacturers
Irrespective of the implementation of the UHI, there was significant growth potential for the medical device companies due to years of under investment in the hospital equipment and devices such as MRI, Tomography scanners, mammography etc. A wider UHI coverage would require purchase of such equipment, to cater to the increasing demand

It is expected that new health facilities would come up in the regions where the newly insured population resides i.e. outside Java and other large cities. This would boost the demand for equipment and devices
Pharmaceuticals Companies
UHI is expected to create additional demand for medicines, as the population that was previously unable to purchase medicines comes under the coverage. Demand for generic medicines is expected to increase, as the government focuses on procuring low-cost medicines to keep the cost of UHI down
A Final Word
Considerable ground needs to be covered before Indonesia realizes the goal of 100% healthcare access coverage. The current state of the healthcare infrastructure as well as the healthcare benefits that have been designed (for the population under coverage as of January 2014) pose challenge in creating a working (and efficient) UHI system.
Success of UHI primarily hinges on the inclusion of informal sector population. Introducing an informal sector-specific mechanism for the premium contribution, attractive enough to ensure participation, would be the key in this direction. More clarity about the role of private insurance will help towards creating a system capable enough to cater to 250 million plus population.
Size of the Indonesian healthcare market already presents ample opportunities for pharmaceutical as well medical device manufacturers. 100% coverage under UHI will further boost the prospects of these firms. The expected expansion of healthcare infrastructure beyond the developed regions (cities) is likely to create demand for equipment as well as medicines.
Existing capacity constraints in the public healthcare system may augur well for the private health care service providers. As of now, given the geographical challenges and regional disparity in healthcare services, the goal of 100% coverage under UHI looks a distant dream without the participation of private sector. Therefore a workable payment system needs to be devised to ensure greater participation of the private sector players.