Underpinned by immense government support, private investments, as well as the highest number of machine-to-machine (M2M) mobile connections globally, China has potential to get to the forefront of IoT (Internet of Things) development. While most countries are still beginning to understand the benefits of IoT, China already embraced the technology as early as 2010, when it built a national IoT center and aimed to create a market worth US$160 billion by 2020. IoT, with its promise of delivering continuous connectivity, is likely to usher an industrial revolution in China resulting in improved productivity, global competitiveness across industries, and higher economic growth.

IoT is helping China to build momentum and succeed in the digital age, fostering development across various industries by revitalizing manufacturing, boosting connectivity through smart cars and buildings, crafting a new consumer market for wearable devices, enhancing healthcare services, and stimulating energy efficiency.
China seeks to integrate various industries with IoT technology for economic gains and efficient management. Industries such as logistics, manufacturing, transportation, and utilities and resources, in particular, are likely to witness improved efficiency, lower costs, and better-managed infrastructure through real-time information provided by IoT technology.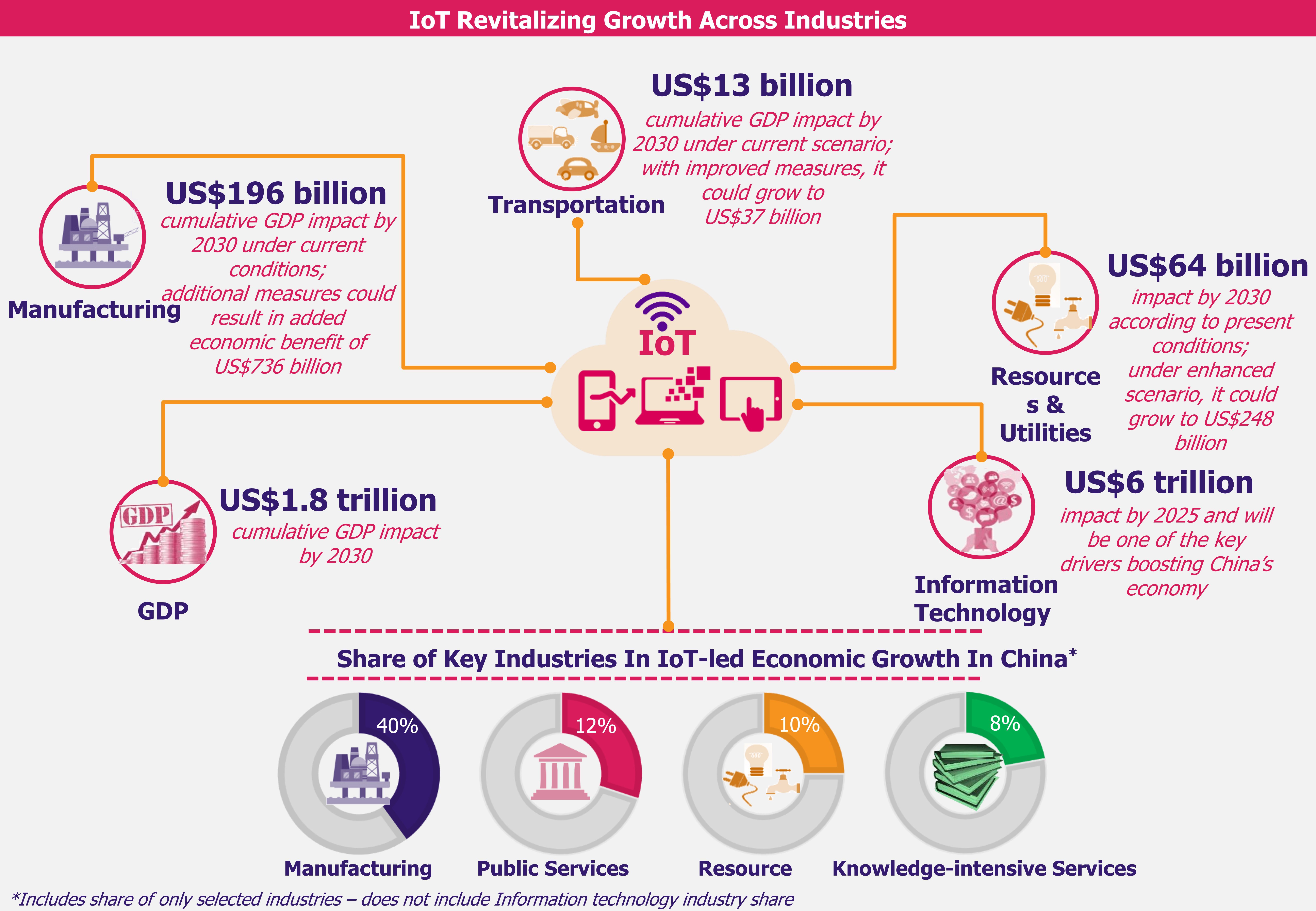 Chinese consumers are very open to adopting IoT technology, which results in growing penetration of smart devices. Smart home appliances, cars, meters, and retail devices are likely to witness tremendous success in China.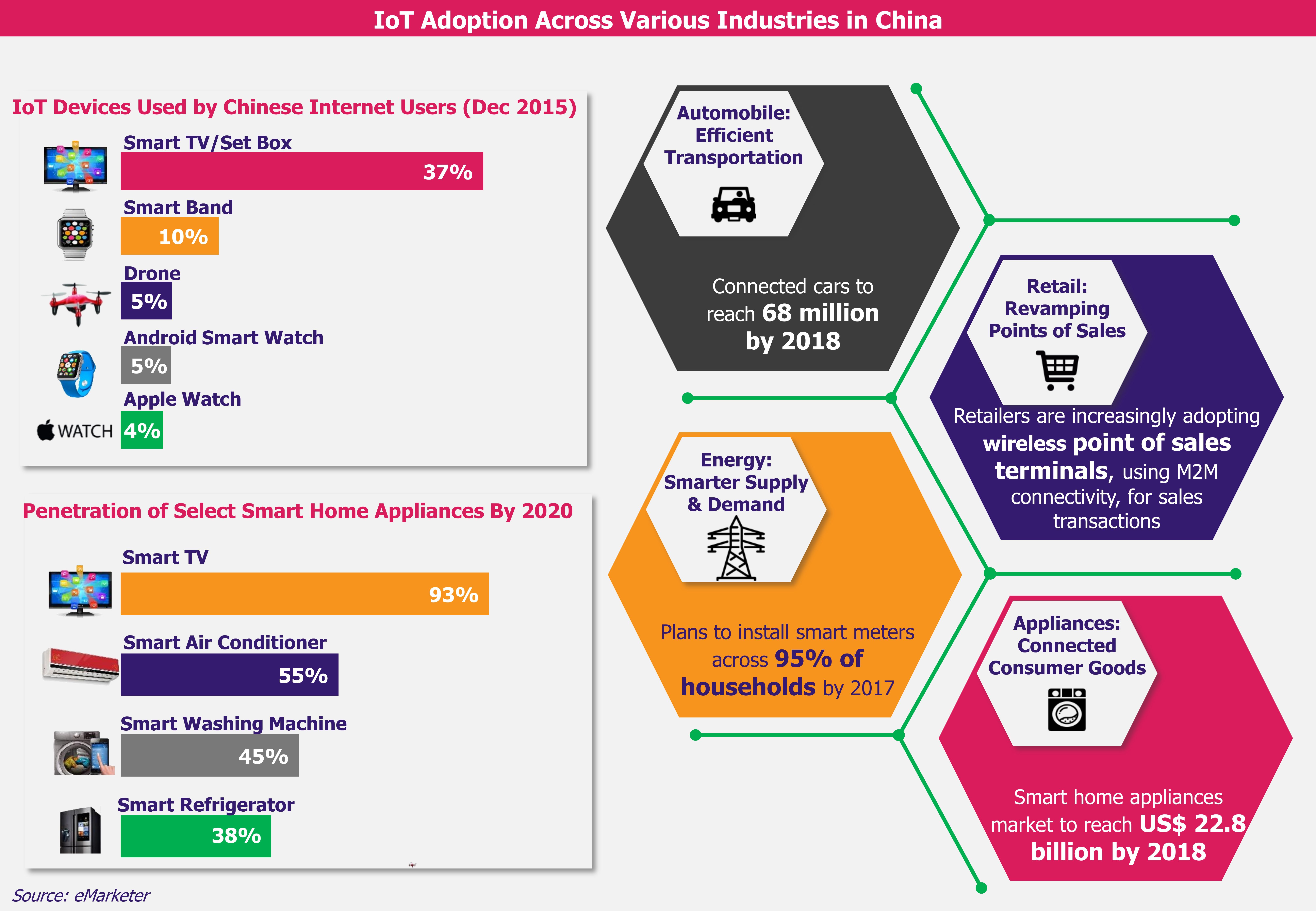 Industry dynamics are improving driven by launches of new smart devices by private companies, pivotal government support, and several digital drivers (including growing M2M connections as well as smart phone and Internet users). However, there a few factors such as security and infrastructure issues, fragmentation in the market, and lack of standardization that are slowing down IoT development.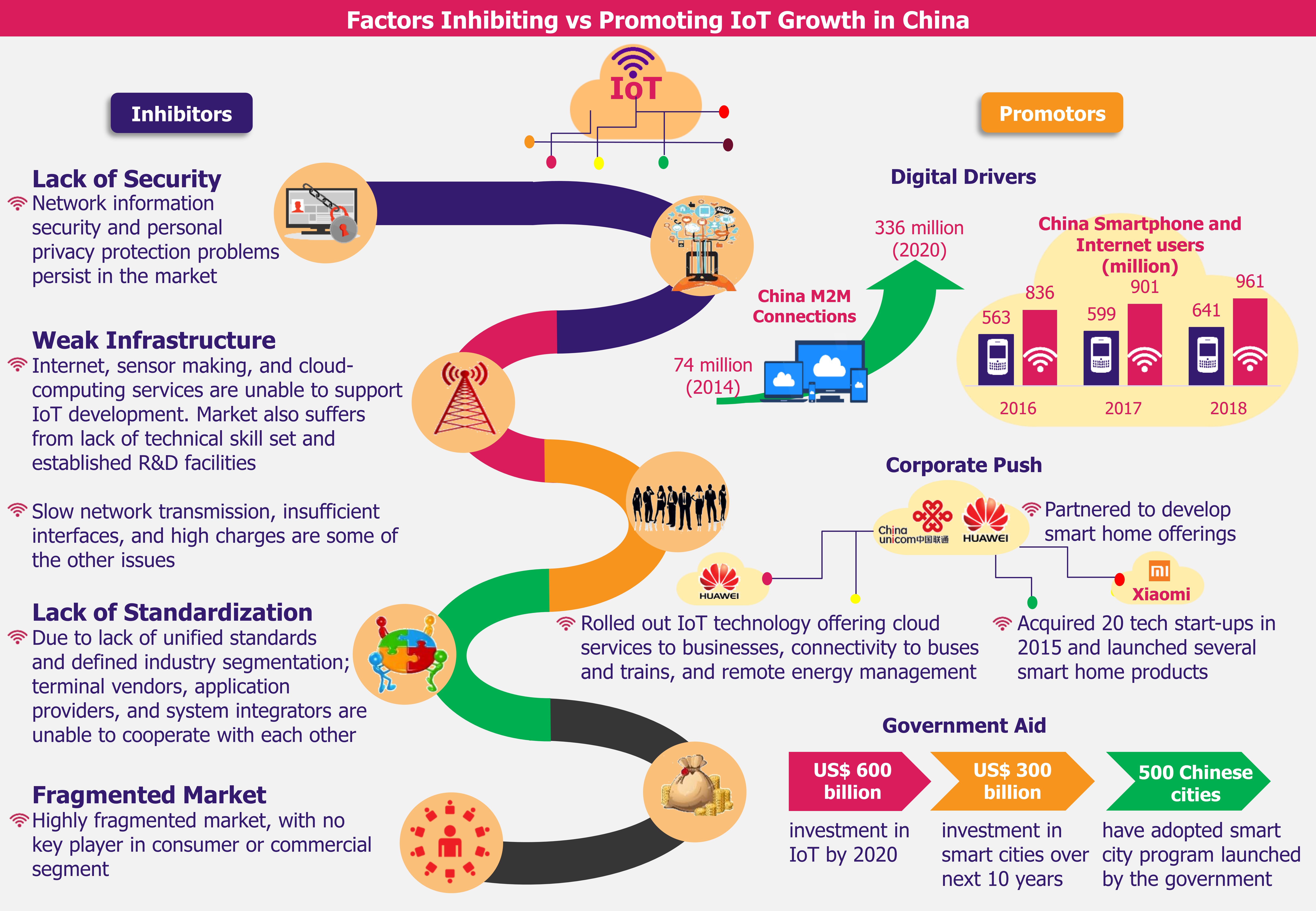 Despite IoT's immense potential, several driving factors, and promises of economic gains across industries, a 2015 study conducted by Accenture revealed some deterring factors such as lack of specialized skills, low R&D investments, and substandard infrastructure, which may hold back IoT development in China.
EOS Perspective
Undoubtedly, China is likely to witness unrivalled opportunities in terms of productivity improvements and economic development as IoT technology spreads across the country. Efforts made by the Chinese government are stimulating the IoT growth – 'Made in China 2025' initiative launched in 2015 aims to integrate production with Internet to deliver smart manufacturing and higher manufacturing value. Further, with the 'Internet Plus' strategy, China plans to integrate mobile Internet, cloud computing, big data, and IoT with manufacturing.
However, Chinese business leaders and policymakers cannot expect to reap benefits of IoT technology without the right enabling conditions. In order to ensure development, it is imperative for China to overcome the gap in technical skill set, infrastructure, as well as focus on promoting IoT investments. To address the shortage of critical skills, China needs to improve the number and quality of tertiary graduates in science and engineering fields. Beyond that, building a cross-industry ecosystem is also essential for IoT-led growth, which requires development of an integrated communication system along with cluster of secured networks for data transmission.
China's IoT industry, still at a developing stage, has promising growth potential that could materialize only if the country takes all necessary measures to improve its infrastructure and technological platform, which will allow IoT to diffuse through its industries and completely transform them.